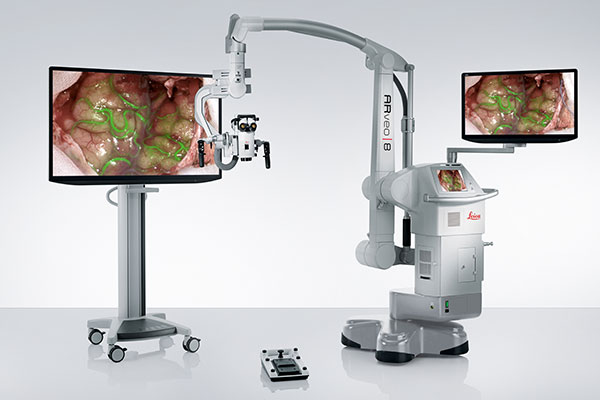 Join us for Spine Week 2023 in Melbourne from May 1 to 5
Meet us at booth D12 & learn about the latest innovations from Leica Microsystems for spine and neurosurgery.
ARveo 8 unites information from AR fluorescence, IGS systems, and endoscopic image feeds providing an enhanced visualisation for more informed and precise neurosurgery
ARveo 8 combines world-renowned optics with the ability to combine pre- and intraoperative imaging and augmented reality fluorescence, so that neurosurgeons can make precise, confident decisions.

Ultra-fast processing in the ARveo 8 reduces latency by 44%* and delivers information to the surgeon faster—further amplifying precision.

ARveo 8 enables surgeons to truly work "in the now" with greater confidence for better patient outcomes.
Watch our Webinars!
Watch the webinars to learn more about new neurosurgical techniques and applications.
Augmented Reality Assisted Navigation in Neuro-Oncological Surgery

In neuro-oncological surgery, new technologies such as Augmented Reality are helping to improve surgical precision enabling a precise trajectory, conformational resection, the absence of collateral damage and quick intervention.
Digitalization in Neurosurgical Planning and Procedures

The neurosurgical operating room is increasingly digital, with multiple sources of data providing surgeons with valuable information.
Skull Base Neurosurgery: Epidural Lateral Approaches

Surgery of skull base tumors and diseases, such as cavernomas, epidermoid cysts, meningiomas and schwannomas, can be quite complex.
<!– TYPO3SEARCH_end –> <!– TYPO3SEARCH_begin –>