The performance and lifetime of products and their components in industries, such as automotive and transportation, microelectronics, pharmaceuticals, and medical devices, can be quite sensitive to contamination. Different types of foreign material within the product cause different kinds of damages; it depends on the particle's physical properties (shape, hardness, etc.). Therefore, it is no surprise that these industries often have international and regional standards for technical cleanliness. For the automotive industry examples are the VDA 19 and ISO 16232 standards [1-3]. Each year the requirements for these cleanliness standards become stricter with always finer tolerances.

The workflow for cleanliness analysis can involve multiple instruments, from particle extraction to automated particle characterization and classification, depending on the needs for particular products. Normally, optical imaging methods are standard for particle characterization [4-9]. In order to more easily identify the source of contamination, rapid chemical/elemental analysis of the particles is advantageous.

A 2-methods-in-1 solution, such as the DM6 M LIBS materials analysis solution from Leica Microsystems (refer to figure 1) [10,11], combines optical microscopy (visual analysis) with laser induced breakdown spectroscopy or LIBS (chemical analysis). The advantages of a 2-in-1 solution compared to other methods, such as scanning electron microscopy (SEM) and energy dispersive spectroscopy (EDS), for efficient cleanliness analysis are discussed.
LIBS is an acronym for Laser Induced Breakdown Spectroscopy. The basic principles and operation of LIBS has already been described in a previous report [11].
Find and Eliminate the Source of Contamination more Easily
For technical cleanliness, the ultimate goal is to find and eliminate the source of the contamination. A 2-methods-in-1 solution allows the contamination source to be identified with less time and effort, because the cleanliness analysis workflow is simplified.
Unlike analysis with scanning electron microscopy (SEM) and energy dispersive spectroscopy (EDS), there is:
No sample preparation;
No sample transfer from one device to another;
No need to relocate the region of interest on the filter and make system adjustments; and
No time lost waiting for a vacuum (the analysis is always done in air under atmospheric conditions)
Refer to figure 2 below for a diagram showing the differences in the cleanliness analysis workflow when using a 2-in-1 solution versus SEM/EDS.
Cleanliness Analysis Workflow 2-in-1 Solution versus Optical + Electron Microscopy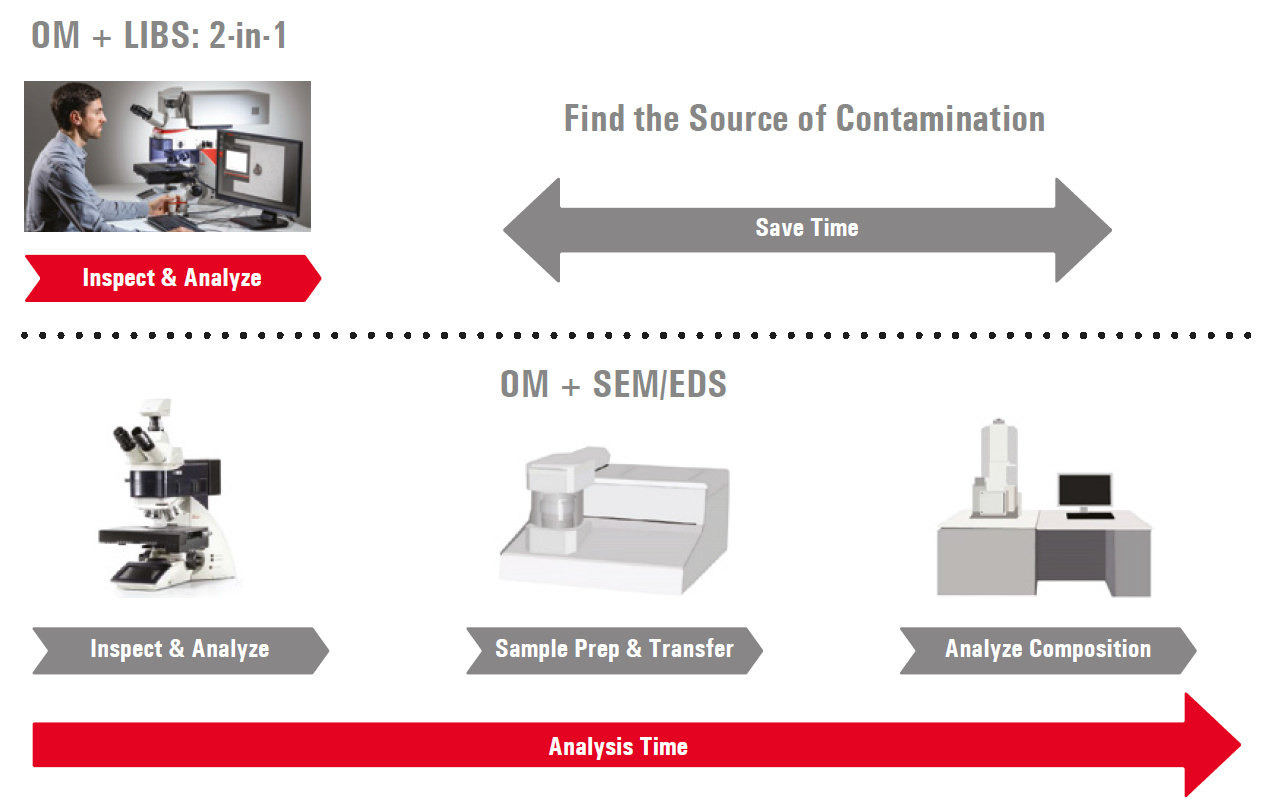 2-Methods-in-1 Solution: Particle Imaging and Composition Analysis
An example of visual and chemical analysis of particles on a filter using the DM6 M LIBS solution from Leica Microsystems is shown below in figure 3.
2-Efficient Overall Cleanliness Workflow
For the overall cleanliness workflow, often multiple instruments from several suppliers are used to perform the particle extraction and analysis. A cleanliness solution for the entire workflow, from particle extraction to analysis, from a "single source" is more convenient.
Leica Microsystems and Pall have joined efforts to offer such a unique and complete cleanliness solution for the automotive and transportation industry [12]. The overall cleanliness workflow with washing cabinets from Pall and the DM6 M LIBS 2-in-1 solution from Leica Microsystems is seen below in figure 4.
The advantage of the complete solution is that the ultimate goals of cleanliness analysis are more easily achieved:
Determine the particles' potential to cause damage and
Find and eliminate the sources of contamination for particles that pose a significant risk to the product's performance and lifetime.

The advantages of a 2-methods-in-1 materials analysis solution, which combines optical microscopy and chemical analysis via laser induced breakdown spectroscopy (LIBS), for an efficient cleanliness analysis were presented.

Cleanliness analysis is important for many types of products in multiple industries and fields like transportation, electronics, and pharmaceuticals. Often the time and expense allocated for cleanliness analysis is limited, but obtaining reliable results and achieving product quality is always key.

An example of a 2-in-1 solution is the DM6 M LIBS materials analysis solution from Leica Microsystems. It offers accurate, rapid visual and chemical analysis in one instrument, eliminates sample preparation and transfer between devices, and allows the sample to be remain at all times under ambient conditions during the analysis. A 2-in-1 solution allows the source of contamination for risky particles to be identified more easily compared to SEM/EDS methods. These advantages enable users to perform fast, precise, and more economical cleanliness analysis.