Patterning of the embryonic nervous system is accomplished through the coordinated action of select signaling molecules, including sonic hedgehog, which leads to the formation of discrete tissues and organs from unspecified progenitor cells [1,2]. Although there have been numerous advances in the understanding of embryonic development, more research on the underlying molecular and cellular mechanisms is needed to improve diagnosis and eventual treatment of complex congenital disorders.
Research often focuses on the mechanisms of embryo-cell populations. By manipulation of genetic elements in the whole embryo, discrete patterning centers producing sonic hedgehog and other signaling molecules can be manipulated and examined at high spatial and temporal resolution with advanced microscopy.
How high-contrast, fast imaging of neuronal progenitors in chick embryos with a THUNDER Imager Model Organism can help investigate signaling pathways is described in this article.
For research on embryonic signaling pathways, it is most practical to have a microscopy solution that delivers rapidly sharp 3D images of whole embryo specimens. The images must be free of haze or out-of-focus blur, so that important details can be clearly resolved. Conventional widefield microscopy offers fast imaging of large areas of thick specimens, like whole embryos, and detection sensitivity, however there is a significant reduction in image contrast due to the haze caused by out-of-focus fluorescent signals [3,4].
Specimens of brain from 6-day-old chick embryos were used for the study. The embryos expressed a nuclear mScarlet red fluorescent protein (RFP) and a sonic-hedgehog-regulated membrane-associated enhanced green fluorescent protein (EGFP) to discretely label a population of neuronal progenitors. Extended-depth-of-field (EDoF) stereoscopic and macroscopic images of the brain specimens were acquired with a THUNDER Imager Model Organism and small volume computational clearing (SVCC) was applied.
Results acquired from chick embryo brain specimens with the THUNDER Imager are shown below in figure 1.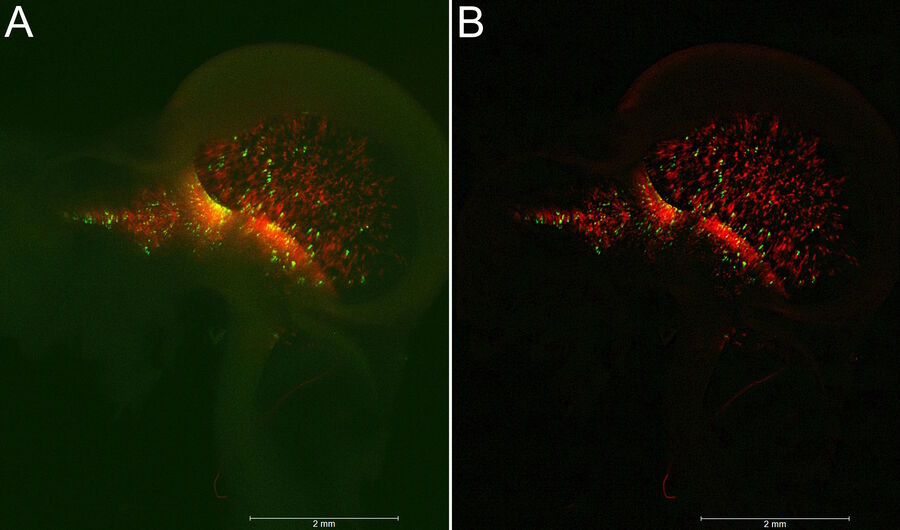 THUNDER images of the chick embryo brain specimens are haze-free and reveal structural details that may be helpful for deciphering signaling pathways which are important for developmental biology and genetics.
Related Articles
This article shows how studying central nervous system (CNS) development in Drosophila-melanogaster…

May 12, 2023

This article shows how research on diseases of the larynx can be improved with a THUNDER Imager and…

May 02, 2023

Widefield fluorescence microscopy is often used to visualize structures in life science specimens…

Mar 22, 2023