STED Nanoscopy with an "infinite" pool of fluorescence labels
The idea of using fluorophores that transiently bind to their target was adapted from the single-molecule super-resolution method termed PAINT (Point Accumulation for Imaging in Nanoscale Topography) (Sharonov and Hochstrasser 2006)[3]. A key advantage of PAINT is its independence of photobleaching: fluorophores repeatedly and transiently bind to their target, while otherwise freely diffusing in the imaging buffer.
Following this concept, the authors considered exchangeable labels typically used for PAINT also for other imaging modalities, e.g. confocal microscopy and STED nanoscopy. The prerequisite for these fluorophore labels are fast exchange kinetics and high-density labeling of the target structure. Different to single-molecule PAINT imaging, this requires higher concentrations, as well as suitable binding affinities (~ µM) and off-binding kinetics (~ 10-100 s-1). The authors evaluated the performance of five labels, including two membrane stains (Nile Red, FM4-64), two fluorogenic DNA stains (JF646-Hoechst, SiR-Hoechst), and the actin labeling peptide Lifeact-AF594. They determined the ability of the fluorophores to exchange between the target structure and the free pool, the fluorescence signal over time, and the resulting STED image quality. Importantly, some of the fluorophores are cell permeable (e.g. Nile Red and SiR-Hoechst) and thus suitable for live-cell experiments. All of the dyes investigated are compatible with the same depletion wavelength (775 nm) and allow simplified two color STED imaging: Nile Red, FM4-64 and Lifeact-Alexa 594 can be easily combined with one of the DNA dyes (JF646-Hoechst or SiR-DNA).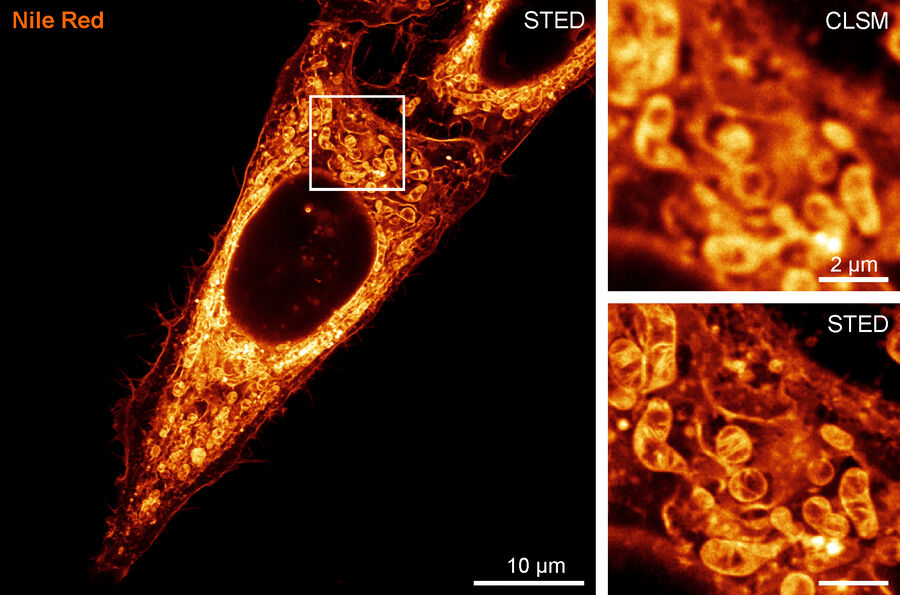 The results demostrated that exchangeable fluorophores enabled labeling densities that allowed for high-quality STED imaging with low background. The constant exchange allowed using optimal imaging conditions for fixed cell imaging in 2D and 3D (Figure 1). A particular benefit is STED imaging of large volumes (such as entire cells): exchangeable fluorophore labels, other than permanent labels, do not show out-of-plane photobleaching. The combination of Lifeact-AF594 and JF646-Hoechst in eukaryotic cells showed the advantage of STED for multicolor: the Lifeact peptide labeled actin, while JF646-Hoechst targeted DNA features at the nanoscale (Figure 2). The STED approach was also successful for multicolor, 3D STED imaging both in mammalian and bacterial cells. Hereby, the images on whole-cell, two-color 3D STED along the axial direction showed a constant fluorescence signal over time. In both cases, the dynamic fluorophore exchange circumvents photobleaching issues that can compromise signal-to-noise ratio.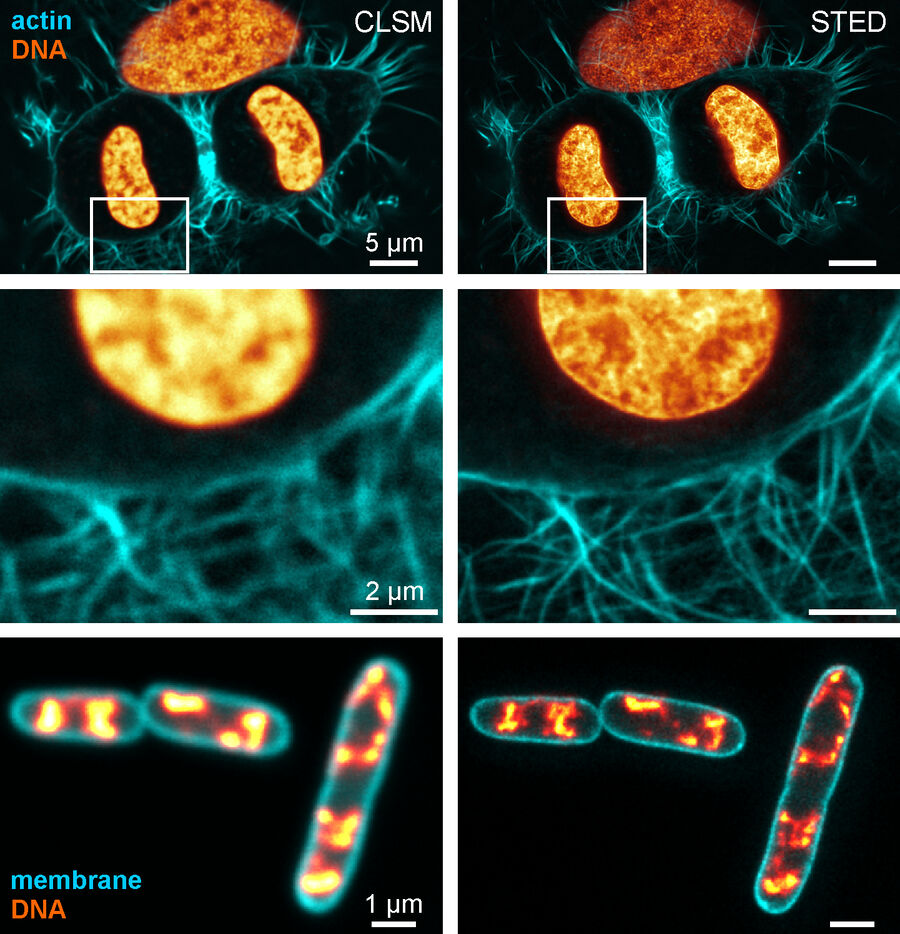 In summary, the combination of STED and exchangeable fluorophores delivers high labeling density for whole-cell, multi-color and live-cell STED imaging. The exchangeable labels not only benefit 3D and live-cell measurements, but also allow optimizing STED imaging without losing signal as with permanent labels. The concept can be extended to other labels and opens new opportunities for STED in correlative imaging approaches.
Related Articles
Webinar on five-color STED with a single depletion laser and fluorescence lifetime phasor…

Dec 14, 2022

Researchers at the Max Planck Institute for Medical Research in Heidelberg have developed a general…

Jan 24, 2022

In this paper the authors have adapted a click chemistry-based method coupled with stimulated…

Oct 25, 2021