Introduction
The Drosophila larval gut is a simple epithelium which is divided into three distinct compartments, the foregut, midgut, and hindgut. The proventriculus is a bulb shaped organ situated at the junction of foregut and the midgut, and functions as a valve controlling the entry of food into the midgut. The posterior end of the proventriculus, there are four long finger-like protrusions termed as gastric caeca, that are responsible for active secretion of most digestive enzymes(1,2,3).
Procedure
A portion of anterior midgut from Drosophila third instar larva consisting of the proventriculus and gastric caeca was dissected in Schneider's medium and transferred to a type-A planchet, cavity depth 0.2 mm. Excess of Schneider's medium was carefully removed and immediately 1 μl of 20% BSA/PBS was pipetted and uniformly distributed. After inspecting sample orientation, a Type-B planchet was placed on top with flat surface down to seal the assembly.
The assembled specimen chamber was frozen using a Leica EM ICE high-pressure freezing system. The frozen samples were transferred to cryovials in liquid nitrogen vapour and transferred to pre-cooled (-90°C) freeze substitution unit (Leica EM AFS). Freeze substitution was performed using a mixture of 0.12% aqueous uranyl acetate in anhydrous acetone using the following program: -90°C for 45 hrs followed by slow warming from -90°C to -50°C (15°C/hr). At -50°C freeze substitution solution was removed and the samples were washed 3 times for 10 mins with acetone. Resin infiltration was performed by incubating samples in increasing concentrations of Lowicryl HM20 resin (25%, 50%, 75%) in acetone with final 3 incubations with 100% resin lasting for 48 hrs. The samples were gradually warmed from -50°C to 24°C (5°C/hr) and UV polymerized over a period of 48 hrs. Ultrathin sections (50-60 nm) were cut on a Leica EM UC7 ultramicrotome and postained with 2% of aqueous uranyl acetate for 10 mins and lead citrate for 2 mins. Digital micrographs were acquired on JEOL JEM 1200 EXII operating at 80kV and equipped with bottom mounted AMT XR-60 digital camera.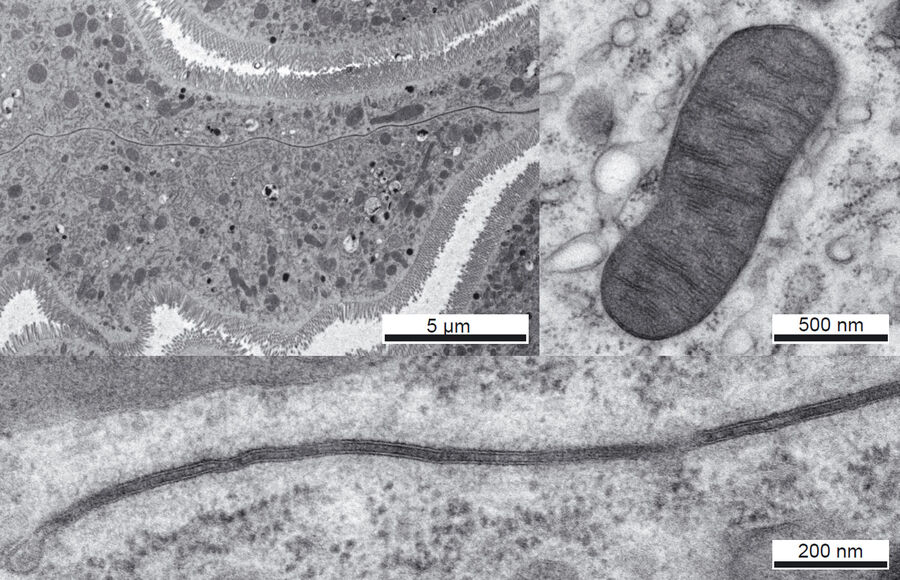 Demerec, M. Biology of Drosophila., (1950) New York, John Wiley and Sons Inc.; London, Chapman and Hall Ltd.
Bodenstein, D. Thepost-embryonic development of Drosophila., (1950), pp.275-367, Hafner, New York;
The embryonic development of Drosophila melanogaster:By J. A. Campos-Ortega and V. Hartenstein. New York: Springer-Verlag. (1985)
Related Articles
The Leica Nano workflow provides a streamlined live-cell CLEM solution for getting insight bout…

Oct 04, 2021

With the workflow Coral Life, searching for the needle in the haystack is a thing of the past. Take…

Jul 05, 2021

A fundamental question of neuroscience is: what is the relationship between structural and…

Mar 08, 2021