Chromaffin cells are found in the medulla of adrenal glands above the kidneys. They are a type of neuroendocrine cell controlled by peripheral nerves. Their function is to regulate the response to stress by releasing catecholamine (adrenaline, noradrenaline) and various peptides contained in ≈300 nm dense core vesicles [1].
Fresh adrenal glands derived from adult bovine were digested with Locke's solution containing collagenase P, trypsin inhibitor and bovine albumin serum. The glands were cut longitudinally to expose the digested medulla. The medulla was minced in Locke's solution and filtered through a 250 μm nylon mesh. The filtrate was centrifuged at 50 g for 4 min [2]. The supernatant was then removed, and the pellets resuspended in pre-warmed DMEM low glucose medium supplemented with 10% fetal bovine serum. Finally, cells were sedimented by gravity and the medium was carefully removed. Approximately 0.5 μL of cell pellet was transferred to a 3 mm Type-A planchet with a depth of 200 μm pre-coated with DOPC lipids. The entire volume of the planchet was filled with the pellet solution. The Type-B planchet was placed on the top with the flat surface down to seal the assembly. The assembled specimen chamber was frozen using an EM ICE high-pressure freezing system from Leica Microsystems. The frozen samples were transferred to cryovials under liquid nitrogen vapor and then to a pre-cooled (-90 °C) freeze substitution unit (EM AFS from Leica Microsystems).
Freeze substitution was performed using a solution of 1% tannic acid in dry acetone for 24 h followed by an exchange to a mixture of 2% uranyl acetate, 1% glutaraldehyde, and 3% H2O in acetone for 21 h. Then the samples were washed 3 times for 1 h each with precooled, dry acetone. We did not use OsO4. Instead, we used tannic acid in combination with uranyl acetate . The temperature was slowly raised from -90 °C to -30 °C in 96 h (0.6 °C/h) and from -30 °C to 21 °C in 36 h (1.4 °C/h). Samples were separated from the planchets in acetone at room temperature. Infiltration and embedding with Embed-812 were then performed. Ultrathin sections (50-60 nm) were cut on an EM UC7 ultramicrotome from Leica Microsystems and poststained with lead citrate for 5 min. Digital micrographs were acquired with a JEOL JEM-200cx electron microscope operating at 120 kV and equipped with a bottom-mounted AMT XR-100 CCD camera.
The representative electron micrographs showed that the cell morphology had been preserved. They also showed that large dense core vesicles were round in shape (Figures 1 A-C, 2, and 3B). A comparison of chemical-fixed vs cryo-fixed cells is shown in Figure 3. Highly elongated vesicles were observed in chemical-fixed cells (Figure 3A), but not in cryo-fixed cells (Figure 3B). These results show that our cryo-fixation protocol preserves the oval/round shape of the vesicles in adrenal chromaffin cells, a commonly used cell model for the study of exocytosis and endocytosis.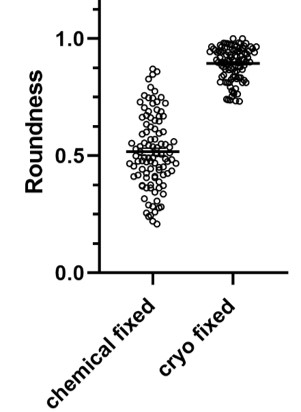 Related Articles
The Leica Nano workflow provides a streamlined live-cell CLEM solution for getting insight bout…

Oct 04, 2021

With the workflow Coral Life, searching for the needle in the haystack is a thing of the past. Take…

Jul 05, 2021

A fundamental question of neuroscience is: what is the relationship between structural and…

Mar 08, 2021