Who should attend?
This web-based seminar is designed for a broad audience. Are you a researcher in the fields of cell or developmental biology? Or are you just interested in learning more about how cells communicate and interact with one another? This web-based seminar is for you.

Jeff Lichtman, Professor of Molecular and Cellular Biology, Harvard University
Dr. Jeff Lichtman is a Professor of Molecular and Cellular Biology at Harvard University. He is interested in the mechanisms that underlie synaptic competition between neurons that innervate the same target cell. Such competitive interactions are responsible for sharpening the patterns of neural connections during development and may also be important in learning and memory formation. His laboratory studies synaptic competition by visualizing synaptic rearrangements directly in living animals using modern optical imaging techniques.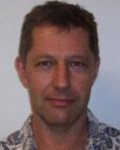 Quentin Sattentau
Professor of Immunology, University of Oxford
Dr. Quentin Sattentau is a Professor of Immunology at the Sir William Dunn School of Pathology, University of Oxford. He uses live and fixed cell imaging techniques to investigate the molecular cell biology of HIV-1 interactions with its target cells. His laboratory previously showed that HIV-1 induces a "virological synapse" in T cells to promote cell-cell spread of the virus and is currently investigating the interactions between HIV-1-infected T cells and macrophages.