Wi-Fi Education Solutions
Letting minds meet … anywhere.
Smartphones, tablets, and laptops are the carriers of modern networked knowledge. Our Wi-Fi Education solutions liberate you from device or location, and give unlimited access to knowledge. It only takes a microscope, a wireless camera and an App to let minds meet anywhere.
Go Wi-Fi! With the Leica EZ4 W stereo microscope with integrated Wi-Fi camera and the Leica ICC50 W Wi-Fi camera for compound microscopes and the AirTeach software that turns your microscopy laboratory into a digital classroom.
Wireless HD images for best image quality
Up to 5.0 MP capture resolution for best documentation
Choice of modes (Wi-Fi, USB, SD, Ethernet) for more flexibility
HDMI output always available for large screen projection
CapSense controls for durability and reliability
Camera powered from the microscope, saving cost and infrastructure
Personal smartphones or tablets in class to save equipment cost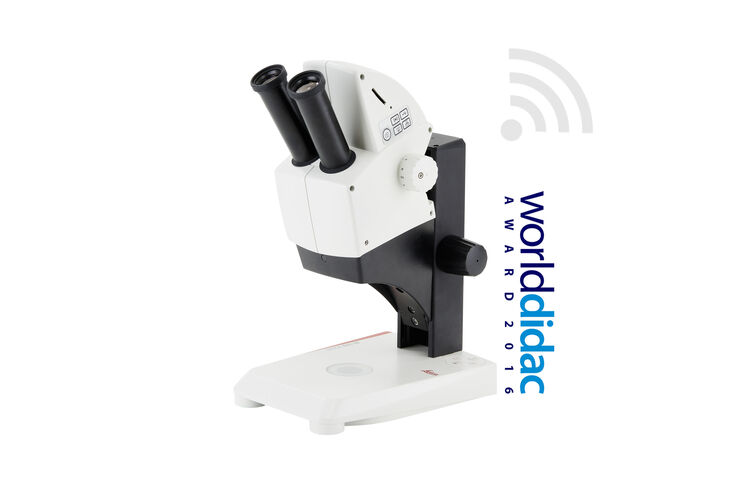 Stereo microscope for college and university education with 8x to 35x magnification, 7-way LED illumination, and integrated camera
Download the Leica AirLab App free of charge
Switch on the camera
Capture images and videos in HD quality
Simply use it with your smartphone or tablet
View live thumbnail images of all connected cameras and microscopes in class
With intuitive touchscreen control, students and peers can measure, annotate, and archive images. Also they can share work results with just a few taps.
Interactive Microscopy Class with the AirTeach Software
The AirTeach software changes the way you teach. It allows you to digitally share microscopy images from various microscope sources.
Share, discuss, compare
Learning becomes inspiring and interactive as students feel more engaged when sharing, discussing, and comparing their findings with the whole class.
The AirTeach software bares a lot of functions to assist teachers in their daily challenges in microscopy classes.
With the AirTeach teachers can
see a thumbnail overview with live images of all connected microscopes in class
share up to four images on a large screen projection to allow a comparison
switch on other content with the AirClass sharing function to vary teaching and keep students' attention
walk freely in the room to give students individual attention while controlling the students' images
annotate a selected image live in front of the whole class watching
Experience a new dynamic in class
Use personal devices and stay connected
Allow your students to use their own laptops, tablets or smartphones. With learning content transferred directly to their devices, you can engage them more easily and promote team work: Your students can share results, work together and network wherever they are.
"For the presentation of blood smears and cytological samples, the wireless microscope camera for use with mobile devices would make our teaching much easier. The captured images can be acquired easily by multiple students, annotated, and then shared among the students and with the professor or classroom instructor."
Prof. Dr. Andreas Moritz, Klinische Laboratoriums Diagnostik, Justus–Liebig–Universität, Giessen, Germany
Keep students on task and increase attention
Replace the blackboard with the students' tablets and enable them to learn in a digital environment that is already part of their lives. The Leica AirLab App makes learning as well as teaching fun and easy.
"With the wireless microscope camera, the students can capture images of what they have actually observed with the microscope, make annotations, and send them back to the professor or classroom instructor for evaluation."
Dr. Philippe Bruyant, Maître de Conférences, Département de Biologie, Université de Rouen, France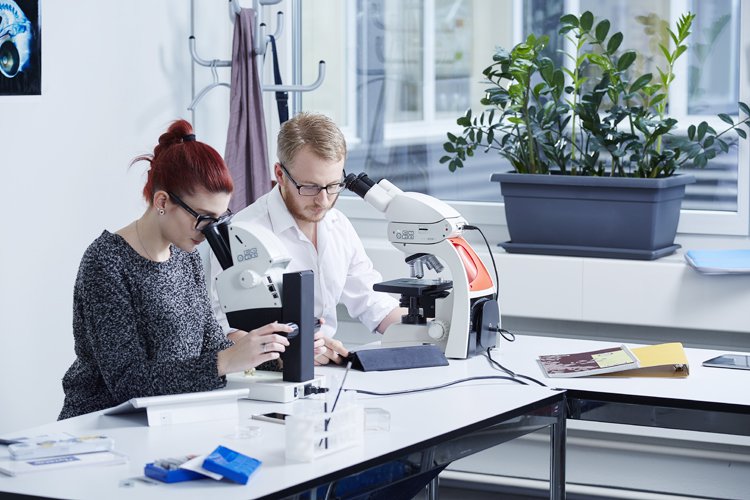 Maximize learning time and minimize setup time
Class time is precious. Save set-up and dismantling time. From now on you only need one power cord for each microscope and you`re good to go!
"As the designer of all new labs at Earth Observatory Singapore, I would definitely incorporate this technology in any future labs using microscopes. The wireless camera system is much easier to setup than the current one used in our microscope lab."
Dorinda Ostermann, Technical Director of the Geochemical Laboratories, Earth Observatory Singapore, Nanyang Technological University, Singapore
Interested to know more?
Talk to our experts. We are happy to answer all your questions and concerns.
Contact Us
Do you prefer personal consulting? Show local contacts