DON'T SELECT JUST ANY STEREO MICROSCOPE... CHOOSE THE RIGHT ONE!
Download the E-Guide to learn everything you need to know about stereo microscopes
Which stereo is best for your sample inspection?
Matching your stereomicroscope precisely to your imaging requirements is key to achieving the best possible inspection results.
To assist you in selecting the right stereo for your needs, download our convenient guide on 5 key factors to consider when selecting a stereomicroscope.
Get your light right!
Your choice of illumination determines what you see. To help you see exactly what you need, you will also get access to 7 different approaches to improve your microscopy illumination for the best imaging results.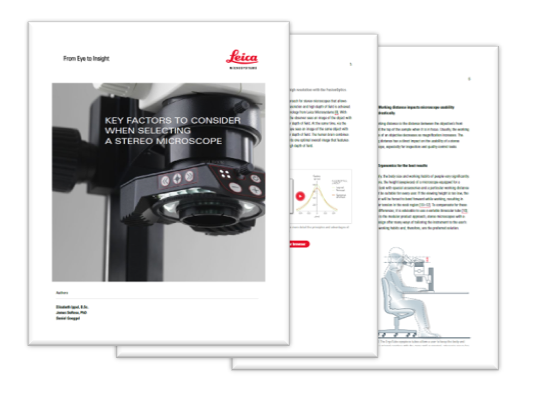 The 4 most important questions to ask yourself when choosing a stereo microscope
5 key factors in meeting your imaging requirements for your application workflow
Understand how different illumination can bring out different features depending on your type of sample, features of interest or application
Learn how Leica's high-performance stereo microscopes and illumination systems can benefit you