With diverse skills and a shared purpose, our leaders believe in Leica, encourage professional growth on all levels and lead by example.
Annette Rinck, President
Annette Rinck is President of Leica Microsystems since 17 January 2022.
Annette is an international leader with more than 20 years of experience with a strong track record of successful customer value creation with competitive solutions and digital innovations, leveraging the power of business systems and driving sustained profitable growth. Annette joins us from Honeywell where she has spent the past seven years, most recently as General Manager of global brands and companies of the Building Management Systems division. Previously Annette built her career in progressive leadership roles in Commercial, Portfolio Management and Marketing at Eaton, Caterpillar, and BMW.
She holds a Ph.D. in Applied Economics / Communications Science.
Melanie Hammerschmidt-Broman, Chief Financial Officer
Melanie Hammerschmidt-Broman took over the CFO responsibility in summer 2015. Since the beginning of 2020, she also serves as the CFO of Danaher Europe.
Melanie joined Leica Microsystems in April 2008 as Manager Consolidation & Controlling LMS & LBS before being promoted to Director Financial Planning and Analysis LMS in April 2012. During her three years in this role, Melanie was instrumental in setting up the Financial Planning & Analysis (FP&A) team and taking Finance Business Partnering at LMS to the next level. Before joining Leica, Melanie was Head of Finance at a coating materials manufacturer. Before that, she gained broad finance experience in banking and semiconductor manufacturing companies in Germany and the US.
Melanie holds a Diploma from Academy for Communication and Languages in Stuttgart and a Finance degree from the University of Central Florida, Orlando.
Darin Stell, Senior Vice President Global Commercial Operations
Darin Stell joins Leica Microsystems as Senior VP Global Commercial Operations on September 1st, 2020.
Darin joins us from Hach, where he currently serves as their VP Global Sales & DBS. Darin has built his career at Hach over the past 17 years with increasing sales & service responsibilities starting in the UK, then Europe, and since 2017 with responsibility for Sales for North America and Europe with revenues of 800M USD and a team of 1050 associates. Before Hach, he held progressive sales roles at Camlab and Thermo Electron.
Studying Physical Chemistry and with a post-graduate diploma In Marketing, he started his career in the laboratory, progressing to Scientific Officer before moving into the commercial environment more than 25 years ago.
Beate Berns, Vice President Global Human Resources
Beate Berns joined Leica Microsystems in March 2017 as VP Global Human Resources.
Beate joined us from Avanade, where she performed various HR leadership roles in her last position as Vice President, Human Resources Europe, Africa, and Latin America. Beate has over 20 years' experience in HR and started her career with Accenture, where she was responsible for all people-related aspects of outsourcing, shared services, and M&A engagements.
Beate holds a master's degree in business administration from the University of Applied Sciences, Mainz, and professional educations in coaching and training.

Bruno Rossi, Vice President Global Marketing and DBS
Bruno Rossi joined Leica Microsystems as VP Global Marketing and DBS in May 2018. In October 2020 he took over additional responsibility for our OEM and licensing activities.
Bruno joined us from Merck KGaA, Life Science, where he held the position of Vice President, Global Commercial Head for both the Diagnostic segment and the Tissue Diagnostic portfolio. Bruno brings over 20 years of international experience and in-depth knowledge of the academic, diagnostic, pharmaceutical, and chemical markets for research, development, quality control, and manufacturing applications covering immunoassays, immunohistochemistry, genomics, flow cytometry, filtration, microbiology, water purification, and service products.
He started his career at Millipore, which then became part of Merck KGaA, a few years ago. Bruno holds a Master's degree in Chemical Engineering.
Fedja Bobanovic, Vice President Global R&D and Chief Technology Officer (CTO)
Fedja Bobanovic Ph.D. joined Leica Microsystems in January 2016 as VP Life Science. Beginning of 2017, he was promoted to Senior Vice President Global Commercial Operations overseeing all global commercial activities. From September 2020 on, Fedja acts as VP Global R&D and Chief Technology Officer (CTO) for Leica.
Fedja has worked in the Life Sciences industry for over 20 years and joined LMS from Sciex, where he acted as VP/GM EMEA. Before that, he spent more than ten years at PerkinElmer in various Product Management and Sales roles and rose to become GM of North Europe, South Asia, the Middle East, and South Africa.
He holds a Ph.D. in Electrical Engineering from University of Ljubljana and completed his Ph.D. and post-doctoral training in Cell Physiology at the Babraham Institute and University of Cambridge, UK.
Chiara Bergerone, Vice President Medical
Chiara Bergerone is with Leica Microsystems as Vice President Medical since January 2021. She joined us from Becton Dickinson (BD), where she was the Global Business Leader for their Laboratory Automation business.
Chiara is an international leader with a proven track record in leading and developing high-performing teams towards business transformation, including driving operational and commercial excellence. Furthermore, she has substantial experience in designing and delivering innovation and customer experience maximization programs.
After graduating in Materials Engineering from the Politecnico of Torino and in Physics at the Ecole de Physique in Grenoble in France, Chiara received an MBA from the Collège des Ingénieurs in Paris.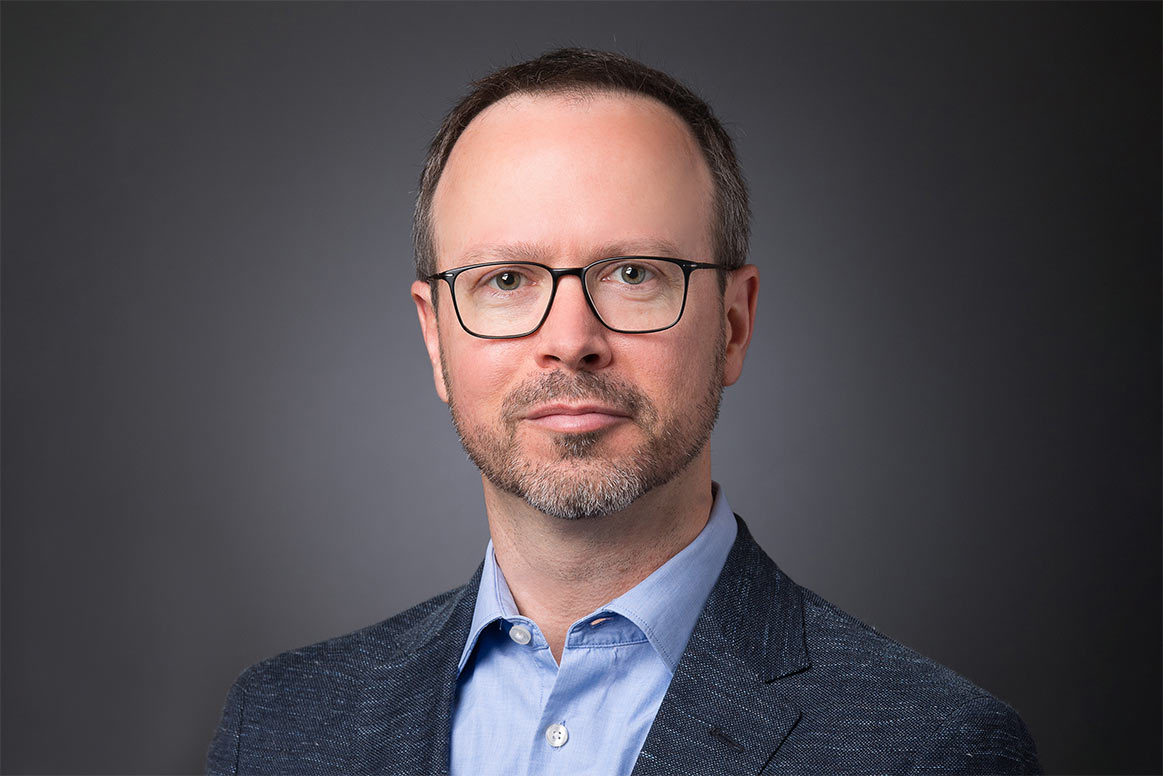 James O'Brien, Vice President Life Sciences
James O'Brien joined Leica Microsystems in 2019 as Vice President Applied Microscopy and took over the Life Science Research Business Unit in June 2020.
James joined us from Tecan where over 16 years he progressed his career from a field-based applications role, service leadership, sales operations to leadership of a variety of Tecan's end customer businesses. Most recently James served as Vice President of Tecan's Labwerx business. While working in global roles, James has lived in the US and Europe.
James' educational background is in biology and his career began at Johns Hopkins University in genomic research. He also holds an MBA from Kenan-Flagler Business School with Honors.
Andreas Hecker, Vice President for the Applied Microscopy Business Unit
Andreas Hecker, Vice President for the Applied Microscopy Business Unit with additional responsibility for our China Innovation Hub. He joined Leica Microsystems in March 2004 as an Optic Design Engineer.
At the beginning of his tenure at LMS Andreas worked as a Senior Project Manager for the sites Wetzlar and Mannheim before he became Head of Software Development for the Life Science Division in 2009. Between 2011–2013, he has also served as R&D Director Digital Pathology at Leica Biosystems and as Global Director Software Development for Leica Microsystems. In January 2015 he became Vice President Global Research & Development.
Andreas has completed his PhD in Physics at the University of Bochum in Germany. After having earned his doctorate in the field of Laser Physics and Spectroscopy, he was heading a small team for Laser Scanning Microscopy for IR at the university.
Markus Limberger, Vice President Global Operations
Markus Limberger joined Leica Microsystems as VP Global Operations on September 2018.
He joins us from Leica Camera AG, where he held the position of Chief Operating Officer (COO) being responsible for R&D, Quality Management, Procurement, and Customer Service, and he successfully ran two production sites in Wetzlar (GER) and Famalicao (POR). Markus is a very experienced leader in every angle of Optics and Digital Imaging, who has built his career with increasing responsibilities. Beside his Leica Microsystems activities, he serves since 2022 as a board member for SPECTARIS- German High-Tech Industry Association.
Markus holds a master's degree in business engineering from the University of Karlsruhe.
Lon Nelson, Vice President Global Service
Lon Nelson joined Leica Microsystems as VP Global Service in October 2021.
Over his 20 year tenure at Leica Microsystems, he advanced his career from product management through commercial marketing leadership and then sales leadership for our Applied and Nanotechnology businesses. Most recently, Lon led our service organization in the Americas, where he focused on improving service delivery and improving customer experience. Lon brings extensive knowledge of our customers' needs, our end markets and our solutions to our leadership team.
Lon's educational background is in biology, with a research focus in plant proteomics, and earned his Bachelor of Arts degree from Knox College. His career began at Abbott Laboratories in fertility diagnostics.
Dominikus Hamann, General Counsel
Dominikus Hamann joined Leica Microsystems as General Counsel on January 1st, 2020.
Dominikus joins us from the Danaher Water Platform, where he served as General Counsel EMEA and global General Counsel for the Hach and OTTHydromet businesses. Dominikus brings an extensive background from the Life Sciences and Technology industries and a top-tier business law firm.
Before Danaher, he worked at Stryker Corporation for 11 years in Legal Counsel roles with international scope and increasing responsibility, partnering closely with business leaders. Dominikus started his career at HEUKING, a leading German business law firm, advising healthcare, tech, and real estate clients.
Georges Hakim, Vice President Regulatory Affairs and Quality Assurance (RA/QA)
Georges Hakim took over the Vice President Regulatory Affairs and Quality Assurance (RA/QA) position for Leica Microsystems in May 2022.
Georges joined Leica in 2018 as Director Regulatory Affairs and Quality Assurance (RA/QA) Medical. Georges brings close to 15 years of international regulatory experience with medical devices. He interacted with various health authorities worldwide to get innovative medical devices on the market.
He holds a Bachelor's and a Master's degree in Biomedical Engineering from the University of Applied Sciences in Hamburg.
Interested to know more?
Talk to our experts. We are happy to answer all your questions and concerns.
Contact Us
Do you prefer personal consulting?