Basic knowledge in optics and contrasting methods is fundamental for microscopic imaging.
The precise setup of an optical microscope including correct Koehler illumination improves image quality – the base for further image analysis. Within light microscopy we differentiate between stained and unstained samples influencing the amplitude and the phase of the light waves traversing the sample. For the human eye, differences in the amplitude are visible as brightness differences.

Contrasting methods like phase contrast, modulation contrast, differential interference contrast, often used in living samples, convert phase shifts into intensity.
Staining and fluorescence techniques, like immunofluorescence or the use of fluorescent proteins, are used to make selected structures or proteins visible. Thus, to optimize the use of a microscope it is reasonable to learn more about its basic characteristics.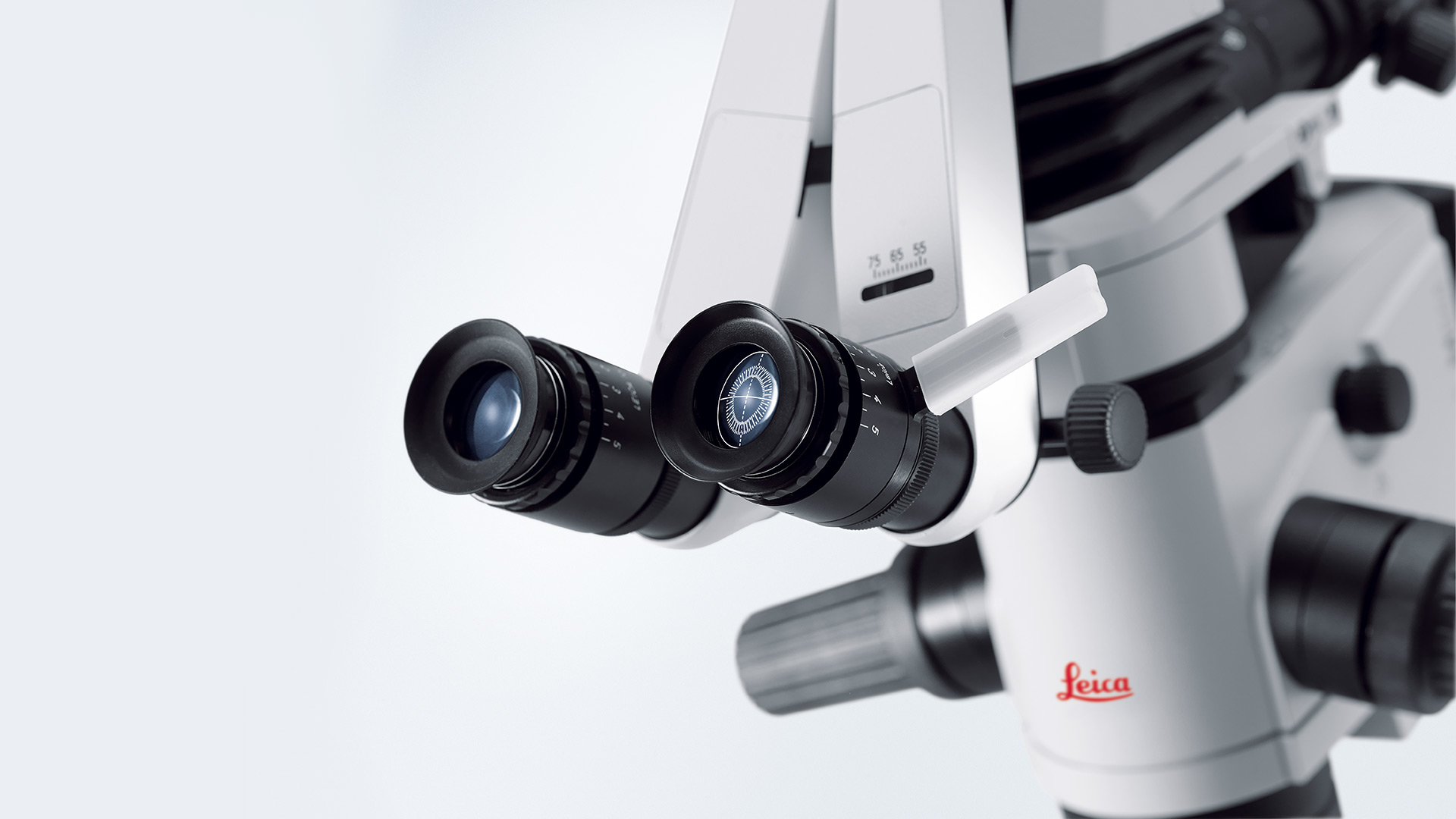 A wide range of eyepieces with 10x, 12.5x, 16x or 25x magnification (for field numbers of up to 25 mm) are available for the tubes. Special eyepieces for eyeglass wearers are available, as are eyepieces with adjustable eyelenses (M eyepieces) designed to accommodate a variety of graticules.
10x eyepieces are standard; eyepiece magnifications of 16x and 25x are intended for special applications only. All eyepieces have removable or fold-down eyecups and can be used with or without eyeglasses.
Eyepieces identified with M are equipped with a focusing eyelens for dioptric equalization (from –6.8 to +4.2 or –6 to +5) and graticule holder. The external diameter of the eyepieces is D = 30 mm.
The graticule diameter is D = 26 mm. Specifications are engraved on the eyepiece, e.g. HC PLAN 10x/20 👓 M. HC PLAN = correction type, 10x = magnification/20 = field number FOV 👓, = for eyeglass wearers (high exit pupil), M = dioptric adjustment/graticule holder.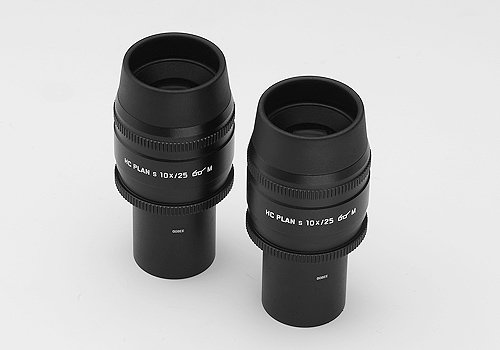 Eyepiece HC PLAN 10x/20 BR
11 507 801
Eyepiece HC PLAN 10x/20 BR.M
11 507 802
Eyepiece HC PLAN S 10x/22 Br.M
11 507 820
Eyepiece HC PLAN S 10x/25 Br.M
11 507 808
Special eyepieces with high magnification
Eyepiece HC PLAN 12.5x/16 BR.M
11 506 515
Eyepiece 16x/14B, adjustable
10 445 301
Eyepiece 25x/9.5B, adjustable
10 445 302
Distance ring for eyepieces 16x/14B and eyepiece 25x/9.5B
11 506 808
Focusing and framing graticules
For length measurements, comparison and counting methods (Ø = 26 mm)
Graticule 10 mm = 100 parts
11 506 950
Graticule 10 mm = 200 parts
11 506 951
Crosshair graticule
11 506 953
Crosshair graticule with graduation, 10 mm = 100 parts
11 506 952
Graticule with grid 10 x 10 mm, 0.1 mm graduation
11 506 954
Graticule with grid 10 x 10 mm, 1.0 mm graduation
11 506 955

High-Speed Fluorescence – External Filter Wheels for Living Cell Applications
They are fast, vibration-free due to their small size, and they offer exceptional versatility. These outstanding features are characteristic for Leica Microsystems fast filter wheels for excitation, attenuation and emission control. Their short switchover times render them suitable even for highly complex applications such as FRET or CA++ imaging (Fura2).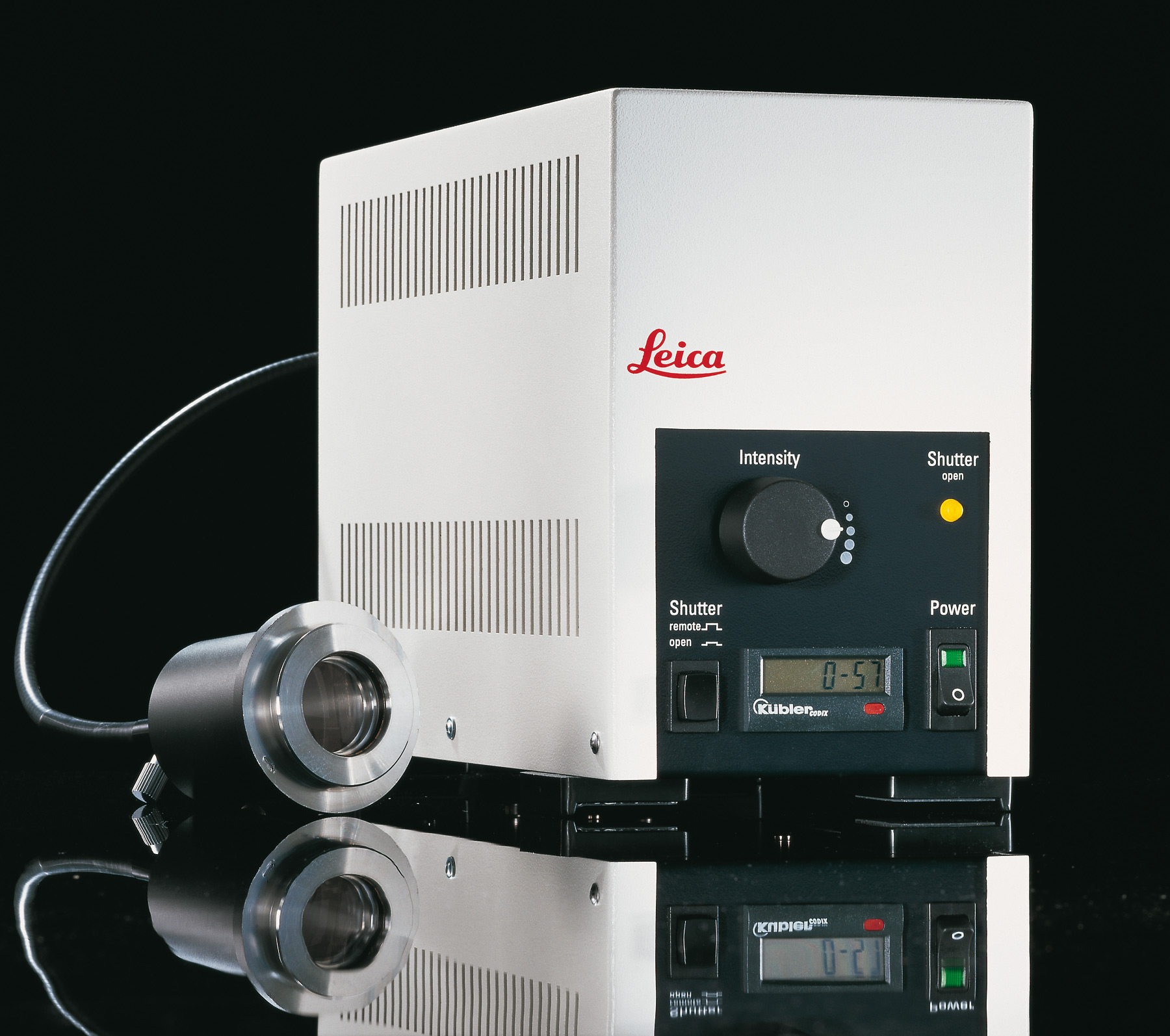 High-speed excitation, attenuation and emission control
24ms switching time (adjacent position)
Minimal vibration
Small and compact design
Synchronized high-speed control through powerful hard- and software solutions (Leica AF6000 E, AF6000, AF6500 and AF7000)
Acquisition speed: 31 fps
Flexible for different set-ups - five position discs with filters
Motorized slider that can be inserted either into the adapter of the Leica EL6000, into the microscope stand or into a special c-mount for emission control
Up to four sliders can be adapted simultaneously
Prefabricated application packages for standard fluorescence, Fura2 and FRET
Leica Microsystems advanced ultrafast filter wheels ensure accurate imaging
The fluorescence filters are lightweight and small in diameter, allowing extremely fast filter switching and minimal vibration.
Excitation and emission light can be selected in just 24 milliseconds (acquisition speed: 31 fps), and individual excitation colors can be attenuated just as quickly.
Tailor-made application packages – even for highly complex life science experiments – are available. Software control is accomplished via either Leica Application Suite or the Leica AF Series, both offering a streamlined user interface that guides users through even complicated experiments.
In addition, Leica offers a full complement of digital cameras. Together with the alignment-free external light source Leica EL6000, the time resolution of fluorescence signals can be optimized even further.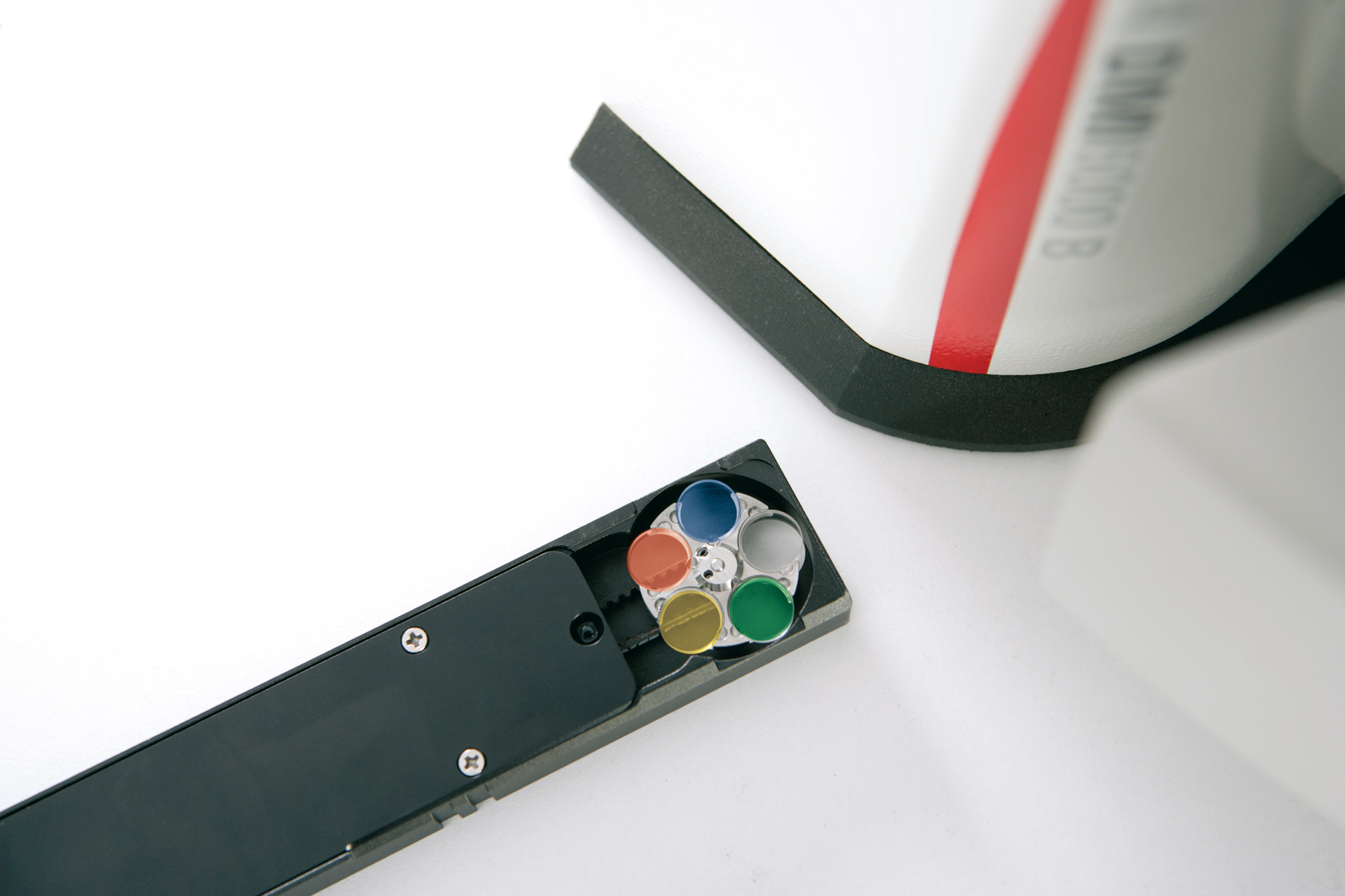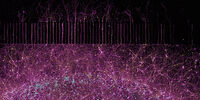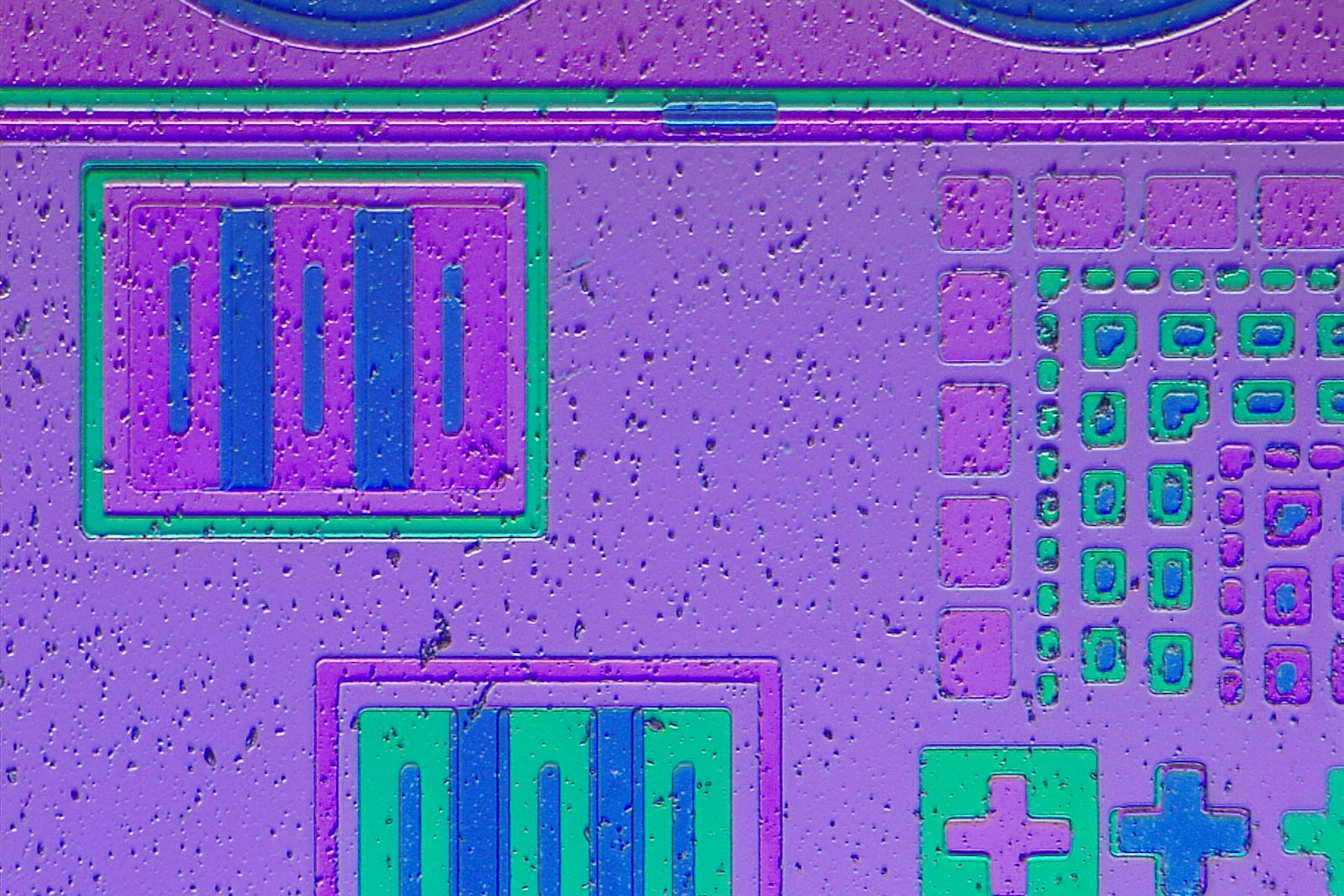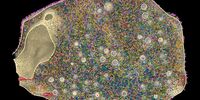 Interested to know more?
Talk to our experts.
Do you prefer personal consulting? Show local contacts