Super-Resolution Microscopy
Super-resolution light microscopy empowers you to study subcellular structures and dynamics with greater detail. While the spatial resolution of confocal image acquisition is doubled with the LIGHTNING technology, when using STED it can deliver insights at the nanoscale. Learn more here about Leica super-resolution methods and how they enable novel discoveries in the fields of virology, immunology, neuroscience, and cancer research.
Need Assistance?
Contact a local specialist for advice on the right super-resolution or nanoscopy system for your needs.
Due to the diffraction limit of light, "traditional" fluorescence microscopy techniques cannot resolve structures below 240 nm. Because biology does not stop at this scale, so-called super-resolution microscopy techniques are indispensable. LIGHTNING and STED are two compelling Leica super-resolution confocal methods for visualizing structures with greater precision and uncovering details that would otherwise not be visible.
The LIGHTNING detection concept is based on adaptive deconvolution and effectively doubles the lateral resolution to 120 nm. With LIGHTNING, you can probe specimens from microtubule dynamics to the structure of subcellular compartments.
STED nanoscopy takes super resolution to the next level, enabling that you routinely achieve lateral resolutions below 30 nm. With STED, you can dissect cellular structure and function in vivo, such as the re-organization of chromatin and nuclear pores, the finest changes in neuronal structure, intracellular transport of mitochondria and synaptic vesicles, the entry of virus particles, the colocalization of protein complexes, and more.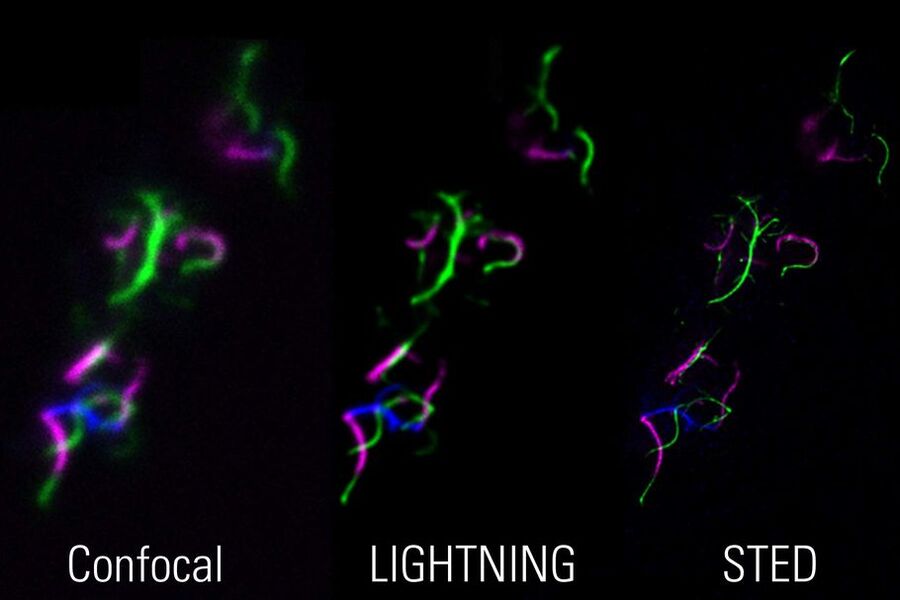 Frequently Asked Questions Super Resolution
What is super-resolution microscopy?
Super-resolution microscopy is an optical imaging technology that overcomes the diffraction limit of light and allows the visualization of subcellular structures and dynamics in greater detail than can be achieved with conventional optical microscopy. A resolution of 30 nm is possible using STED (stimulated emission depletion) with nanoscopy. A nanoscale resolution reveals information about subcellular structures and interactions with unprecedented detail. Super-resolution microscopy enables groundbreaking discoveries in the fields of virology, immunology, neuroscience, and cancer research.
For more information about super-resolution microscopy, refer to the Science Lab articles mentioned above or go to: The Microscopy Knowledge Portal
How does super-resolution microscopy work?
Super-resolution microscopy can be performed in several ways. Here are the 3 more common methods offered by Leica Microsystems:
The LIGHTNING detection concept enables super-resolution confocal microscopy. Unlike traditional deconvolution techniques that use a global set of parameters for the full image, it is based on an adaptive deconvolution process which uses a voxel-specific decision mask for finding the optimal deconvolution parameters . Thanks to powerful GPU computing, LIGHTNING works in near real-time for multiple colors simultaneously. In combination with a resonant scanner, it also provides a large field of view and high frame rate. For more information about LIGHTNING, refer to the following: Obtain maximum information from your specimen with LIGHTNING & Image information extraction by adaptive deconvolution
The STED method along with confocal also allows super-resolution fluorescence microscopy. STED works with multiple channels and approaches isotropic super-resolution imaging in three dimensions. STED is based on the illumination of a diffraction-limited spot with a fluorophore-exciting wavelength and simultaneous illumination of a ring-shaped area with wavelengths that cause de-excitation or stimulated emission. This arrangement renders only a sub-diffraction area in the excited state and consequently allows probing with higher resolution than that of typical diffraction-limited optical microscopy. The unique TauSTED functionality from Leica Microsystems even allows for the increased STED resolution while eliminating undesired background noise .
For more information about STED, refer to: Video Talk on Super-Resolution: Overview and Stimulated Emission Depletion (STED) Microscopy & TauSTED: pushing STED beyond its limits with lifetime
What is the difference: super-resolution microscopy vs electron microscopy?
Whereas super-resolution microscopy exploits visible light optics to visualize a sample, electron microscopy exploits a beam of electrons for imaging a sample. Both techniques have their pros and cons, yet only super-resolution microscopy offers the advantages of experimenting with living specimens, labeling multiple molecular targets to give them specific contrast, and convenient sample preparation.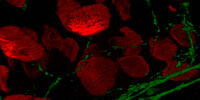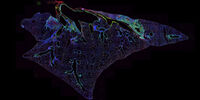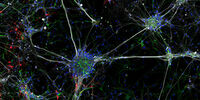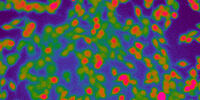 Interested to know more?
Talk to our experts. We are happy to answer all your questions and concerns.
Contact Us
Do you prefer personal consulting? Show local contacts