These plug-and-play microscopes are used in classrooms around the world. In life science subjects such as biology, histology, zoology, or anatomy as well as in earth sciences, materials sciences, or forensics education, they feed enquiring minds of beginners, explorers, and experts alike.
Which educational microscope is suitable for which class?
The matrix will help you determine which of our instruments would be eligible for your classroom.
A: Begin B: Explore C: Advance
Contact Us
If you have any questions, please contact your local Leica Microsystems representative.

Earth Sciences Education Microscopes
Discover the evolution of the Earth. 
As a teacher of earth sciences, you show your students how to study minerals, rocks, soil, sediment, and other components of our Earth's crust, ocean, and atmosphere.
In your area of expertise, fields of study can be as specific as micropaleontology, hydrogeology, sedimentology, or environmental science. Microscopy tasks can become highly specific as well, using polarization contrast for reflectivity studies, for example. Dedicated optics and software help your students on their way.
Our microscopes help students learn to
Identify and work with minerals and rocks
Classify and describe rocks
Deduce how minerals and rocks formed
Begin, Explore, Advance
Begin with the Leica EZ4 or Leica DM750 P
Explore with the Leica EZ4 W, Leica EZ4 E or Leica DM750 P
Advance with the Leica EZ4 W, Leica EZ4 E, Leica DM750 P or DVM6 M

Forensic Science Education
Discover the truth.
It takes microscopic investigation to turn traces into evidence.
As an expert on forensics, you teach students to develop a good understanding of what different illumination and contrasting methods will reveal as valid evidence and how software helps them to make their reporting easier.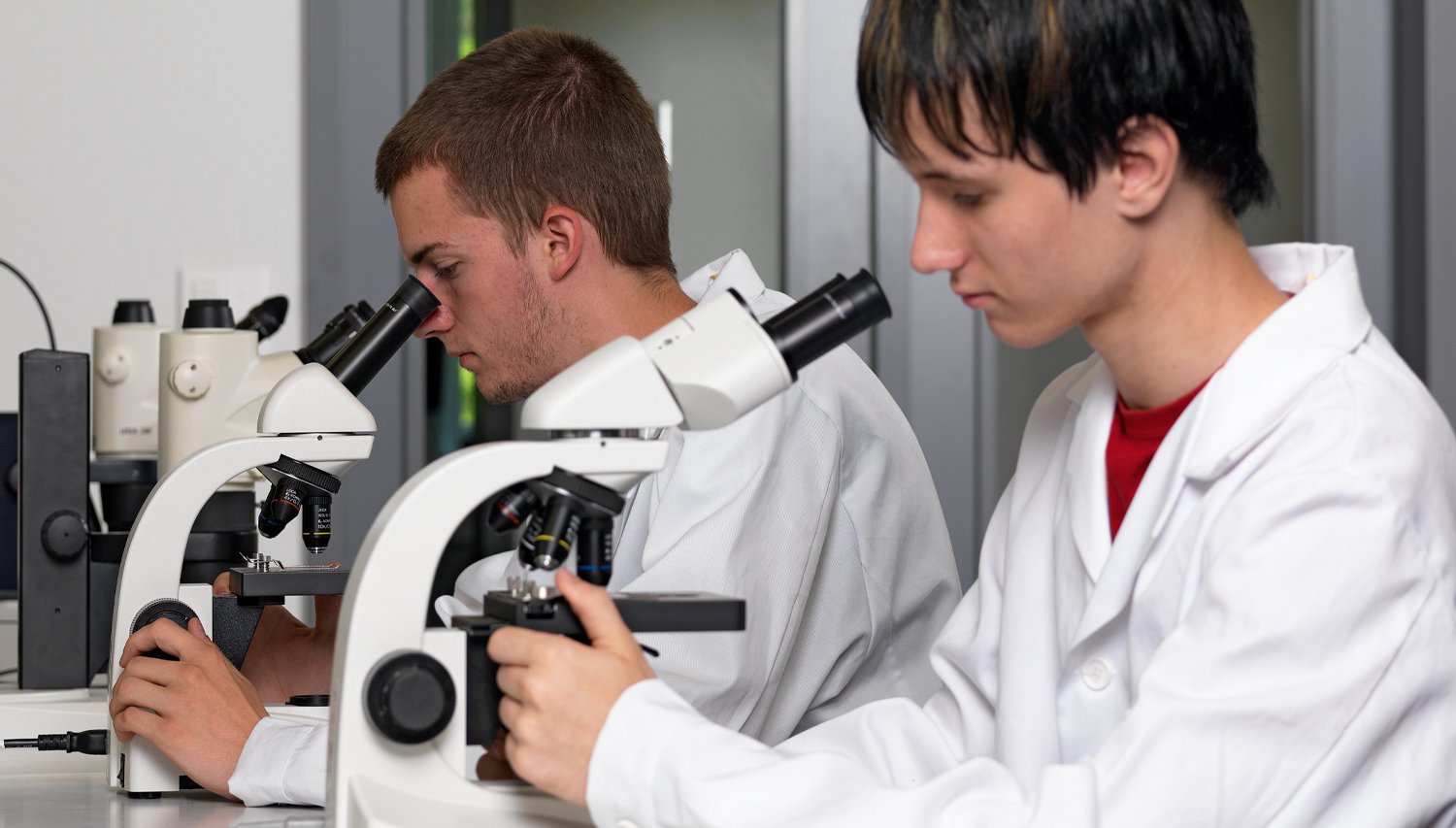 Forensic Science Education
Our microscopes help students learn to
Examine ammunition and tool marks
Examine trace evidence such as fibers, hair, paint, or fingerprints
Expose forgery or counterfeiting in questioned documents
How to compare, analyze and document their findings
Begin, Explore, Advance
Begin with the Leica EZ4 or Leica DM750 P
Explore with the Leica EZ4 W, Leica EZ4 E or Leica DM750 M
Advance with the Leica EZ4 W, Leica EZ4 E, DM750 P or Leica DM750 M

Life Science Education Microscopes
Discover the structures of life!
As a teacher of biology, you show students how living organisms are structured using tissue sections and blood smears as microscope samples.
To get the most out of their observations, they should be flexible: for example by changing magnifications and optics, or using different contrasting methods such as phase contrast and darkfield. Working with software to document, annotate, and share images increases their learning experience even further.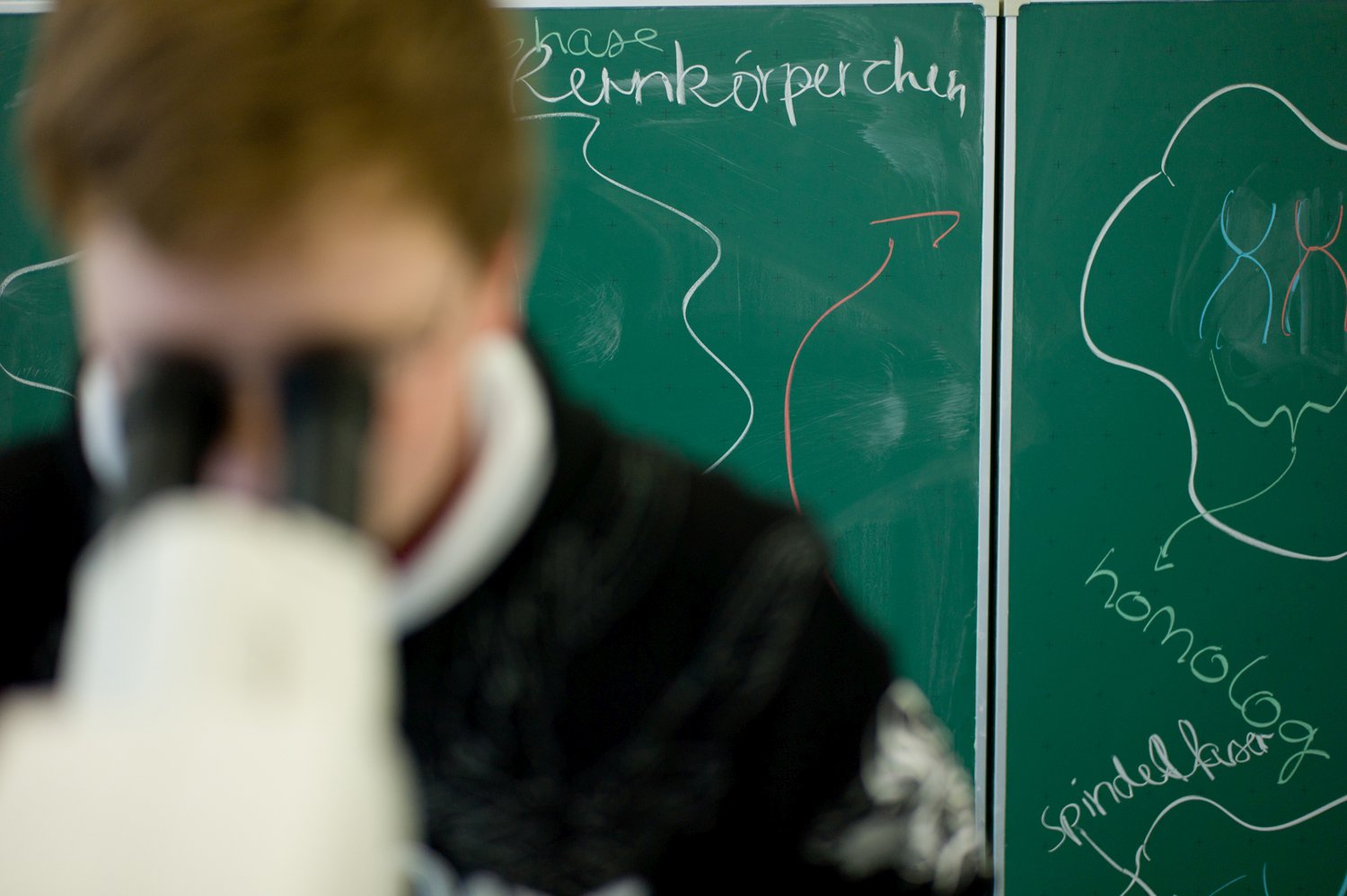 Our microscopes help students learn to
Identify different parts of cells
Distinguish between plant and mammalian cells
Looking at cell membranes or cell walls
Distinguish between tumor and healthy cells
Distinguish gram positive and negative bacteria
Identify bacterial spores in negative stains
Dive deeper into cell functionalities
Begin, Explore, Advance
Begin with the Leica ES2, Leica DM100, or Leica DM300
Explore with the Leica EZ4 or Leica DM500
Advance with the Leica EZ4 W, Leica EZ4 E or Leica DM750

Material Sciences Education Microscopes
Discover the properties of materials.
Teaching materials science involves a lot of knowledge on a variety of materials such as carbon, polymers, metals, glass, and ceramics.
Your lessons help students characterize and analyze materials for their properties, purity, and possible use in engineering, using a variety of optics, contrasting methods such as brightfield, polarized light, or oblique illumination, and software in the process.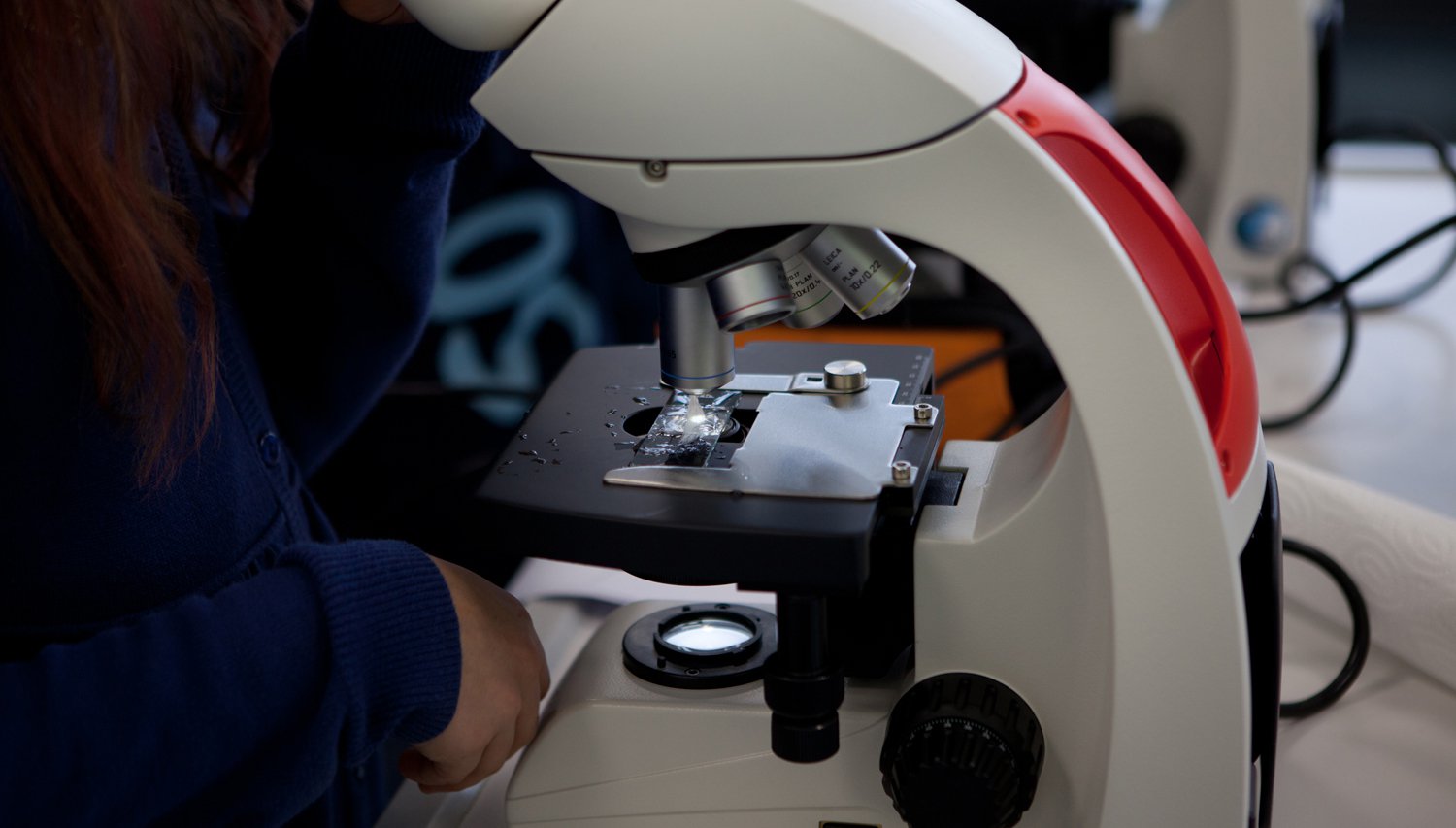 Material Sciences Education
Our microscopes help students learn to
Look at surfaces of materials
Look at cross-sections of a given sample
Describe material characteristics
Begin, Explore, Advance
Begin with the Leica EZ4 or Leica DM750 M
Explore with the Leica EZ4 W, Leica EZ4 E or Leica DM750 M
Advance with the Leica EZ4 W, Leica EZ4 E or Leica DM750 M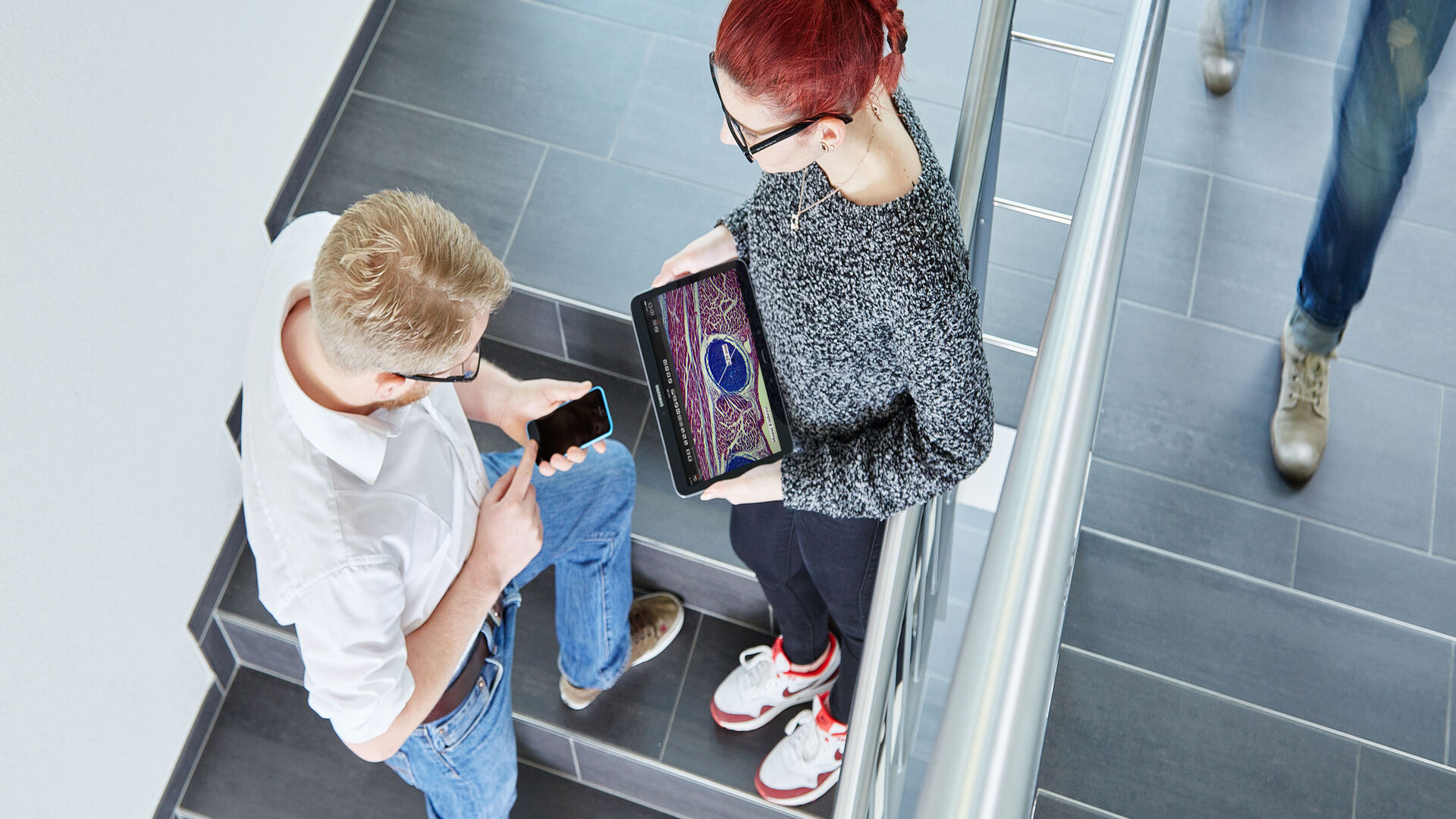 Wi-Fi Education Solutions
Letting minds meet … anywhere.
Smartphones, tablets, and laptops are the carriers of modern networked knowledge. Our Wi-Fi Education solutions liberate you from device or location, and give unlimited access to knowledge. It only takes a microscope, a wireless camera and an App to let minds meet anywhere.
Go Wi-Fi! With the Leica EZ4 W stereo microscope with integrated Wi-Fi camera and the Leica ICC50 W Wi-Fi camera for compound microscopes and the AirTeach software that turns your microscopy laboratory into a digital classroom.
Using camera and software, students can work with their images beyond the microscope:
Extracted images from the microscope
Make images available for analysis and measurements, documentation for reports
Share images
Essentially, working with a microscope equipped with camera and software is fun for students, because they can use and share their own images.
The AirTeach software bares a lot of functions to assist teachers in their daily challenges in microscopy classes.
With the AirTeach teachers can
see a thumbnail overview with live images of all connected microscopes in class
share up to four images on a large screen projection to allow a comparison
switch on other content with the AirClass sharing function to vary teaching and keep students' attention
walk freely in the room to give students individual attention while controlling the students' images
annotate a selected image live in front of the whole class watching
Your advantages with Leica Wi-Fi Education solutions
Wireless HD images for best image quality
Up to 5.0 MP capture resolution for best documentation
Choice of modes (Wi-Fi, USB, SD, Ethernet) for more flexibility
HDMI output always available for large screen projection
CapSense controls for durability and reliability
Camera powered from the microscope, saving cost and infrastructure
Personal smartphones or tablets in class to save equipment cost
Experience a new dynamic in class
Use personal devices and stay connected
Allow your students to use their own laptops, tablets or smartphones. With learning content transferred directly to their devices, you can engage them more easily and promote team work: Your students can share results, work together and network wherever they are.
For the presentation of blood smears and cytological samples, the wireless microscope camera for use with mobile devices would make our teaching much easier. The captured images can be acquired easily by multiple students, annotated, and then shared among the students and with the professor or classroom instructor.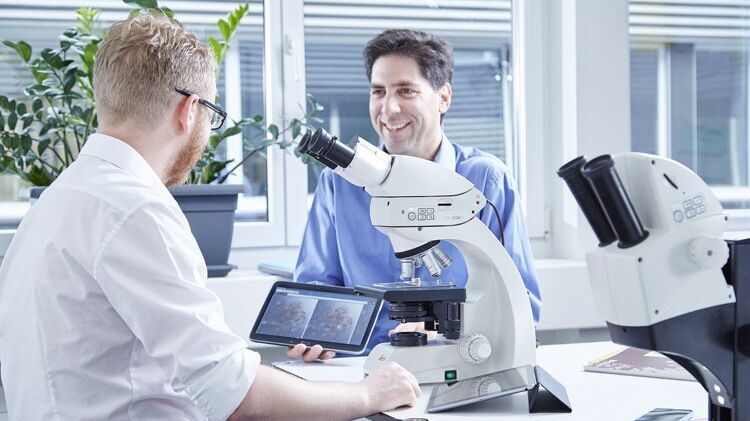 Keep students on task and increase attention
Replace the blackboard with the students' tablets and enable them to learn in a digital environment that is already part of their lives. The Leica AirLab App makes learning as well as teaching fun and easy.
With the wireless microscope camera, the students can capture images of what they have actually observed with the microscope, make annotations, and send them back to the professor or classroom instructor for evaluation.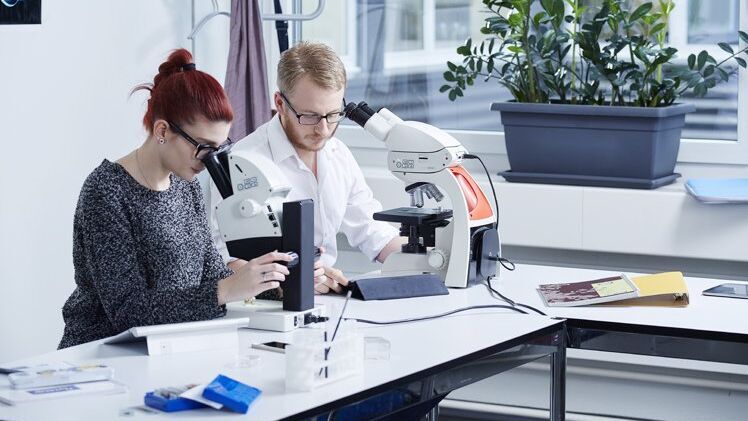 Maximize learning time and minimize setup time
Class time is precious. Save set-up and dismantling time. From now on you only need one power cord for each microscope and you`re good to go!
As the designer of all new labs at Earth Observatory Singapore, I would definitely incorporate this technology in any future labs using microscopes. The wireless camera system is much easier to setup than the current one used in our microscope lab.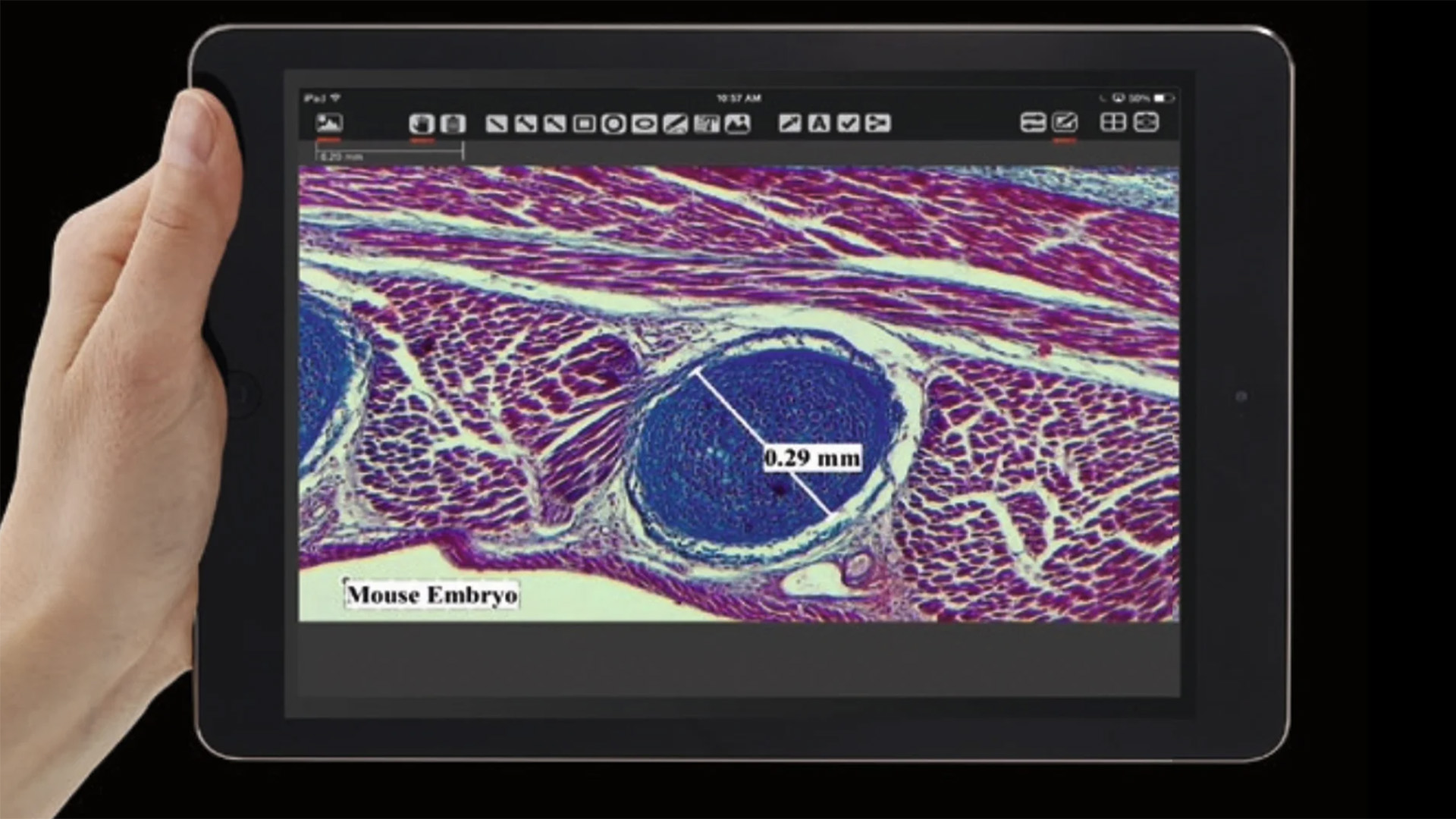 Learning becomes inspiring and interactive as students feel more engaged when sharing, discussing, and comparing their findings with the whole class. And if you would like to digitize your classroom and engage your students via Wi-Fi with tools they even use in their leisure time, we offer wireless classroom solutions.
Download the Leica AirLab App free of charge
Switch on the camera
Capture images and videos in HD quality
Simply use it with your smartphone or tablet
View live thumbnail images of all connected cameras and microscopes in class
With intuitive touchscreen control, students and peers can measure, annotate, and archive images. Also they can share work results with just a few taps.
Interested to know more?
Talk to our experts.
Do you prefer personal consulting? Show local contacts