Cell Biology Research
When your research is centered on understanding the cellular basis of human health and disease, it is critical to investigate the cells of interest in spatiotemporal and molecular detail. Consequently, microscopy is an ever-important tool in cell biology, allowing you to study your specimens in detail within their structural environment, as well as, analyze cellular organelles and macromolecules. Cell biology imaging is done with a range of light and electron microscopes. Imaging solutions offered by Leica Microsystems are designed to maximize your cell biology research.
Need Assistance?
Contact a local specialist for advice on the right cell biology system for your needs.
Challenges with cellular imaging
The challenges faced when using microscopy for cell biology research vary, as the imaging of inter- and intra-cellular events requires a range of samples that vary in size and complexity. Imaging of these events needs to be performed from the nanometer to the millimeter scale.
Additionally, the study of cells under the microscope is further influenced by whether they are live or fixed samples, as these cases pose different imaging challenges. One challenge is how to capture fast dynamic events with the right resolution. Another one, for any cellular structures or events that do not produce a natural contrast during imaging, is choosing the right fluorescent proteins, antibodies, or nucleic acid probes to use as tags for specific proteins, DNAs, and RNAs in the cell to be viewed with fluorescence microscopy.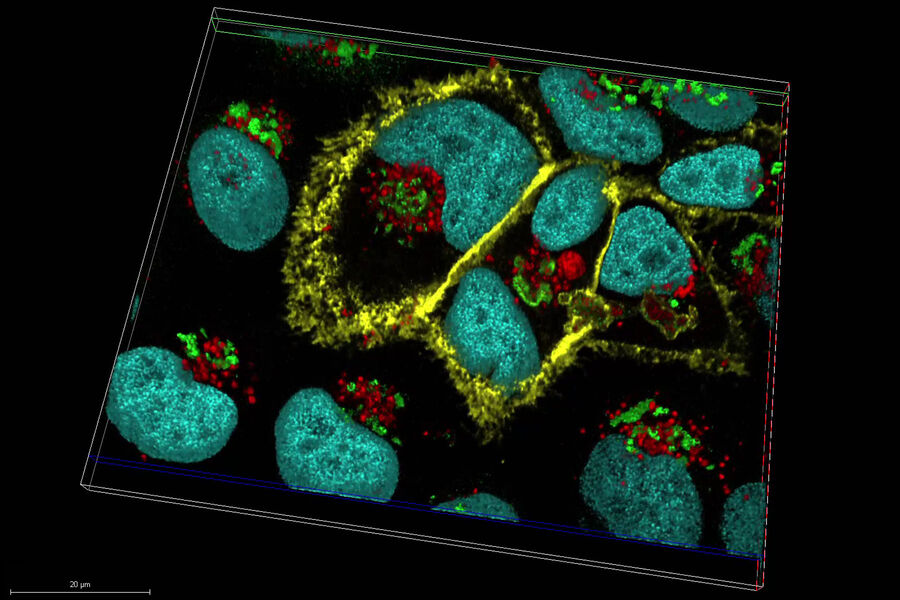 Finding the right solution for cellular imaging
Choosing the right microscopy method is critical if you want to maximize your research output and obtain the highest quality data. Leica Microsystems offers various solutions to improve your cell biology research. These range from digital imagers that enhance daily cell culture tasks to high-end imaging solutions that enable the study of single molecules in detail, seamlessly move from fast widefield imaging to high resolution confocal imaging with just a simple click or maximize the amount of results you get from your sample.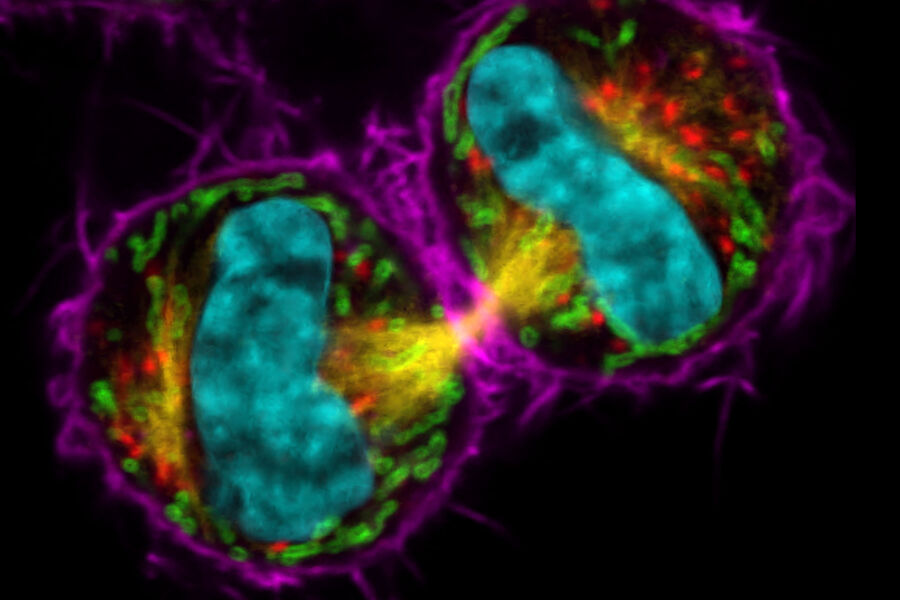 THUNDER Imagers provide you with a solution for advanced 3D cell culture assays, whether you want to study stem cells, spheroids, or organoids. THUNDER Imager 3D Live Cell & 3D Cell Culture meets your requirements to study cells close to their physiological state by optimizing experimental conditions, e.g., the lowest light intensity and shortest exposure times possible.
TIRF is ideal for imaging dynamic processes and the method of choice for visualizing single molecules with super-resolution.
Experience the power to see more within your cells, with enhanced image quality, the possibility to image more markers within one sample at the same time, and the capacity to make detailed observations without influencing or damaging your sample with STELLARIS confocal microscope platform.
Featured image
Image of C2C12 cells
The cells are stained with lamin B (magenta) which indicates nuclear structure, Hoechst (blue) indicating DNA, and γH2AX (yellow) indicating damage to DNA. Cells were imaged using a THUNDER Imager 3D Live Cell with a 63X/1.4 oil immersion objective.
Images courtesy of Dr. Lucas Smith, Department of Neurobiology, Physiology and Behavior, College of Biological Sciences, University of California at Davis.
Follow us on Instagram
Interested to know more?
Talk to our experts.
Do you prefer personal consulting? Show local contacts