Neurosurgery Microscopy Solutions
Leica Microsystems offers a range of surgical microscope solutions to support neurosurgeons in the most complex microsurgery applications. Our cutting-edge neurosurgery microscopes provide optimal and reliable visualization, including built-in fluorescence filters and innovative GLOW 800 augmented reality fluorescence.
They are designed to perfectly address surgeons' needs, offering brilliant illumination, upgradability, as well as adjustable viewing accessories to support ergonomics. Furthermore, our solutions for neurosurgery feature heads-up display, facilitating challenging and new operating procedures and new approaches in neurosurgery.
Need Assistance?
Contact a local imaging specialist for expert advice on the right neurosurgery microscope for your needs and budget.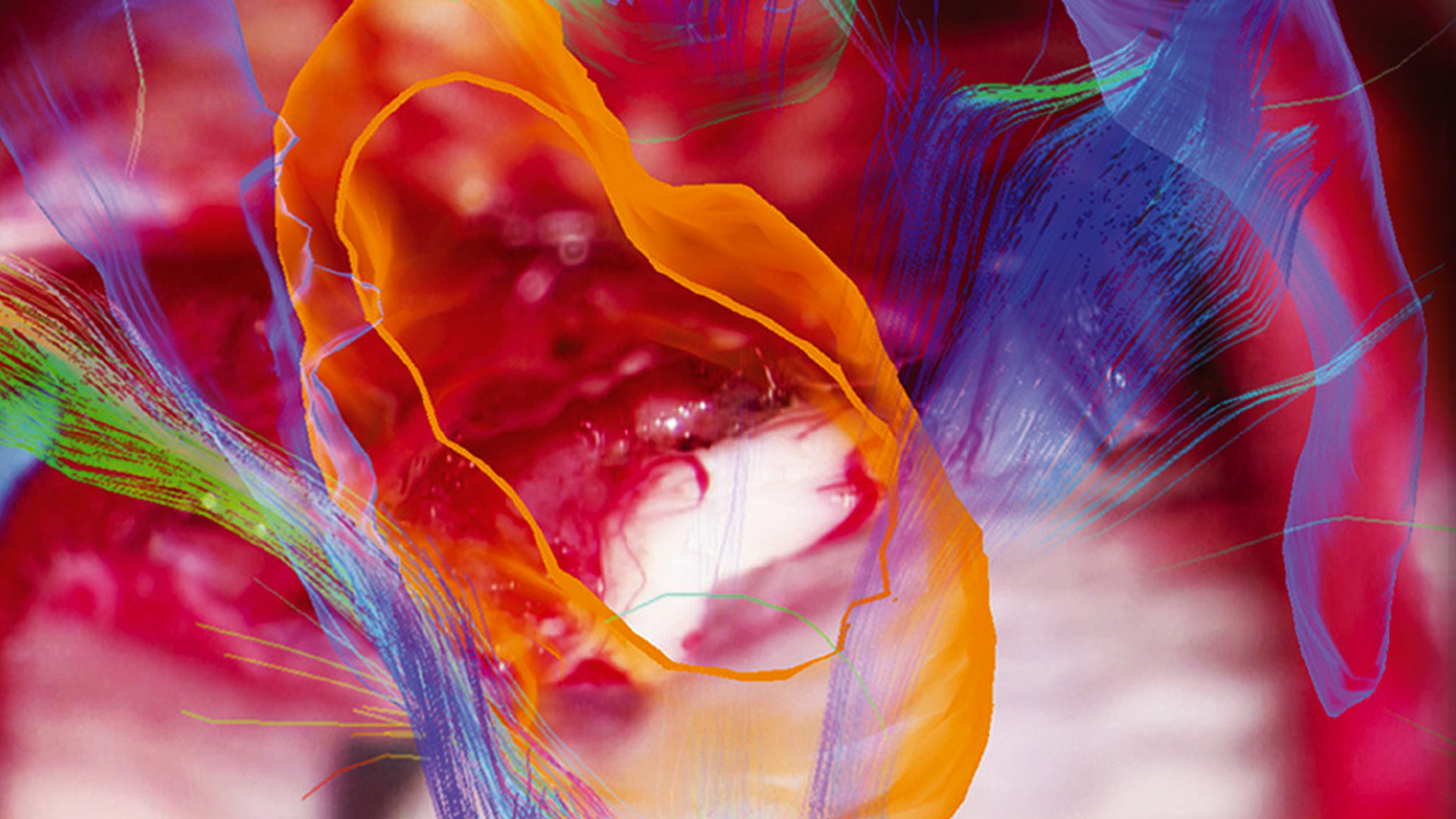 Leading visualization with FusionOptics technology can also be supplemented with fluorescence imaging, and GLOW augmented reality fluorescence, our latest ground-breaking technology, which is available for our premium overhead microscopes.
To augment surgical insights intraoperatively data from other sources, e.g. leading IGS systems and neuroendoscopes, or DICOM can be injected into the eyepieces and displayed on HD screens.
4K 3D on-screen viewing and recording are also available to supplement intraoperative visualization, facilitate new operating approaches with Heads-up-Display (HUD), and support surgical teaching.
Applications of Neurosurgery Operating Microscopes
Neurosurgeons rely on surgical microscopes to visualize the surgical field and the fine anatomical details of brain structures in order to perform a wide range of surgical procedures with high precision.
Applications of neurosurgery operating microscopes can include the following:
Brain aneurysm repair
Tumor resections
Arteriovenous malformation (AVM) treatment
Cerebral artery bypass surgery
Epilepsy surgery
Spine surgery
Leica microscopes for neurosurgery feature innovative, integratable technologies that enhance the surgeon's vision through an augmented reality. In vascular surgery, for example, GLOW800 augmented reality (AR) fluorescence allows the neurosurgeon to clearly visualize blood flow in real time.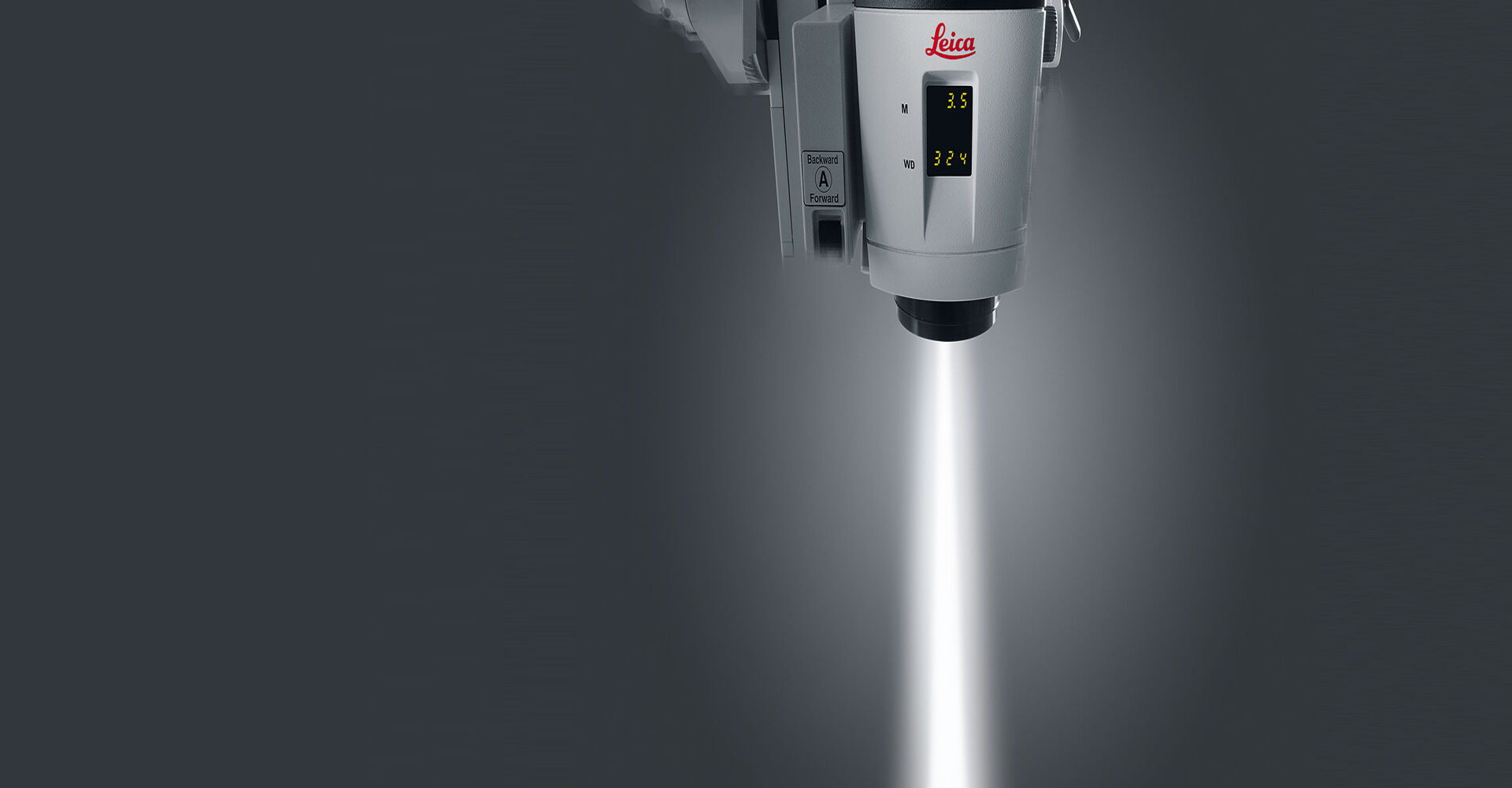 Challenges of Neurosurgery Microscopy
Neurosurgeons operate in deep and narrow cavities, while navigating through delicate tissue and locating anatomical structures with vitally important functions.
Achieving sufficient illumination and depth of field, as well as a large enough and unobstructed field of view are some of the main challenges of using microscopy in neurosurgery.
Simultaneous and clear visualization of blood flow in neurovascular procedures, as well as differentiating between different tissue types in tumor resection surgery are some of the most important challenges of modern neurosurgery.
Finally, poor ergonomics resulting in musculoskeletal pain and reduced productivity remains an important issue facing neurosurgeons, impacting their quality of life and career longevity.
One Augmented View in Vascular Neurosurgery
GLOW800 augmented reality (AR) fluorescence and ICG create a simultaneous white-light and real-time fluorescent blood flow view, creating a crisp visual delineation between cerebral anatomy and blood flow.
This advanced feature offers a single augmented image of cerebral anatomy in natural color and real-time vascular flow, eliminating interruptions and the need to switch between the natural microscope image and the flat black and white NIR video.
See the natural color of tissue, experience full depth perception, and get a real-time augmented view of blood flow for increased confidence to make precise treatment decisions during vascular neurosurgery.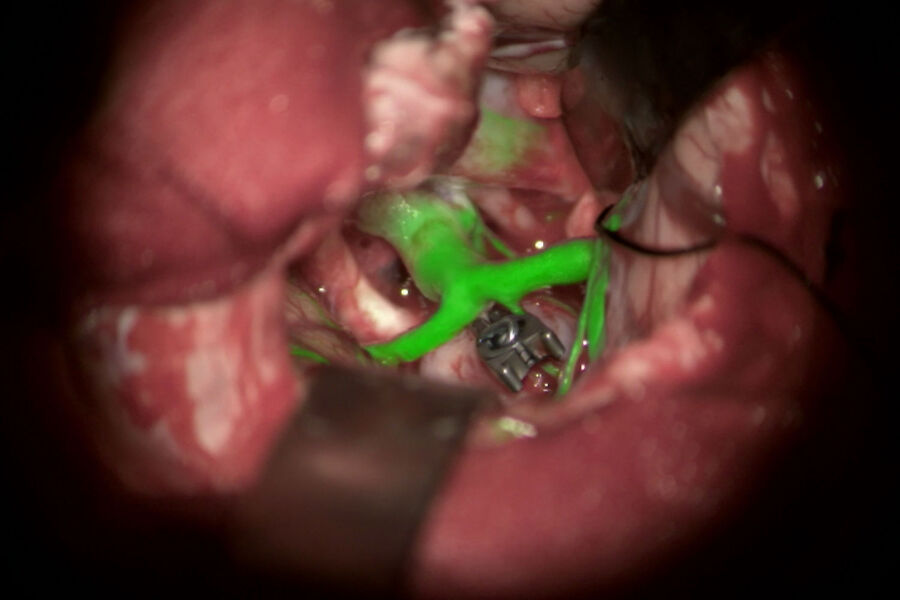 Augmenting Insights with Neurosurgical Microscopes
During delicate and complex neurosurgery procedures, optimally preserving healthy brain tissue remains one of the most significant challenges. Image-guided surgery (IGS) and robotic control play an increasingly important role in neurosurgical interventions, as they facilitate intraoperative surgical decision-making and help surgeons achieve optimal patient outcomes.
Leica offers neurosurgical microscopes compatible with leading neuro navigation systems allowing image injection of IGS systems directly into the surgeon's eyepieces or onto a 3D 4K screen, creating an augment surgical view. With this cutting-edge technology, neurosurgeons no longer need to look away from the surgical view, ensuring efficient and uninterrupted workflow.
Learn about the Brainlab microscope navigation software, which is compatible with the Arveo neurosurgery microscope from Leica Microsystems, courtesy of BrainLab AG.
Enhanced View with Fluorescence Filters
Leica Microsystems is a pioneer in the field of fluorescence microscopy technology, developing innovative fluorescent modules for various medical applications.
The surgical microscopes of the M530 range* feature the TriFluoro technology, helping medical professionals see more and make decisions with more confidence. TriFluoro enables up to three modes of integrated fluorescence:
FL560 fluorescence filter: Get a single, real-time view of fluorescent and non-fluorescent areas with clear differentiation and high contrast during aneurysm repair.
FL400 fluorescence filter**: When used with 5-aminolevulinic acid (5-ALA) this filter supports resection procedures by allowing precise differentiation of tumor tissue from healthy brain tissue.
FL800 intraoperative video-angiography module: When used in conjunction with ICG fluorescent dye, this feature allows neurosurgeons to clearly visualize blood flow in real-time.
*TriFluoro and GLOW800 are not available with PROvido
**Please check with your local Leica Microsystems representative for product registration status.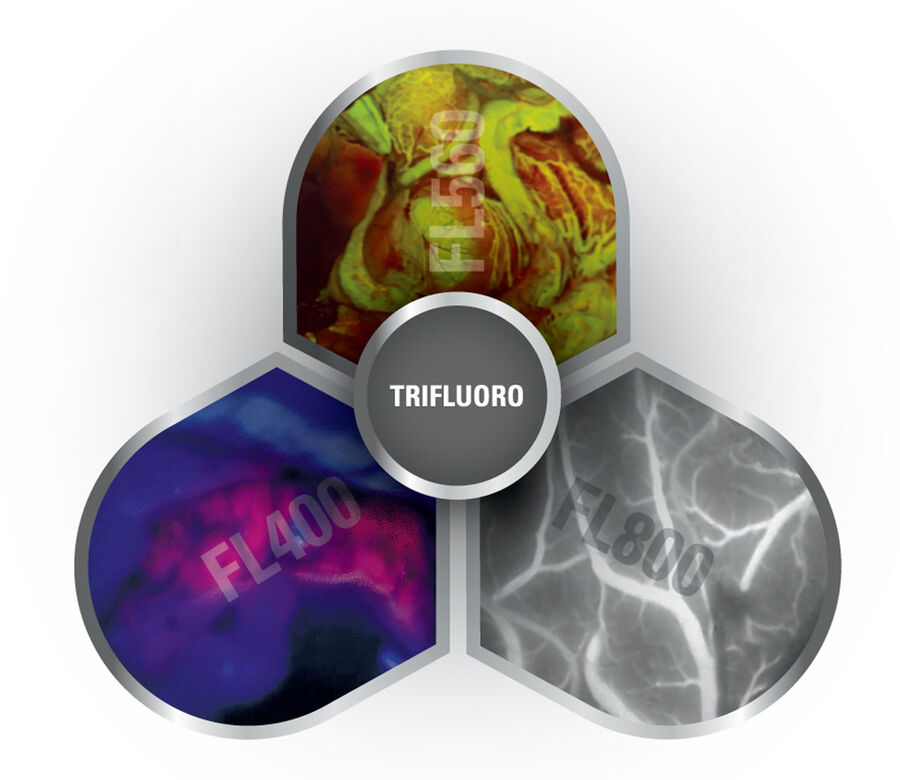 Adaptability and Enhanced Ergonomics of Leica Neurosurgery Operating Microscopes
Leica neurosurgery microscopes provide great maneuverability, allowing optimal positioning and enhanced ergonomics for both the surgeon and the resident during lengthy procedures.
Recent advances in 3D exoscopic surgery via the heads-up display herald a new era in neurosurgery. In addition, this method significantly improves ergonomic positioning for surgeons. The heads-up display also allows everyone in the OR to see the same image as the surgeon on a 4K screen in 3D, improving training and documentation.
Adaptable neurosurgery microscopes should further offer the following features:
Positioning freedom and easy maneuverability, allowing smooth movement of the microscope with one hand.
Adaptable binoculars that can be positioned and angled to fit specific operating requirements.
Intuitive and easy-to-reach microscope controls, including programmable footswitch and handles.
Resistance to vibrations and sturdy design.
Integration with Other Devices and Technologies
Leica offers a range of accessories compatible with our neurosurgery microscope solutions to meet the needs of neurosurgeons for increased efficiency, uninterrupted workflow and augmented surgical insights.
The ARveo and M530 OHX neurosurgical microscopes from Leica Microsystems provide the following advanced features:
Augmented Reality fluorescence by the GLOW AR Platform
IGS system integration of leading neuro navigation providers
Fluorescence filters FL560, FL400 and FL800
CaptiView Image injection system display of endoscopic and IGS images directly in the eyepieces
External 3D 4K Screens perfectly suited for exoscopic surgery
Imaging and recording systems
Variety of binoculars and objective lenses
Non-slip handles
Stand-mounted monitors of various sizes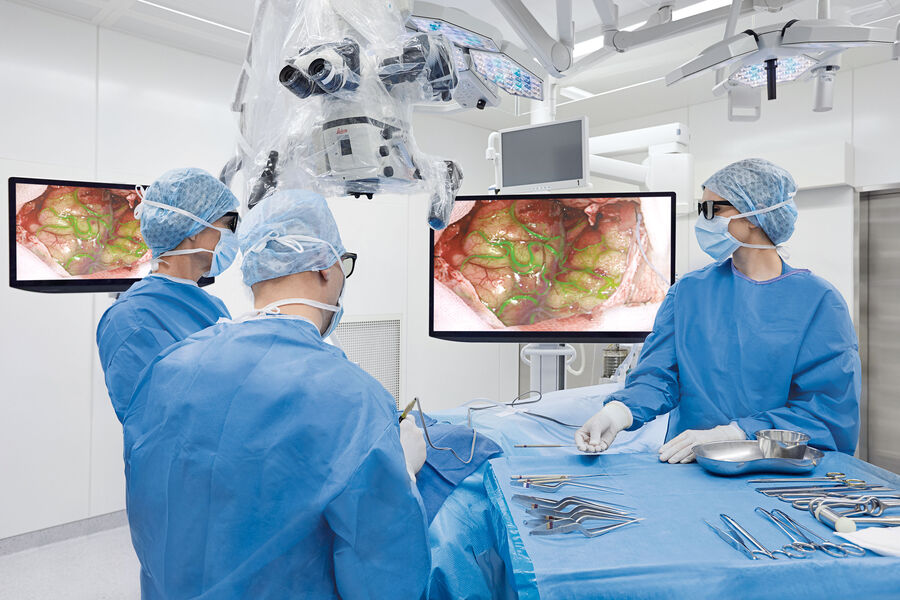 Important Considerations for Selecting a Neurosurgery Microscope
Powerful and Safe Illumination: Light management systems in neurosurgery microscopes need to facilitate work in narrow and deep cavities, while avoiding risk of damaging highly delicate tissue. BrightCare Plus technology from Leica controls the light intensity in relation to the working distance, ensuring optimal illumination while protecting sensitive tissue.
High Optical Quality: A large depth of field, high resolution and true-to-life color representation are required for accurate visualization of small and intricate anatomical structures. The FusionOptics technology from Leica provides a fully focused deep view into narrow cavities, ensuring seamless workflow with no interruptions to refocus.
Open Architecture and Upgradability: To serve as a long-term investment, the neurosurgery microscope should offer integration options with other technologies and devices, such as visualization aids for Augmented Reality, fluorescence filters, lasers, patient information systems, neuro navigation systems and endoscopes.
Ergonomics and Flexibility: Adaptable microscope parts, as well as options for exoscopic surgery with heads-up display allow for optimal ergonomics during surgical procedures.
Interested to know more?
Talk to our experts.
Do you prefer personal consulting? Show local contacts