Neuroscience Research
Neuroscience often requires investigating challenging complex specimens using a microscope in order to better understand the nervous system. Leica Microsystems offers a comprehensive range of imaging solutions which enable you to overcome these challenges.
Neuroscience is a multidisciplinary field involving the study of the structure and function of the nervous system. The purpose is to understand the development of cognitive and behavioral processes as well as understand and find therapies for disorders, such as Alzheimer's or Parkinson's disease.
The use of microscopy techniques is critical to visualize the nervous system at cellular and subcellular levels and view any molecular changes within context. Recent developments in deep tissue imaging have provided further insights into neuronal function. Emerging technologies like genetic cell labeling and optogenetics complement these developments.
Imaging challenges for neuroscience research
Research of the nervous system often requires the combination of high resolution, deep imaging and visualization of large sections. You also require flexibility to image different types of samples, such as live cells, tissues, organoids, and model organisms.
The study of fast dynamic processes, such as cell transport or synaptic remodeling, require high-speed microscopy. One of the main challenges of high-speed microscopy is acquiring high-resolution images while avoiding fluorescence saturation.
Neuroscience research often involves wide-area and volumetric imaging. The need to reduce fluorescence scattering and the background signal can make acquiring images with high contrast and resolution difficult, which is particularly critical when examining neuronal architecture in dense tissues like brain sections.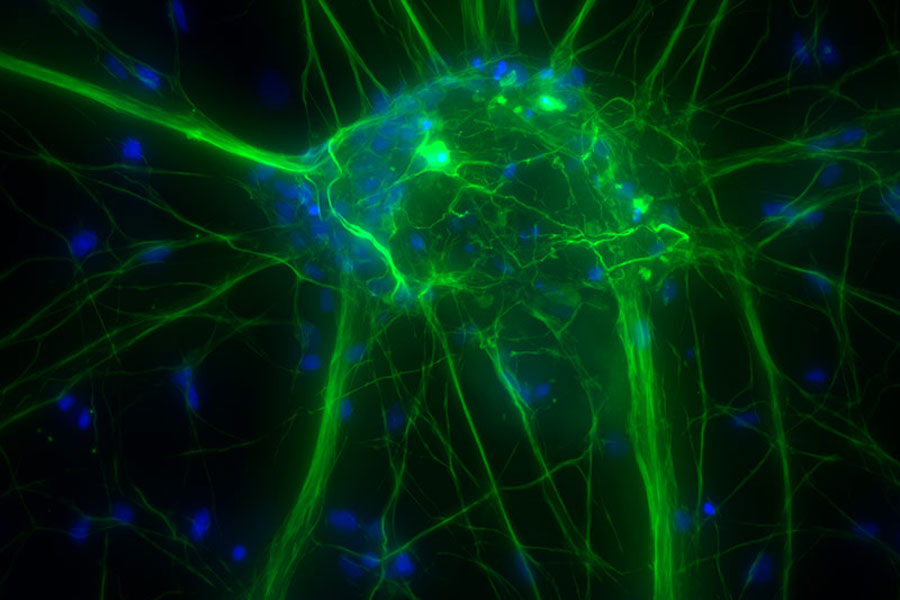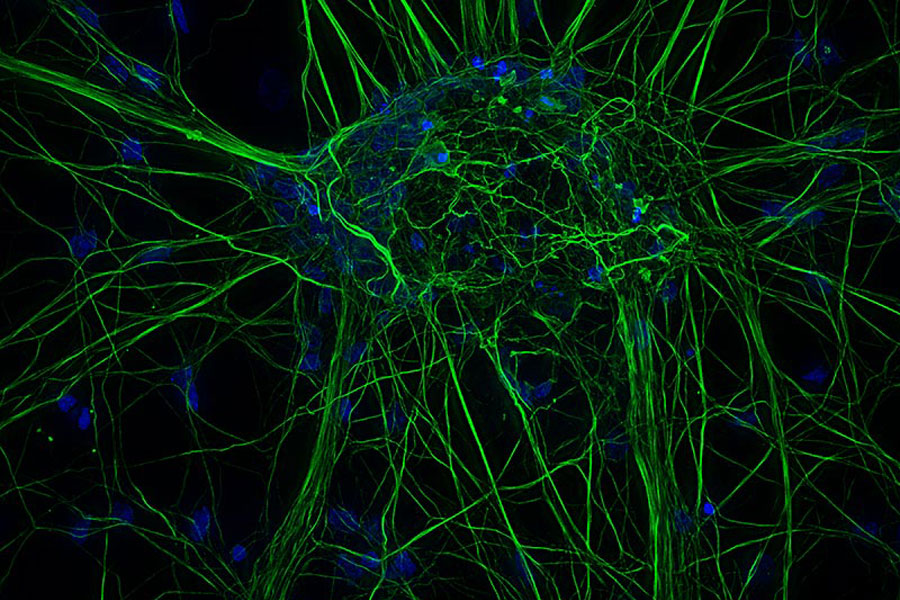 Cultured cortical neurons. Z-stack of 59 planes (thickness: 21µm). Sample courtesy of FAN GmbH, Magdeburg, Germany.

Featured image
Neuronal cells
Nucleus (DAPI, blue), Tubulin (Cy3, green), Nestin (Cy5, red), DCX (Cy2, magenta). Acquired with the DMi8 S system
Follow us on Instagram
Microscopy methods for neuroscience research
The study of the nervous system typically relies on confocal microscopy for high resolution imaging of events and structures. For deeper in vivo imaging, multiphoton microscopy is used, as its capacity to use near-infrared excitation reduces light scattering, enabling deep imaging with minimal invasiveness. Lightsheet microscopy is also preferred for light-sensitive or 3D samples. It reduces phototoxicity while providing intrinsic optical sectioning and 3D imaging.
Optogenetics is a technique that involves controlling neural activity using light and enables the study of specific neuronal networks and cell signaling. It requires the expression of light-sensitive proteins in the neuronal cell membrane. Exploring events at the nanoscale using optogenetics in combination with timed millisecond precision vitrification is a promising technology to study specific time points within a dynamic process.
Electrophysiology is the study of the electrical properties of tissues and cells and includes the study of the electrical properties of neurons. The function of nerve and muscle cells relies on ionic currents flowing through ion channels. One way to investigate ion channels is to use patch clamping. This method allows investigation of ion channels in detail and recording of the electric activity of different types of cells, mainly excitable cells like neurons.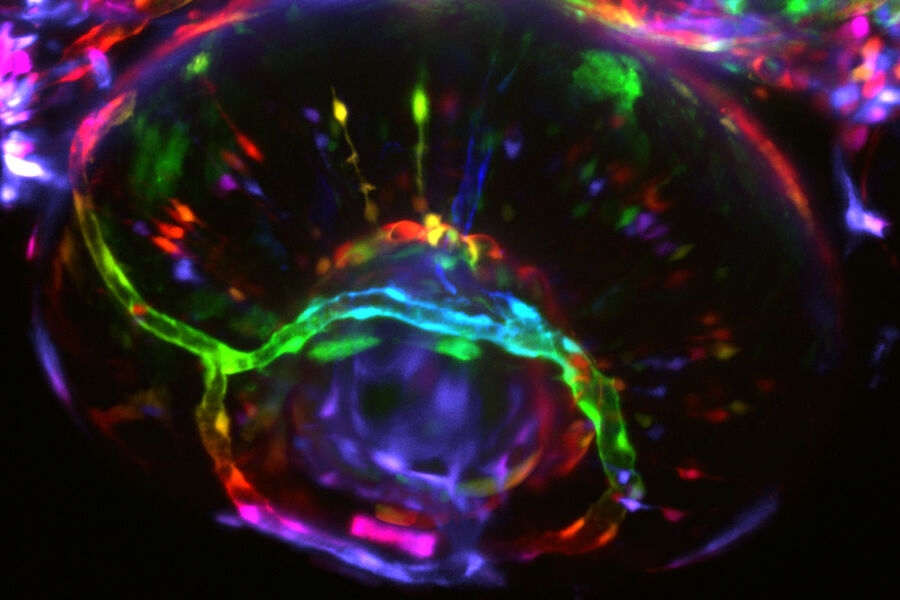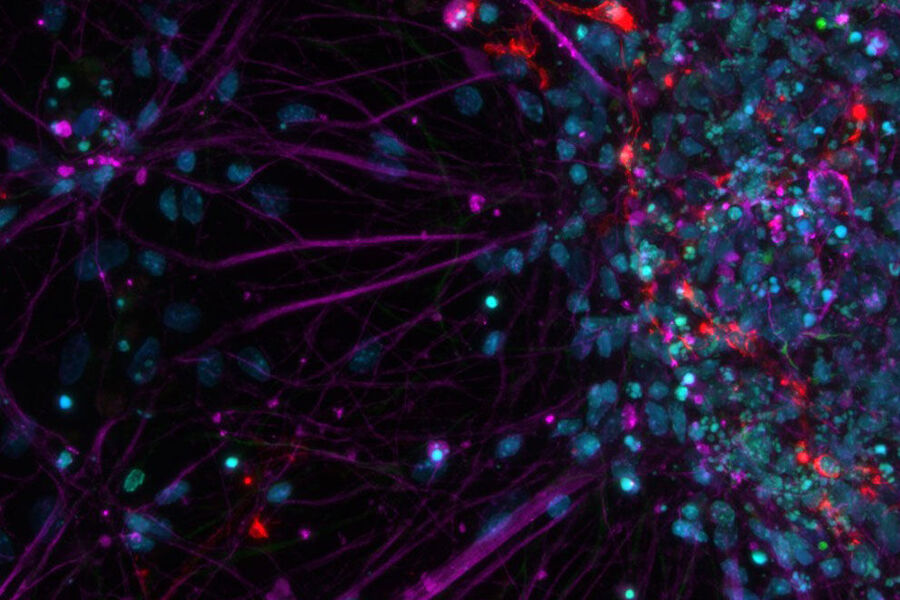 THUNDER Imagers enable you to obtain a clear view of details, even deep within an intact sample, in real time without out-of-focus blur. Their ability to acquire sharp images fundamentally changes the way you work when imaging model organisms, tissue sections, and 3D cell cultures like organoids. You can use thicker sections and image larger structures than you would with a 'standard' widefield microscope.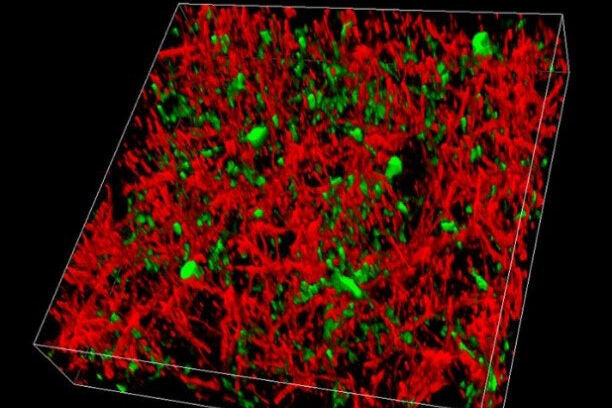 The STELLARIS DIVE (Deep In Vivo Explorer) is the first multiphoton microscope with spectrally tunable detection. It provides maximum penetration depth and contrast for deep in vivo imaging. With the STELLARIS DIVE, you can tune for the deepest insight and finest detail, while imaging multiple markers with perfect color separation. Its high precision and sensitivity make it ideal for imaging live neurons.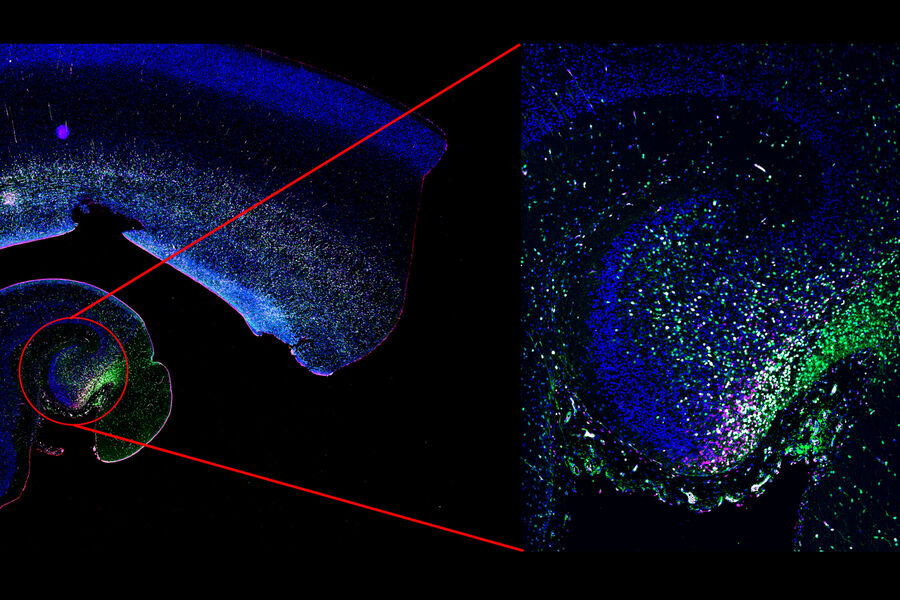 Mica, the world's first Microhub, brings widefield and confocal imaging, along with AI-supported analysis, seamlessly together. All united in one sample-protecting incubator environment. Fast and easy to use, Mica enables you to visualize simultaneously up to 4 labels in widefield or confocal mode thanks to the FluoSync™ technology. Now you can generate 4x more data with 100% spatiotemporal correlation, switching from widefield to confocal without moving your sample.
Interested to know more?
Talk to our experts.
Do you prefer personal consulting? Show local contacts