What to discover in the ebook
Key Learnings
How to apply different microscopy techniques in neuroscience research
What common challenges and considerations you should be aware of
How to work with different sample types such as brain organoids, live cells, and thick tissue sections
Why THUNDER Imagers and Aivia AI software can open up a new range of experimental options for neuroscience research
A wide variety of techniques are used in neuroscience research labs today, providing different insights to help understand the development of cognitive and behavioral processes and find therapies for neurodegenerative disorders such as Alzheimer's and Parkinson's disease. Amongst these, microscopy is a critical tool for visualizing the nervous system at the cellular and subcellular level and viewing molecular changes within context.
Here, we outline different types of microscopy techniques and methods that can be used to address questions in neuroscience. Whether you are examining brain organoids or thick nervous tissue under the microscope, working with 'brains-in-a-dish', or evaluating model organisms, it is likely that you will face similar challenges when setting up your microscopy experiments.
Thats why in this eBook we also present our solutions to common challenges such as:
How do I image thick samples under the microscope?
Research into the nervous system often requires a combination of high resolution, deep imaging, and visualization of wide areas and volumes such as thick nervous tissue or brain organoids. The need to reduce fluorescence scattering and background signal can make acquiring images with high contrast and resolution difficult, which is particularly critical when examining neuronal architecture in dense tissues such as brain sections.
How do I image fast dynamic processes?
Imaging processes such as synaptic remodelling or cell transport requires high-speed microscopy. One of the main challenges of high-speed microscopy is acquiring high resolution images while avoiding fluorescence photobleaching, especially if the dye has low signal or is photosensitive.
How can I switch-between different sample types?
Researchers increasingly require the flexibility to image different types of samples, such as live cells, tissues, model organisms, or organoids, the latter of which is increasingly used to monitor interactions between neurons and non-neuronal cells such as glial cells.
Download the eBook and see how our THUNDER Imaging Systems enable high-speed, high-quality imaging of thick, 3D specimens – such as those typically used in neuroscience research.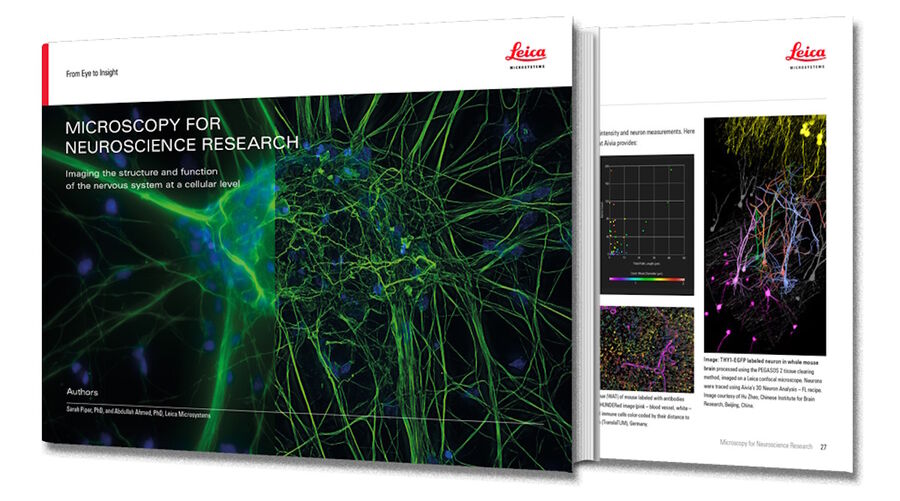 <!– TYPO3SEARCH_end –> <!– TYPO3SEARCH_begin –>
Related Pages
Are you working towards a better understanding of neurodegenerative diseases or studying the…

To answer important scientific questions, THUNDER Imaging Systems enable you to obtain a clear view…