Multi-spectral photomanipulation tool Infinity Scanner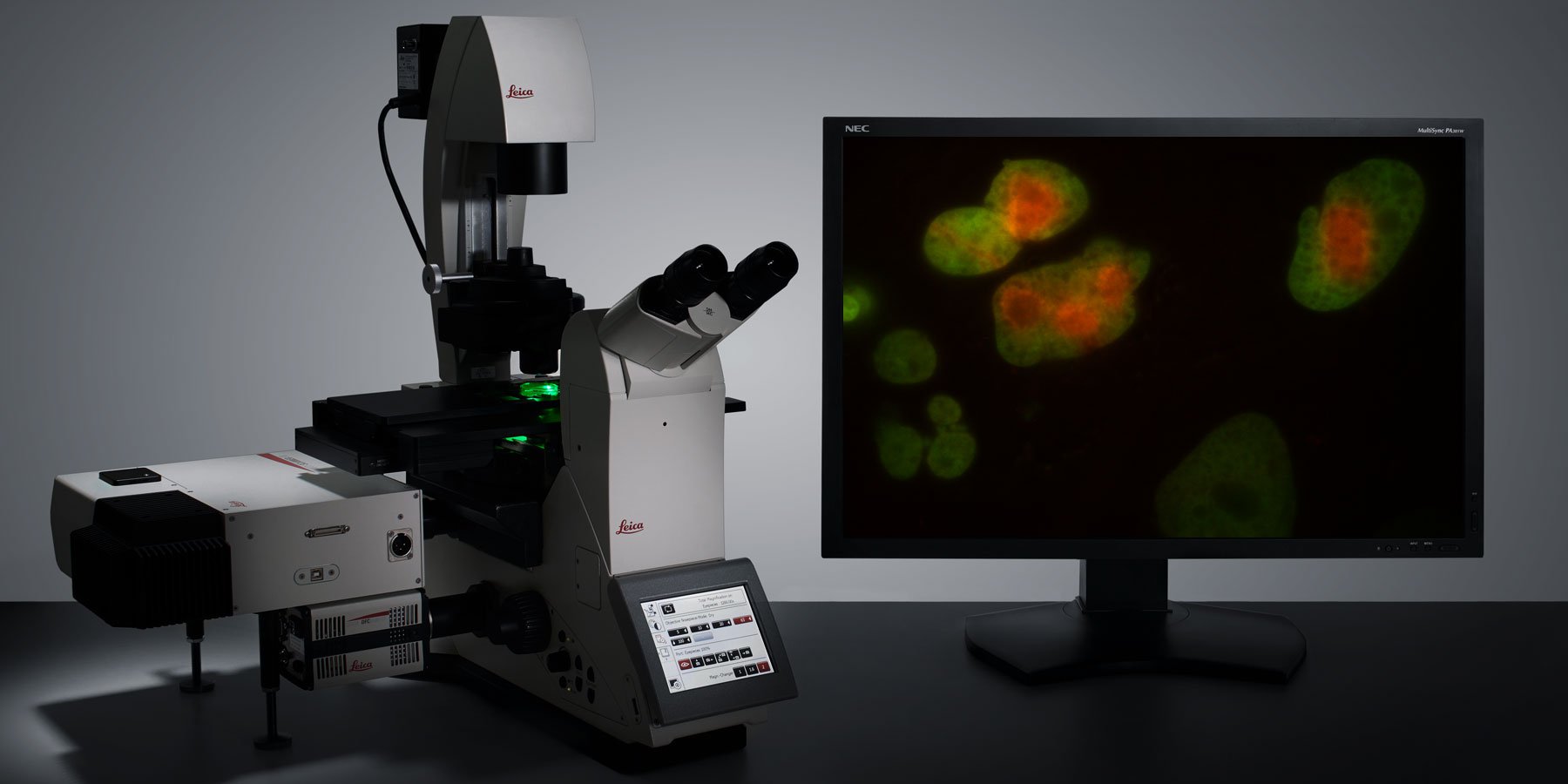 Multi-spectral photomanipulation tool
Infinity Scanner
See the Hidden
Activate, ablate and bleach in one experiment.
The Infinity Scanner is a versatile multi-spectral photomanipulation tool designed to deliver flexibility and ease-of-use for advanced imaging applications. Whether you need to bleach, cut, activate, stimulate or even combine multiple techniques, the Infinity scanner can be configured to address your needs.
High speed vector scanning capabilities allow you to not only have precise control, but to take full advantage of the camera-based widefield system of the DMi8 S to capture the fastest cellular processes.
Versatility
Plan and execute a host of applications with the extremely diverse Infinity Scanner.
Using the LAS X interface, set up multiple laser channels and techniques within a single experiment.
FRAP, FLIP
acceptor bleaching
activation
switching
optogenetics
cutting
ablation
uncaging
Tunable photomanipulation
With dual optical pathways, the module is able to chromatically correct a wide range of lasers for multi-spectral photomanipulation applications.
Dual optical pathways
Add to that an adjustable beam profile. Whether you need high power density for FRAP or quickly want to manipulate larger regions with an extended spot - the InfinityScanner is your flexible photomanipulation solution.
Illuminate. Irradiate. Obliterate.
Pulsed Laser Unit – DMi8 S
Whether you need to gently irradiate samples for DNA damage and uncaging, increase power levels for sub-cellular organelle perturbation and disruption, or cut and ablate through whole tissues, the Pulsed Laser Unit offers an all-in-one solution. Add this UV laser unit to the Infinity Scanner for precise targeting within the focal plane of your sample.
The DMi8 S system also enables users to combine the Pulsed Laser Unit (PLU) with fiber coupled laser sources for a flexible, upgradable solution offering optogenetics, photobleaching and photoactivating on one universal system.
Scalpel to sledgehammer – all-in-one solution for gentle irradiation to whole tissue ablation
Fully integrated into DMi8 S – Intelligent automation eliminates risk of damaging optical components.
Customizable – record and cut in real-time or combine with multi-dimensional imaging
Typical Applications
Cutting
Ablation
DNA damage
Uncaging
Substrate marking
Advanced experiment design
Use the new experiment design tool to set up and execute advanced experiments combining multiple imaging modalities.
The modular design allows you to perform imaging tasks, like photomanipulation or TIRF, both simultaneously and sequentially. Quickly master setting up simple to complex time lapse experiments, z-stacks, and acquisition loops with this expandable tool.
Advanced live cell imaging
Get the most out of your DMi8 S system by adding both the Infinity Scanner and Infinity TIRF modules.
Powered by LAS X software and built on the brilliant optics of the DMi8 inverted microscope, the complete system is an outstanding solution for advanced live cell imaging.
DMi8 S Infinity Scanner system
Fully motorized DMi8 system with 2 Infinity Ports
Infinity Scanner
Infinity TIRF
High speed Fiber Switch
Adaptive Focus Control (AFC)
WSU laser box
DFC9000 GT Camera (sCMOS)
LAS X software
Interested to know more?
Talk to our experts. We are happy to answer all your questions and concerns.
Contact Us
Do you prefer personal consulting? Show local contacts