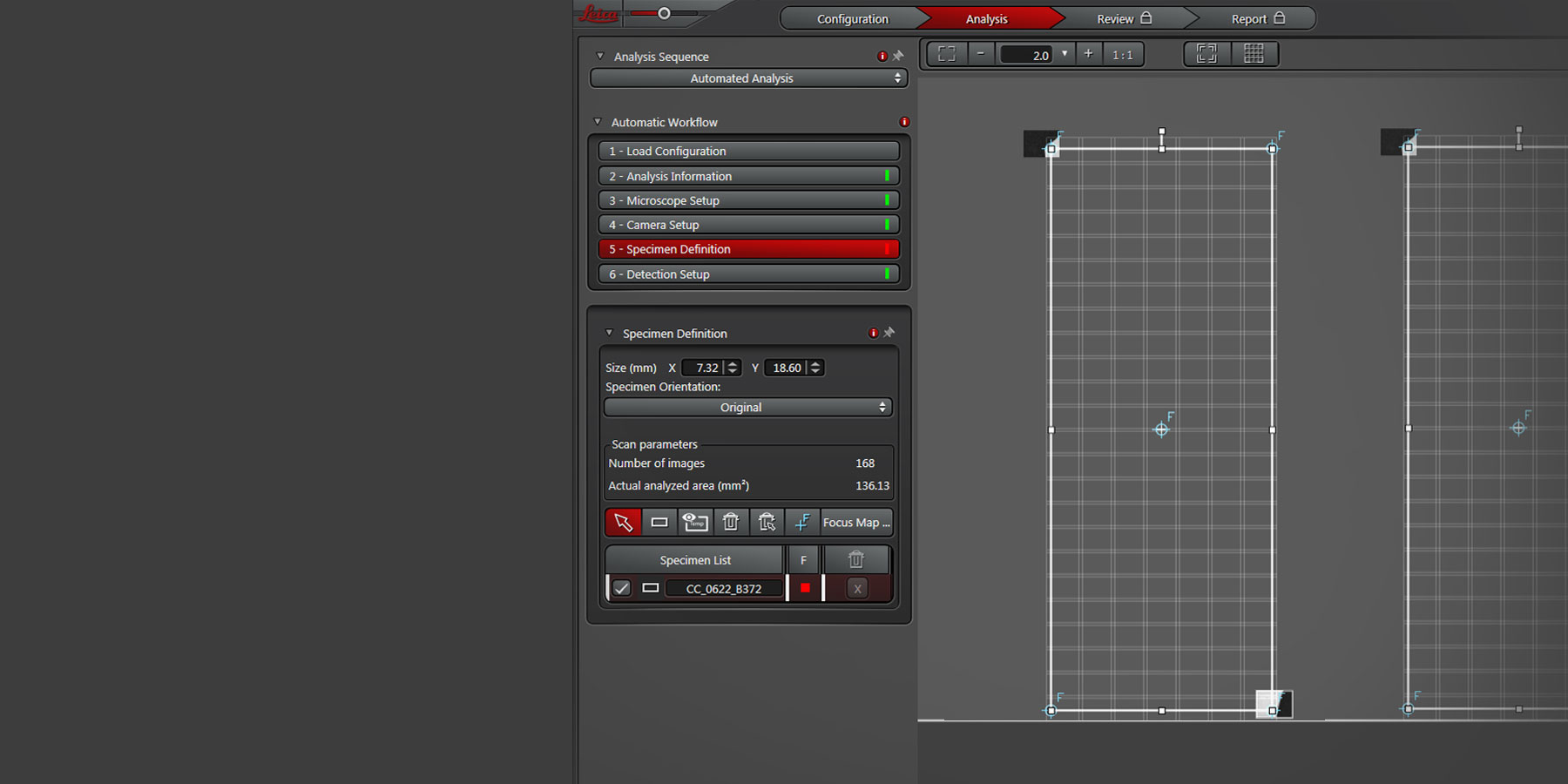 LAS X Steel Expert

Steel Analysis Software
Rate non-metallic inclusions rapidly and reliably
The LAS X Steel Expert software from Leica Microsystems helps you to accurately and quickly rate non-metallic inclusions to ensure steel quality.
It enables you to meet international, regional and organizational steel standards, whether you are in the automotive and transportation, metalworking, or construction industry.
Get your results with minimum effort
Optimize your workflow with a smart, intuitive user interface
Focus on details with the dual view; simultaneous detailed view and overview of the sample and inclusions
Create user-defined inclusion rating standards to customize the analysis to organizational norms and processes, and quickly update any official standard changes
Optimize your workflow
Achieve a rapid workflow for inclusion analysis. The LAS X Steel Expert software provides a smart, intuitive user interface guiding any operator easily through data acquisition and analysis. You can select the workflow that best fits your needs for multiple sample analysis, manual screening, and accreditation.
Quickly define multiple areas on one or more samples to be scanned with a few clicks
Save time and avoid cluttering up your laboratory or site with many analyzed samples: No need to keep and store them once complete sample data maps are acquired
Easily apply relevant international, regional and organizational steel standards during analysis
Go quickly from overview to detailed view
Perform detailed examination of multiple non-metallic inclusions in less time with the Dual Viewer in the LAS X Steel Expert software. The Dual Viewer provides an overview of a larger sample area plus a detailed view of individual inclusions simultaneously.
Supports in difficult cases
Even difficult analyses, such as grouped inclusions with only slight color differences, can be performed quickly as the software automatically outlines and marks specific inclusion types.
Easily find the rating of each inclusion area and geometric parameters in the chart field of the Dual Viewer
Perform manual measurements, which can be required sometimes, in a more straightforward way with the software tool
Stay flexible and up-to-date
The LAS X Steel Expert software offers flexibility for steel inclusion rating and analysis with the latest, updated steel standards whether international, regional, or organizational.
Specific steel standards can be licensed, such as:

International ISO 4967, EN 10247, and ASTM E45
Regional DIN 50602, GB/T 10561, IS 4163, JIS G0555, KSD 0204, and SEP 1571

Create custom-defined standards to perform analyses in accordance with organizational norms and processes
Flexible exporting of data, such as inclusion images and thumbnails, into reports which are in excel, csv, and pdf format
Interested to know more?
Talk to our experts.
Do you prefer personal consulting? Show local contacts