M844
Surgical Microscopes
Products
Home
Leica Microsystems
Ophthalmic microscope for advanced eye surgery
M844
The M844 belongs to the premium class of ophthalmic surgical microscopes and provides an optimal solution particularly for advanced posterior and anterior segment surgery.
Combining APO OptiChrome optics and direct halogen illumination, the M844 provides crisp, bright, true-color images, even when operating with low light levels.
Innovative features such as the QuadZoom technology, double wing assistant bridge, and HD recording make it an ideal microscope for teaching institutes and university hospitals.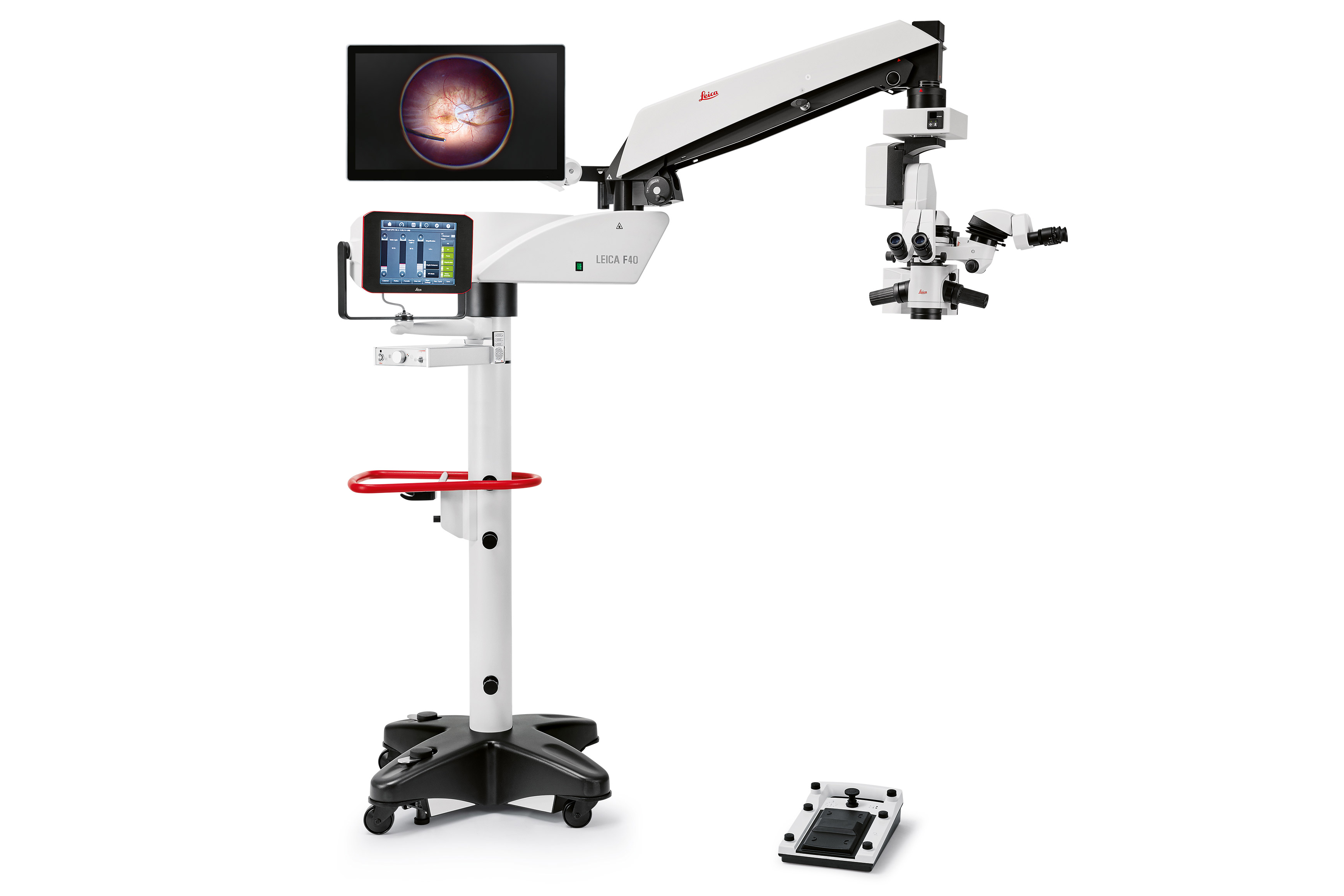 Integrate retinal accessories and OCT imaging
The M844 has interfaces to accept and easily mount a row of retinal accessories, such as wide-angle observation systems and stereo image inverters. Furthermore, the M844 with an F40 floor stand can be provided with EnFocus intraoperative OCT for advanced eye surgery in the anterior and posterior segment.
Enjoy a truly bright and stable red reflex
This combination of direct halogen illumination and highly efficient optical transmission delivers an very bright, stable red reflex even under low light. The independent red reflex illumination Otto Flex II can be adjusted from diameters of between 4 – 35 mm to deliver light where it is most needed.
See more with less light
Leica Optics have superior light gathering abilities. Sharp, brilliant, true anatomical color images with excellent depth of field can be obtained even with very low or no microscope illumination. This helps protect the eyes of both the surgeon and patient, but still enables clear visualization of small details.
Identical views for all observers
QuadZoom technology with four separate beam paths in the zoom system of the M844 provides an identically bright stereo view for both the main surgeon and the assistants. No manual adjustment by the teacher is necessary. Furthermore, the optional double wing assistant bridge can give a full stereo view with the same magnification to two assistants.
Work in comfort
The M844 ophthalmic microscope offers various features to enhance the comfort of both the surgeon and assistant, as well as to support an ergonomic workflow. For example: individually adjustable binocular tubes such as the UltraLow III binocular tube, wireless footswitch, StepCycle, and Auto Reset function.
Visualize and document in HD quality
Combine the M844 ophthalmic microscope with the HD C100 medical video camera from Leica Microsystems to record and easily share procedures in HD quality. For more comprehensive documentation, the M844 is also compatible with the EVO 4K recording and documentation system from Med X Change.