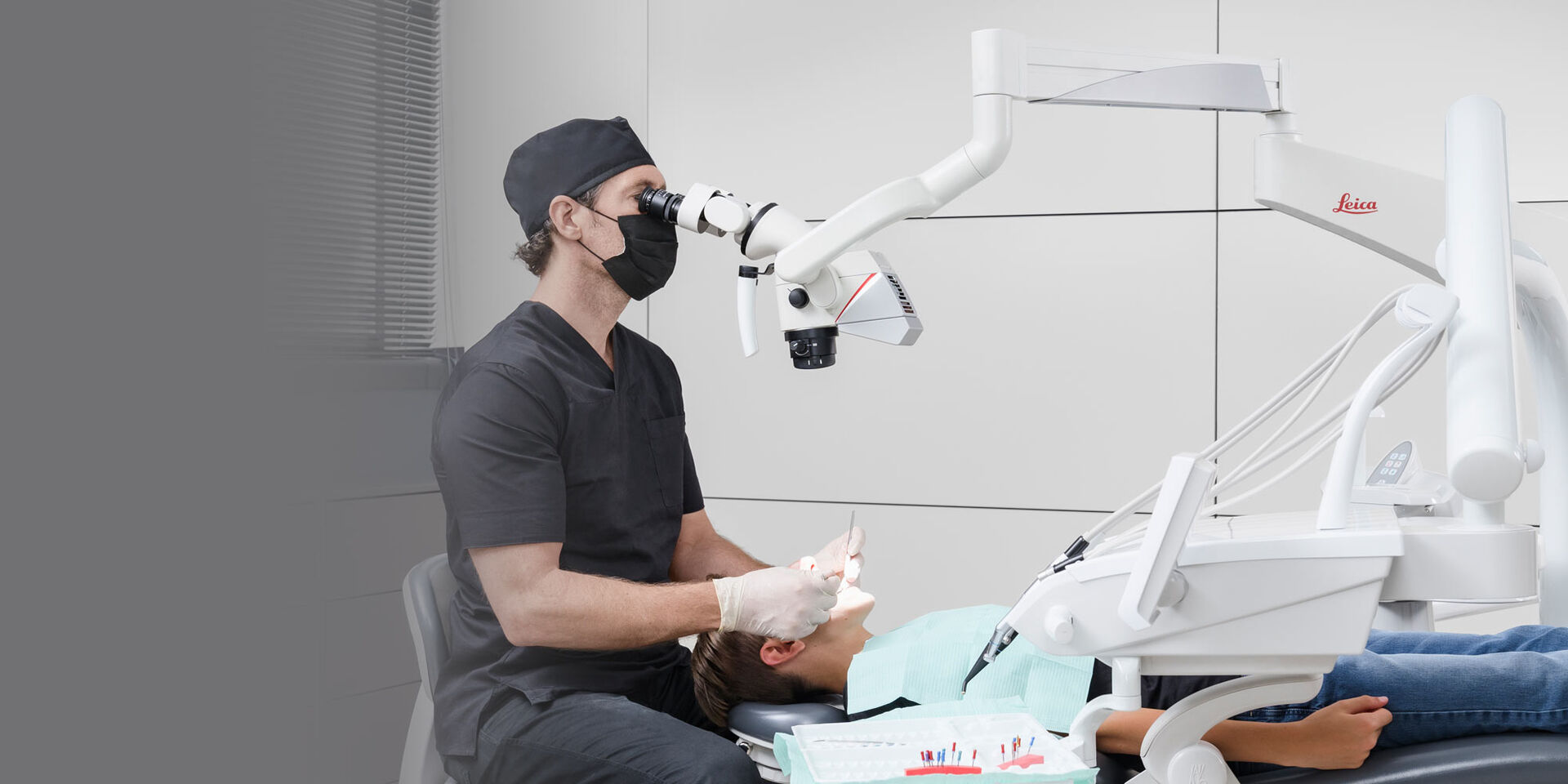 M320 D

Dental Microscope
With Integrated 4K Camera
Enjoy better visualization during surgical and non surgical dental procedures, benefit from increased physical comfort, and show your expertise to peers and patients with astounding 4K images.
Inspired by dentists ‐ With the M320 dental microscope you can achieve better treatment results and optimize outcomes through high precision microdentistry. To help you share your expertise with patients and peers you can record your procedures in impressive 4K image and video quality.
Developed for dentists - The ergonomic microscope design of the M320 enhances your physical comfort and thus increases efficiency in different fields including restorative dentistry, endodontics, prosthodontics and aesthetic dentistry as well as periodontics and implantology.
Not all products or services are approved or offered in every market and approved labeling and instructions may vary between countries. Please contact your local Leica representative for details.

Picture shows Dr. Giacomo Suardi, Dentist, Milan, Italy working with the M320 dental microscope.
Reveal details in cavities
With the M320 dental microscope you can see just what you must see in minute anatomical detail. Even in deep or narrow cavities, you can apply your skills precisely and efficiently.
Differentiate anatomical detail easily thanks to the powerful LED illumination with high color perception and reproduction
Benefit from a bright view in endodontic applications - two LED paths provide a homogeneous illumination
Choose from a complete range of objective lenses including the M320 MultiFoc Objective
Change magnification smoothly and thus minimize workflow interruption thanks to the optional 5-step magnification changer
Enjoy and share brilliant images and videos thanks to the fully integrated 4K camera
Make the M320 part of your daily routine
Dr. Katia Greco works as an endodontist, has 22 years of experience in micro-dentistry and also teaches micro-dentistry.
She is convinced that everyone can learn how to use a dental microscope in one week. Using a dental microscope, she advocates, enhances accuracy and precision in dental treatment.
As a teacher, she encourages dental professional in all stages in their careers to try working with a dental microscope.
Strengthen patient trust
Reinforce trust by walking your patient and their family through the steps of a procedure using live images or video playback.
Let the M320 with integrated 4K camera support you to show them they are in good hands.
With its variety of viewing options, the M320 facilitates patient communication.
You can involve your patients, illustrate different treatment options to them, and make them part of the decision process.
Ultra-high resolution images can be easily transferred and archived in the patients' files for recall at any time.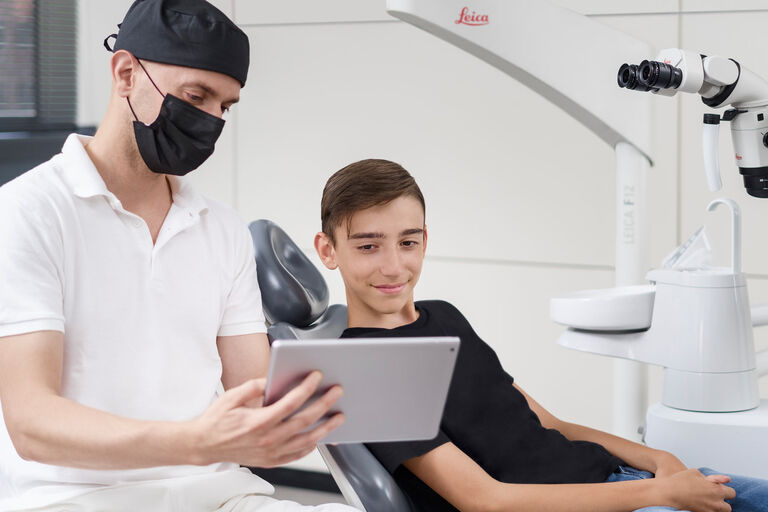 Share your expertise in 4K resolution
The integrated camera and recording system available for the M320 dental microscope allows dental experts to:
Document procedures in ultra-high resolution for impressive presentations, webinars, trainings, and publications
Live-stream the microscope view onto a large screen to facilitate consultations with patients and peers
Transfer images and videos easily to a computer via SD memory card or USB cable
Benefit from convenient image streaming to mobile devices using the Leica View App*
*Only with optionally ordered WiFi-dongle. Streaming resolution to todays' generations of mobile devices: 720p30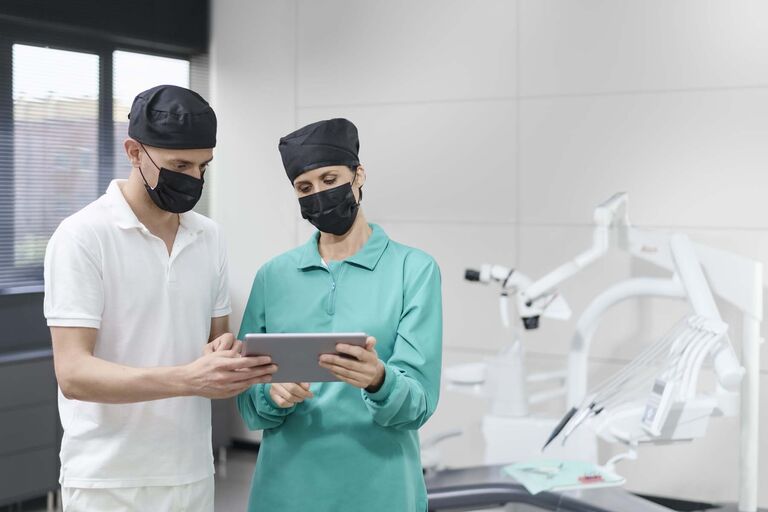 Enhance your comfort
You can adapt the M320 to your body frame and preferences, positioning it quickly and accurately with the lightest touch.
This reduces the potential strain of a hunched working position and harsh movements, so that you can diagnose and treat your patients without distractions.
The M320 helps you to focus entirely on your patient, during surgical procedures as well as in non-surgical treatments.
Two binocular tubes: The 45˚ one for a comfortable view in a fixed, standard position, and the 180˚ one for more comfort and flexibility with more viewing angles.
Two dedicated ergonomic accessories: ErgoWedge providing a tiltable viewing position and the ErgonOptic Dent to extend the reach of the microscope and swivel the optics carrier to any angle.
Stay Focused
The optional M320 MultiFoc Objective enables you to adjust working distance during dental procedures quickly within the range of 200 mm to 300 mm by micro-movements of the adjustment knob.
By limiting the time and effort of repositioning, you maintain efficiency and concentration.
Movement is reduced so you can retain an ergonomic posture and the adjustment knob can be placed left, right or centrally according to your preference.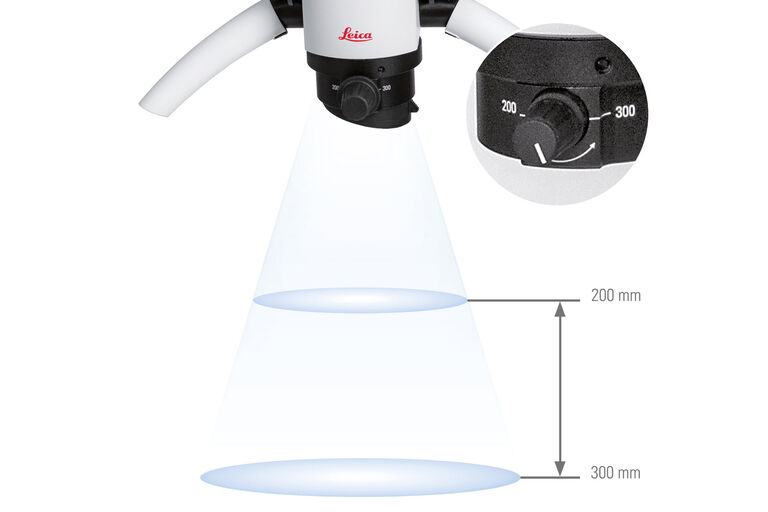 Document in impressive image quality
Flexible image acquisition and viewing options
Start video or image recordings via remote control or directly on the microscope
Share images with your patient on a 4K monitor in order to illustrate the diagnosis and explain possible treatment options
Easy image transfer and storage
Store images and video in 4K quality conveniently on an SD card for easy transfer to a computer
Transfer images directly to your PC via USB connection and save them, e.g., in your patient files for easy revisiting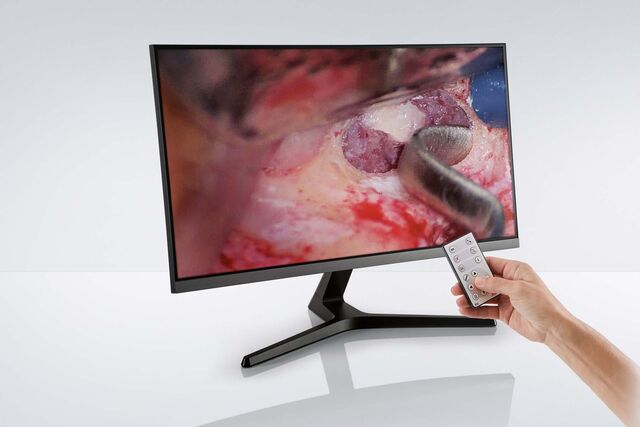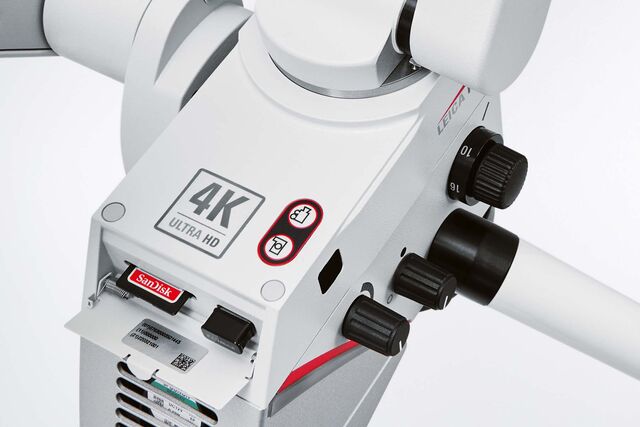 Easy viewing, recording and sharing with the Leica View App for the M320 dental microscope
Stream the live microscope view from the M320 dental microscope to a mobile device
Capture images and video directly from the mobile device
Access recorded pictures and videos from the SD-card gallery of the M320
Download assets to a mobile device to have them conveniently at hand for image-supported patient communication
The Leica View App is available free of charge. For iOS devices you can download it from the App Store and for Android from Google play.
Only with optionally ordered WiFi-dongle. Streaming resolution to todays' generations of mobile devices: 720p30
Create a modern look and feel in your practice
The timeless, sleek, design of the M320 can compliment the high-quality image of your dental practice. This can also help build or strengthen trust with patients and set you apart.
Choose from a variety of stands, e.g., ceiling, floor, wall mounts with short or long arm, with or without camera integration, with or without stand-mounted monitor options
Enjoy working with an adaptable microscope with modern viewing capabilities, allowing you facilitating digital communication
Keep also cost of ownership low for microscopes in your practice: LED light helps to avoid costly replacement of fiberoptics and cables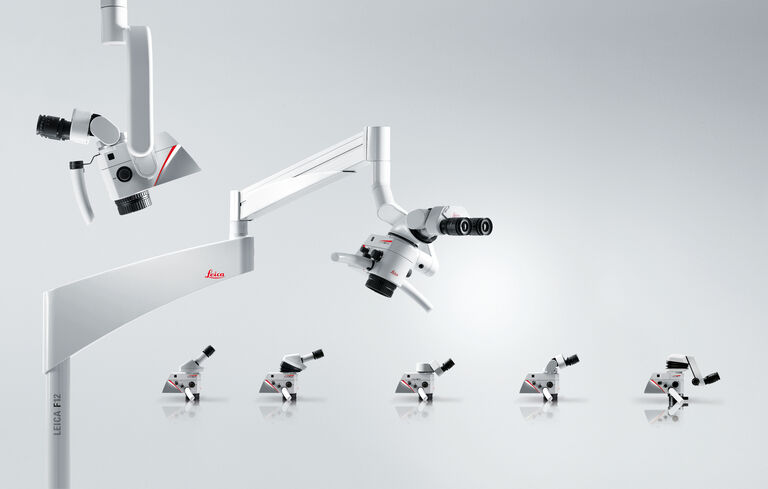 Supporting your hygiene protocols
In a surgical environment, a high level of cleanliness is a must. The surfaces and accessories of the M320 surgical microscope for micro-dentistry are designed for easy cleaning to help you meet ever increasing hygiene demands and protocols.
Increase the physical distance between you and the patient to reduce exposure to spraying from the treatment
Benefit from additional safety through antimicrobial microscope coating
Ease cleaning thanks to internally routed cables and flat surfaces
Ensure longevity even with regular autoclaving or other methods of sterilization as removable parts like handles are made from robust materials
Interested to know more?
Talk to our experts.
Do you prefer personal consulting? Show local contacts