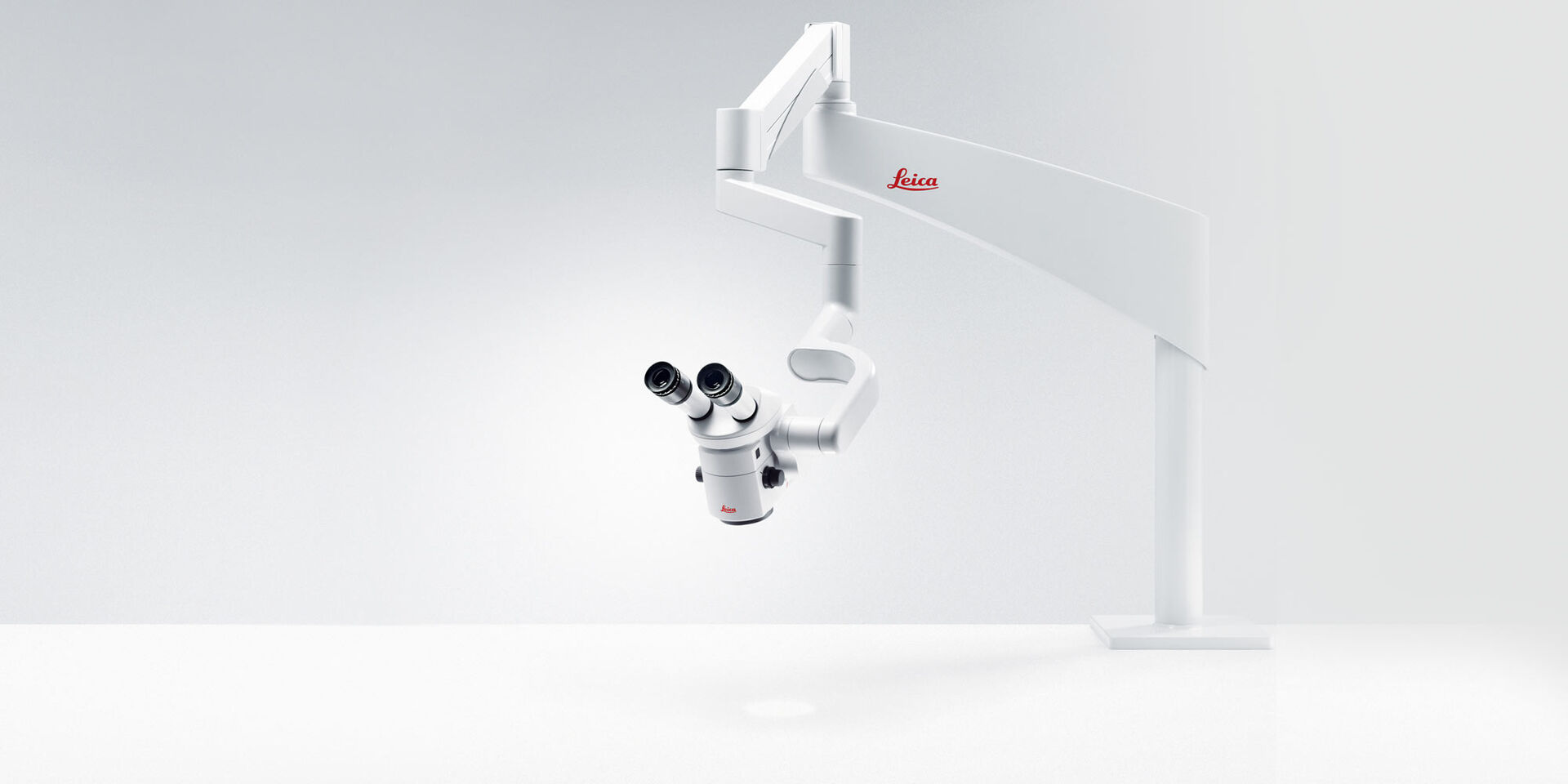 M320 T

Surgical Training Microscope
Laying the foundation for surgical proficiency
As a medical trainer, you watch your students develop and hone their skills every day. The M320 surgical training microscope can help you keep optimizing your training methods to create an effective learning experience for your students.
You and your students benefit from an integrated 4K camera for brilliant images and technology that enables you to share your knowledge easily.
The M320 is available in various configurations with a choice of ergonomic accessories, allowing you to flexibly design your ideal training space.
Not all products or services are approved or offered in every market and approved labeling and instructions may vary between countries. Please contact your local Leica representative for details.
Efficient training of surgical skills
Learning to operate a microscope starts with the basics: maneuvering it and applying magnification and illumination correctly.
Mastering fine manual motor skills is a second step which is crucial. Disciplines such as neurosurgery, otolaryngology, plastic and reconstructive surgery, as well as dentistry require extensive training in microsurgical skills during medical school and beyond:
Training of the hand-eye coordination under magnification
Practicing sophisticated microsurgical skills such as controlled micromovements, which are very time- consuming to learn
Make learning an experience
Hands-on training with the M320 surgical training microscope allows students to learn, practice, and refine surgical skills.
Working on specimen, they experience the three-dimensional nature of human anatomy and anatomical functional structures as well as their proportions.
Students learn to
recognize finest anatomical details in a three-dimensional image with great depth perception
differentiate between tissues easily thanks to clear, bright, true-to-life color visualization
navigate the surgical site and maneuver surgical instruments safely especially in cavities thanks to the bright LED illumination
improve accuracy and precision in surgical procedures, such as drilling, dissecting, and suturing, thus gaining confidence
See exactly what you need to see
The M320 makes microscope training a revelation. Students see exactly what they need to see: a crisp, bright, true-color image with impressive depth of field, thanks to the high- quality apochromatic optics and double LED illumination of the M320 surgical training microscope.
Even in deep or narrow cavities, students can see minute anatomical details, so that they can apply their skills precisely.
Additionally, students get a feeling for the workflow of a surgical procedure using the optional 5-step magnification changer which helps minimize workflow interruption.
Focus effortlessly
With the optional M320 MultiFoc objective from Leica Microsystems, students can effortlessly vary the working distance within the range of 200 mm to 300 mm with micro-movements of the adjustment knob.
This enables students to set up their work station quickly and also supports workflow during sessions: If trainees need to spend less time and effort on adjusting their microscopes, they can better concentrate on the lessons and follow the training more closely.
Share your expertise in stunning resolution
The integrated 4K camera and recording system available for the M320 allow teachers and students to share their microscopic view on a large screen and record images or videos in crystal-clear anatomical detail and true-to-life colors.
Benefits of the 4K imaging with the M320:
Document in ultra-high resolution for impressive presentations and work instructions for students
Instruct students to follow your guidance via live-streamed microscope view onto a large screen
Check on your students' progress by looking at their microscope views displayed in their workstations on a 4K screen
Transfer image and video to personal computers easily via SD memory card or USB cable
Benefit from a quick wireless image transfer to mobile devices using the Leica View App
Only with optionally ordered WiFi-dongle. Streaming resolution to todays' generations of mobile devices: 720p30
View, record, and share via App
The Leica View App for the M320 training microscope facilitates access to images and videos.
Stream the live microscope view from the M320 surgical training microscope to a mobile device
Capture images and video directly from the mobile device
Access recorded pictures and videos form the SD card gallery of the M320
Download assets to a mobile device to have them conveniently at hand to deepen the learning experience
The App is available free of charge. For iOS devices you can download it from the App Store and for Android from Google play.
Only with optionally ordered WiFi-dongle. Streaming resolution to todays' generations of mobile devices: 720p30
Design your ideal training space
You can be sure to find a M320 surgical microscope which corresponds to your teaching needs and the requirements of your center.
The M320 training microscopes are very flexible to configure and can be used for training in various clinical disciplines.
Choose from a variety of stands, e.g. ceiling, floor, or wall mounts with a short or a long arm, with or without camera integration, with or without stand-mounted monitor options
Create a modern look and feel with the timeless, virtually jointless design of the M320
Benefit from great design with internally routed cables: Thanks to them, the M320 looks sleek, but also makes cleaning extra easy
Benefit from an antimicrobial microscope coating supporting your hygiene protocols
Keep cost of ownership low for microscopes in your training center: The M320's LED light makes costly replacement of fiber optics unnecessary
Teach healthy habits
Working with a surgical training microscope should also create early awareness of healthy posture at work.
Initially, students are often unaware of the far-reaching consequences of an unhealthy working posture. During longer training sessions and with increasing practical experience, they quickly realize how important a healthy working posture is for their chosen profession.
Ergonomic accessories for the M320 surgical training microscope can help avoid tension and strain in the neck and shoulders. If students learn to work with a microscope from the start, they learn healthy habits early on in their career and will find that working in a comfortable posture becomes second nature to them.
Interested to know more?
Talk to our experts.
Do you prefer personal consulting? Show local contacts