Emspira 3

Digital Microscope

The advantage of optimized inspection and adaptability to your needs combined in a single system is waiting for you. Save time when meeting demanding throughput targets and inspecting diverse samples with Emspira 3. For efficient decision making, benefit from secure storage and easy sharing of documentation – no matter if you inspect in stand-alone mode or with a PC. The robust design of Emspira 3 allows you to focus confidently and reliably on your inspection work both in production and laboratory environments.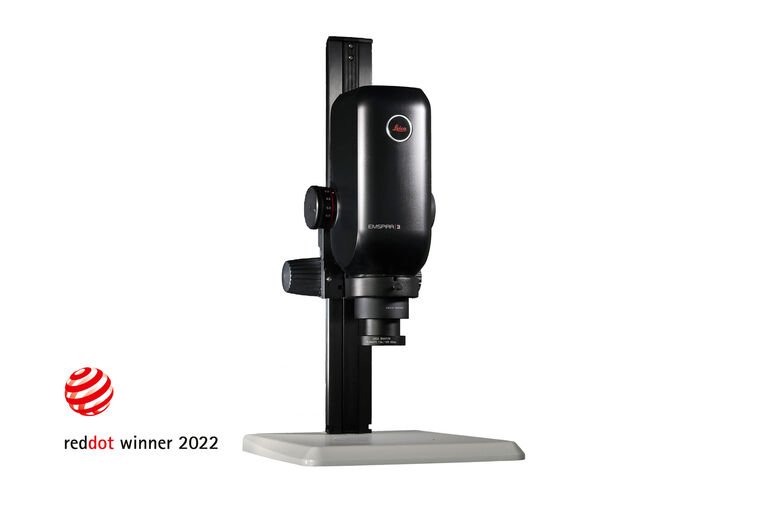 Our inspection work is made more efficient with Emspira 3 due to several factors, including the quick start of the instrument and ease of operation, like fast zooming, focus, and image acquisition. There's no need to look through eyepieces, which makes team discussions of live images easier as they are displayed on the monitor. Images can be directly uploaded to our network and we don't need to use a USB device to transfer them to a server or PC.
Streamline your inspection process
Make Emspira 3 your integrated solution for comparison, measurement, and data sharing, allowing you to optimize your inspection and ditch the PC.
Inspect with a single system
Emspira 3 helps you to perform comprehensive visual inspection tasks without a PC. Its integrated on-screen display (OSD) provides intuitive tools for stand-alone operation. Gone are the days of changing between workstations!
Save time with quick sample identification
Record and identify your sample quickly with a barcode scanner. What's more, you can always trace your image back to your sample by automatically recording the identifier code with the acquired image.
Enhanced communication for fast decisions
Measure and annotate directly during visual inspection without a PC
In stand-alone mode, you can measure multiple regions on the sample in the live image and save the results with it. Easily highlight features and areas of interest on the sample by adding comments and conclusions, as text and graphical elements, to the image.
Directly compare to references with a single click
Pass/fail decision making is made easier by comparing the live image directly to reference images or customized overlays with a single click. It is especially helpful for recurring tasks, e.g. checking if parts or components are within specified tolerances
The image quality, fast live image, and integrated measurement capabilities are great! Its usage is simple, straightforward, and neat. I envision that Emspira 3 could replace our current imaging solution setup.
Practical sharing and storage
Automatically save images
In stand-alone mode, you can automatically save images on a network for more practical sharing and also quickly send images via email with a press of a button.
Keep your data easily available at all times
Minimize the risk of data loss by keeping results and data directly on your local network for worry-free sharing. With Emspira 3, you know where all the data is when you need it, such as during audits.
Get easy access to images for all
Just use it – designed for everyone
Emspira 3 is designed for users of any skill level. You can operate the system intuitively with minimal training, saving you time and effort.
Simplified use with an adaptable user interface
The customizable interface allows you to simplify the operation by hiding functions not needed and make it as lean as desired, while still meeting your needs.
A lean interface for each user group
You can now control user access to specific functions in regulated production environments. With clearly defined user roles, you can protect the system from unwanted changes and ensure a user interface that supports the job function of the user.
Get crisp images with less manual effort
Spend less time on manual white balance and exposure time settings, particularly for reflective samples.
Obtain a balanced high-contrast image, despite the presence of glare, with integrated assistant functionalities that automatically adjust the camera settings for your region of interest.
The automatic camera setting adjustment makes obtaining images easier and faster for everyone, regardless of expertise levels.
A flexible solution you can rely on
Work with confidence knowing that Emspira 3 offers you the flexibility to inspect and document according to your needs, access your data when you need it and work in industrial environments.
Adaptable for your different tasks
Customize Emspira 3 to the demands of many samples and easily adapt it to the changing needs of specific applications, like R&D and failure analysis, thanks to its modular design and large variety of accessories. Depending on your tasks, you choose how to store images - on USB drives or in network folders.
Use the illumination that works for your sample: From multiple illumination options, choose the one which reveals the relevant details.
Go smoothly from overview to details: Quickly change the field of view with the 8:1 zoom range. The encoded zoom helps to ensure correct measurement results and prevent human errors.
Emspira 3 allows us to rapidly make measurements and comparisons concerning dimensional outputs. For development tasks, this gives us almost instantaneous feedback and helps us save a lot of time.
Designed for robustness
Maximize uptime with the robust and reliable design that minimizes maintenance due to low wear and tear. The robust IP 21 housing of Emspira 3 protects its internal optics and mechanics from industrial environments.
The risk of spreading germs among your team can be reduced thanks to the AgTreat antimicrobial surface.
Ergonomic workplace
Emspira 3 as a digital microscope without eyepieces offers ergonomic benefits. Users can inspect in a comfortable way with less strain when viewing fast live images (up to 60 fps) in 4K resolution on a monitor.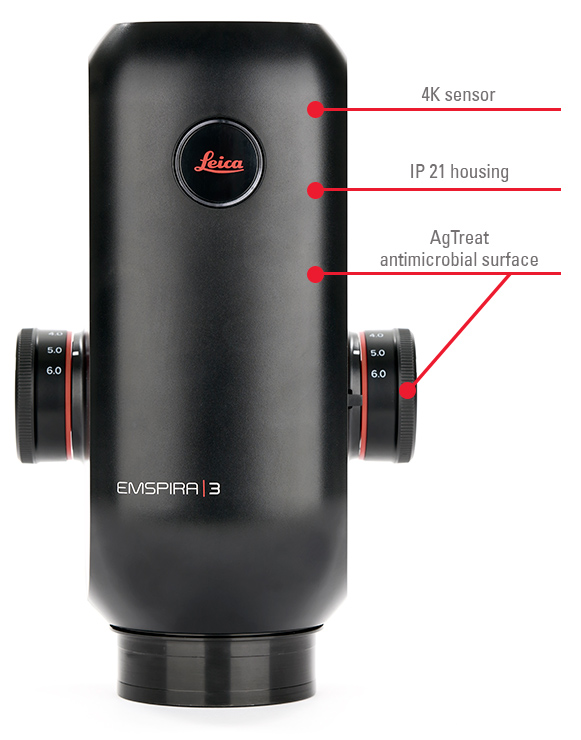 We chose the Emspira 3 digital microscope due to its long working distance and the many integrated features that can be operated with the on-screen display, meaning that we don't need to use a PC. With the Emspira 3, you only really need to touch the microscope to focus or move samples. All the other controls are on the on-screen display. We also liked its ability to turn on and begin operating quickly, so there's little or no waiting time. Most of all, it's the simplicity of operation and use that we found was the biggest advantage about the system.
Consistent operation that saves you time
The Emspira 3 digital microscope is powered by the Enersight software platform, which helps you inspect, compare, measure and share seamlessly on a single intuitive interface, regardless of how or where you do it.
Reduce the need for training and supervision through its unified and easy-to-use interface
The Enersight interface can be used in multiple operation modes, such as on-screen display or mobile (for phones or tablets).
Enersight is also available as a downloadable app (iOS and Android) for your mobile devices
Interested to know more?
Talk to our experts.
Do you prefer personal consulting? Show local contacts