Leica DMS1000
Digital Microscopes
Products
Home
Leica Microsystems
Leica DMS1000

Low-to-Mid Range Magnification Digital Microscope
C.elegans
Captured using Leica TL3000 ST transmitted light base. High-frame rate of camera is visible (no image delay during movement of the Petri-dish). FlexAperture™keeps the brightness level constant during…
Tadpole Heart
Heartbeat and blood flow of the tadpole visible. Video captured using Leica TL5000 Ergo transmitted light base in Brightfield mode.
Human Oocyte
Human Oocyte pipetted from liquid. Video captured using TL5000 ergo transmitted light base in Rottermann Contrast mode. High-frame rate of camera is visible (no image delay during movement of the…
Color Menu
This video simply explains how the color settings of the camera can be adjusted.
Exposure Menu
Learn how to change the exposure time, gain, brightness and gamma settings of the camera.
Resolution Menu
See how to select the HDMI video output settings of the unit to match the monitor.
Camera Menu
This short movie clip shows how the parameters such as time, date and file name can be defined or how to reset the camera back to factory settings.
User Menu
Learn how to save up to three camera illumination settings, adjust the menu color, change the unit language or program user buttons and more.
Overlay Menu
See how to select which overlay is displayed and how to import up to ten customized overlays to the Leica DMS300. Other options such as how to save the overlay to a captured image is also explained.
Remote Control
Get an all explanation of the remote control. Functions such as white balance, camera settings, movie playback, pairing and arrow key navigation are explained.
Gallery
This tutorial video shows how captured images and movies on the SD card can be viewed and played.
Image Rotator with built-in LED illumination (includes M60 threaded adapter)
PCB Board
Combine an Image Rotator with your microscope system to get an entirely different view of your sample. Without moving or touching the sample.
Without FlexAperture™ Technology
With most cameras in manual mode, the illumination level and exposure time will change when the magnification changes. This can result in an underexposed image as shown in this video.
With FlexAperture™ Technology
The built-in FlexAperture™ Technology ensues the illumination level and exposure time remain the same in manual mode at all zoom levels. Set the camera once and work at all magnification levels.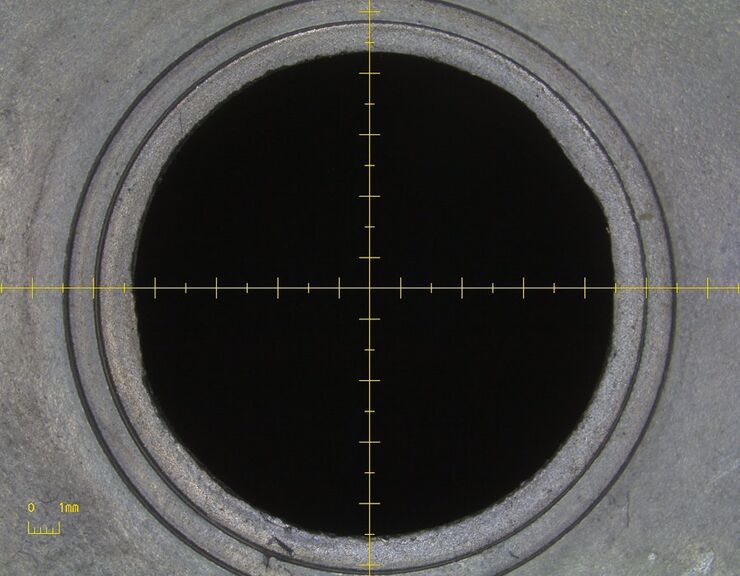 Hole in metal component
The scale bar and cross hair automatically update at each zoom setting, this allows for quick measurement checks of samples
How to create and work with overlays for the DMS digital microscopes from Leica
Overlays can help you to save a lot of time in routine inspections. They provide an easy tool to quickly check if a component falls within the parameters of an accepted part. An overlay is a simple…
Leica DMS1000 and Leica DMS1000 B Product Video
Learn more about advanced features such as a coded zoom, FlexAperture Technology, and Telecentric optics. The Leica DMS1000/B is a digital microscope, with HDMI output, that can function as a…
Watch Works
Captured as a standalone unit, the built-in camera can create movies at a frame up to 30 fps.
Printed Circuit Board
Document your work, such as this printed circuit board, as a movie with built-in camera, directly to the SD card.
Image Rotator with built-in LED illumination (includes M60 threaded adapter)
Ant
See the advantages of using an image rotator for viewing your specimens. The image rotator provides "from the side" viewing while the sample remains in a fixed position.