Leica DM2700 M

Upright Materials Microscope
With Universal LED Illumination
This materials microscope combines high-quality Leica optics with state-of-the-art universal white light LED illumination. It is an ideal inspection tool for all kinds of routine inspection tasks in metallography, earth science, forensic investigation, and materials quality control and research. The Leica DM2700 M shows you how simple and reliable microscopy can be while helping to improve workflow.
Universal LED Illumination
Daylight at the touch
Ultra-bright, high-power LED illumination provides a constant color temperature of 4500º K for brightfield, darkfield, interference contrast, polarized light, and oblique illumination methods. It offers real color imaging at all intensity levels. With a long lifetime and low power consumption, LEDs have enormous savings potential.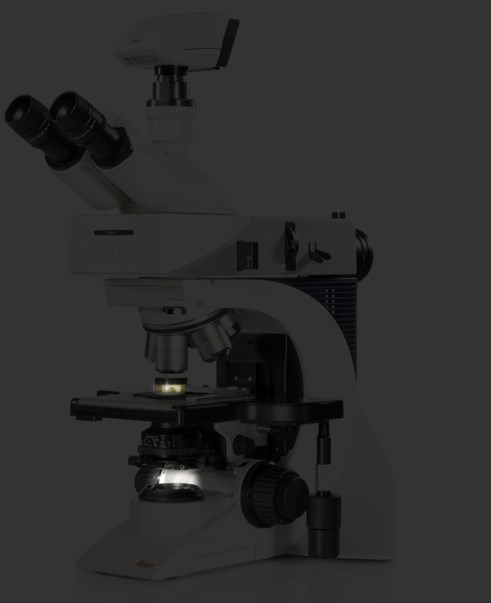 All Microscopic Contrast Methods
Flexibility saves money
The Leica DM2700 M flexible upright microscope system uses LED illumination for all contrast methods: brightfield (BF), darkfield (DF), differential interference contrast (DIC), qualitative polarization (POL), and fluorescence (FLUO) applications. It also offers built-in oblique illumination, which improves the visualization of surface topography and defects. Optionally, the Leica DM2700 M can also be equipped with a transmitted light axis.
There are three microscope objective turrets to choose from - plus a 0.7x Macro objective that enables you to see almost 40 mm of a sample at a glance. This is ideal for fast orientation and overview documentation.
Samples with a size of up to 100 x100 mm - such as foils, wafers, and PCBs - and a thickness of up to 80 mm - e.g., machine components - can be examined using the ideal stage from Leica's comprehensive line of microscope stages.
The Reliable Materials Microscope for a
Variety of Applications
Whether you inspect electronic components ...
Inspection, process control, and defect analysis of silicon wafers or MEMS has to be fast and accurate. The Leica DM2700 M offers high optical resolution to detect even the smallest defects on the sample. The constant color temperature of LED illumination allows you to always see the sample in the same color.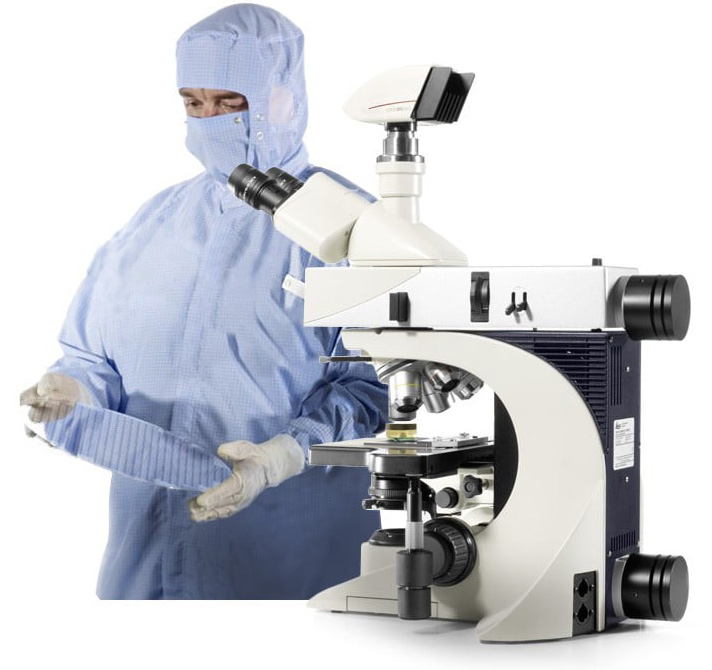 ... examine samples in a laboratory
Working in a laboratory means long hours at the microscope. The highly ergonomic design of the Leica DM2700 M materials microscope helps prevent muscular tension and fatigue and makes routine work as comfortable and effortless as possible. The microscope's intuitive operation means it easily adapts to various user levels. Even for inexperienced staff the Leica DM2700 M is easy to use. The Color Coded Diaphragm Assistant guides the user through operation and reduces the risk of error.
... or screen surfaces in steel inspection
The working environment of industrial quality control and defect inspection is often challenging. The robust stand and sturdy, durable design of the Leica DM2700 M makes it suitable even for a wide range of work situations.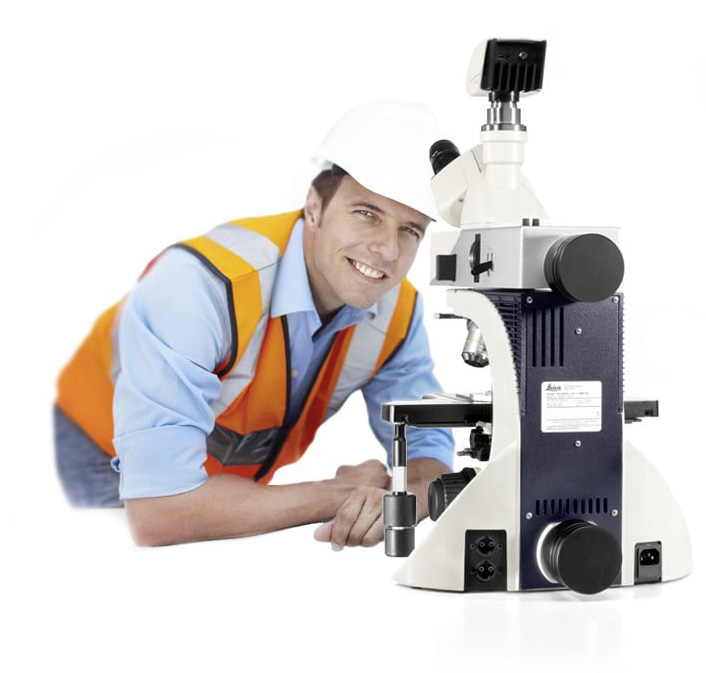 Brilliant Images with High-quality Microscope Objectives
You can't afford low quality
A microscope is as good as its optics. And this holds true for the digital world of today. High-quality microscope objectives from Leica Microsystems combine brilliance and sharp contrast with high resolution and an optimized image field.
The Leica DM2700 M is equipped, e.g. with an N PLAN achromatic objective series with magnifications from 5x to 100x, a field of view of 22 mm, a flattened image field, and large working distances.
The 0.7x Macro objective enables you to see almost 40 mm of a sample at a glance, which helps to get a fast orientation and overview of the sample.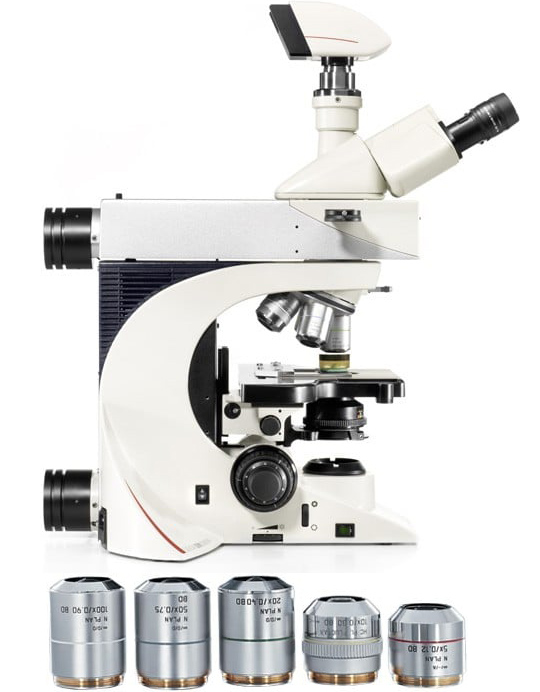 Ergonomy
Fast switching from right-handed operation...
The Leica DM2700 M materials microscope completely and comfortably adapts to each user to help prevent muscle tension, poor posture, and long-term health hazards.
... to left-handed operation
Left-handed users can simply switch the controls to the left side of the microscope in seconds. Special accessories for left-handed users are not
Effortless microscopy means comfort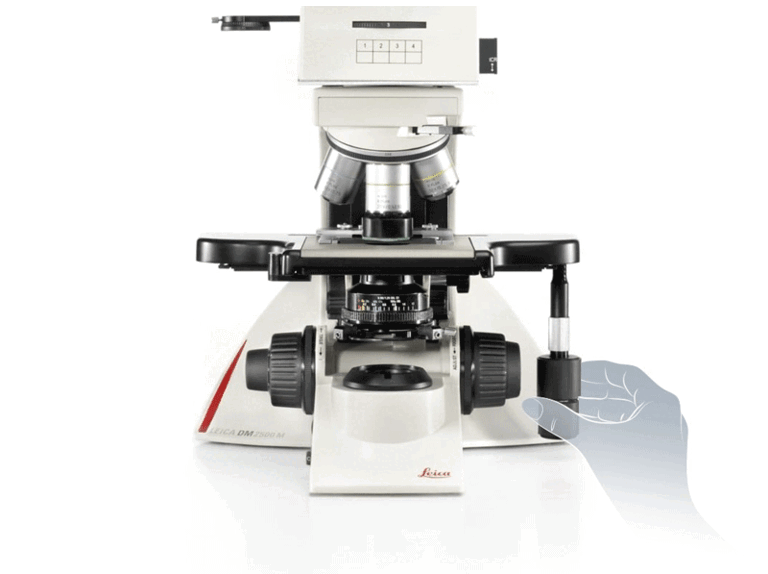 Three-gear Focus
Ergonomy means quality
The three-gear focus allows you to switch between fine, medium, and coarse micrometer scale. This extremely precise and sensitive focusing with high magnification objectives helps you obtain reliable results with ease. The top focus stop and the adjustable stage height stop protect samples and the microscope objectives from damage while you concentrate on what you see.
Read more about ergonomic microscope design in Leica Science Lab.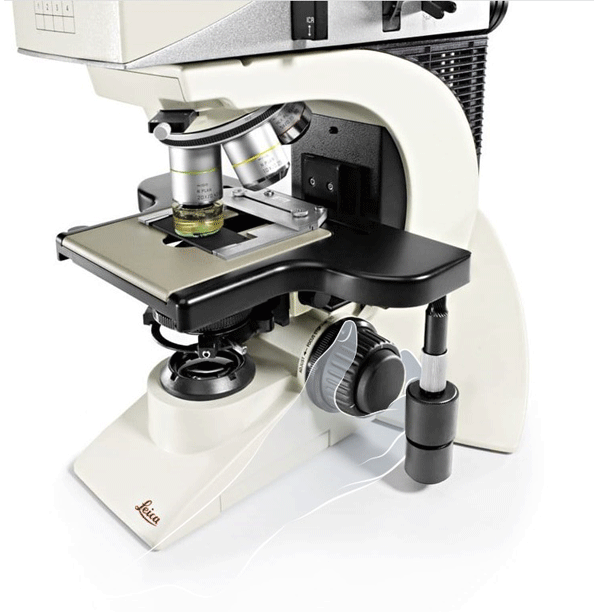 Adjustable Focus Knobs
Ergonomy = Efficiency
The ergonomic design of the Leica DM2700 M completely adapts to the user's physique to help maintain a relaxed posture over long periods of time. The height-adjustable focus knobs customize the Leica DM2700 M for any individual as they can be adapted to the user's hand size in seconds.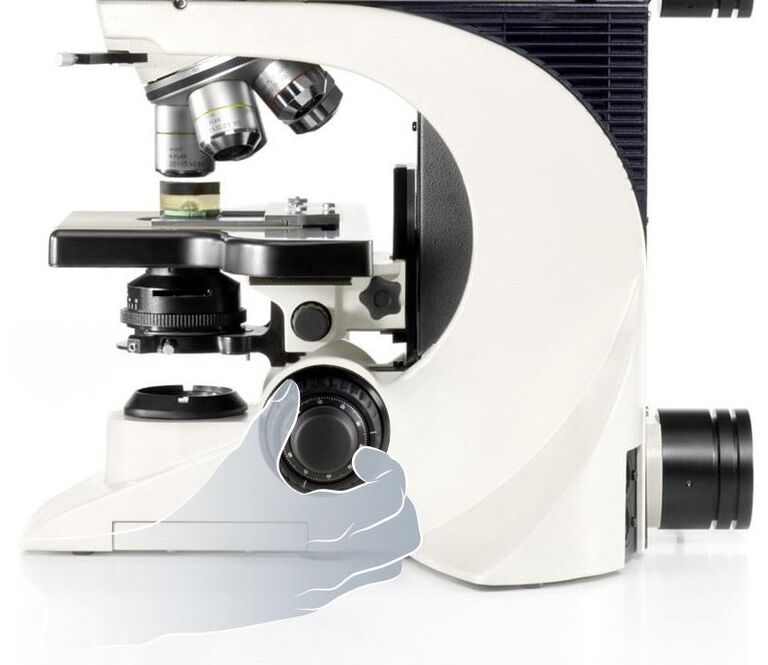 The Color Coded Diaphragm Assistant (CCDA)
The basic setting of resolution, contrast, and depth of field is simple and fast using the Color Coded Diaphragm Assistant (CCDA). The CCDA makes operation easy and intuitive, requires minimal orientation time, avoids operating errors, and thus helps to provide reliable results - both in routine inspection and sophisticated analysis.
Reliability you can count on
As you can completely concentrate on your application and not on microscope settings, the CCDA can dramatically speed up your work process.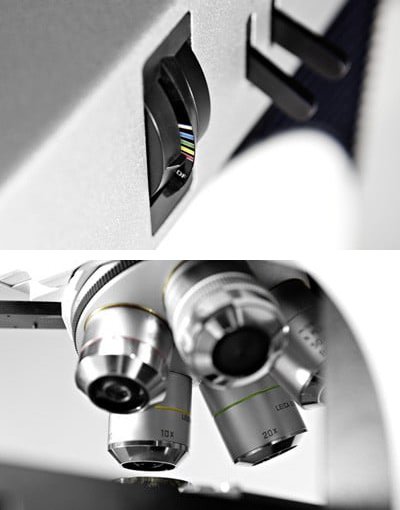 Interested to know more?
Talk to our experts. We are happy to answer all your questions and concerns.
Contact Us
Do you prefer personal consulting? Show local contacts