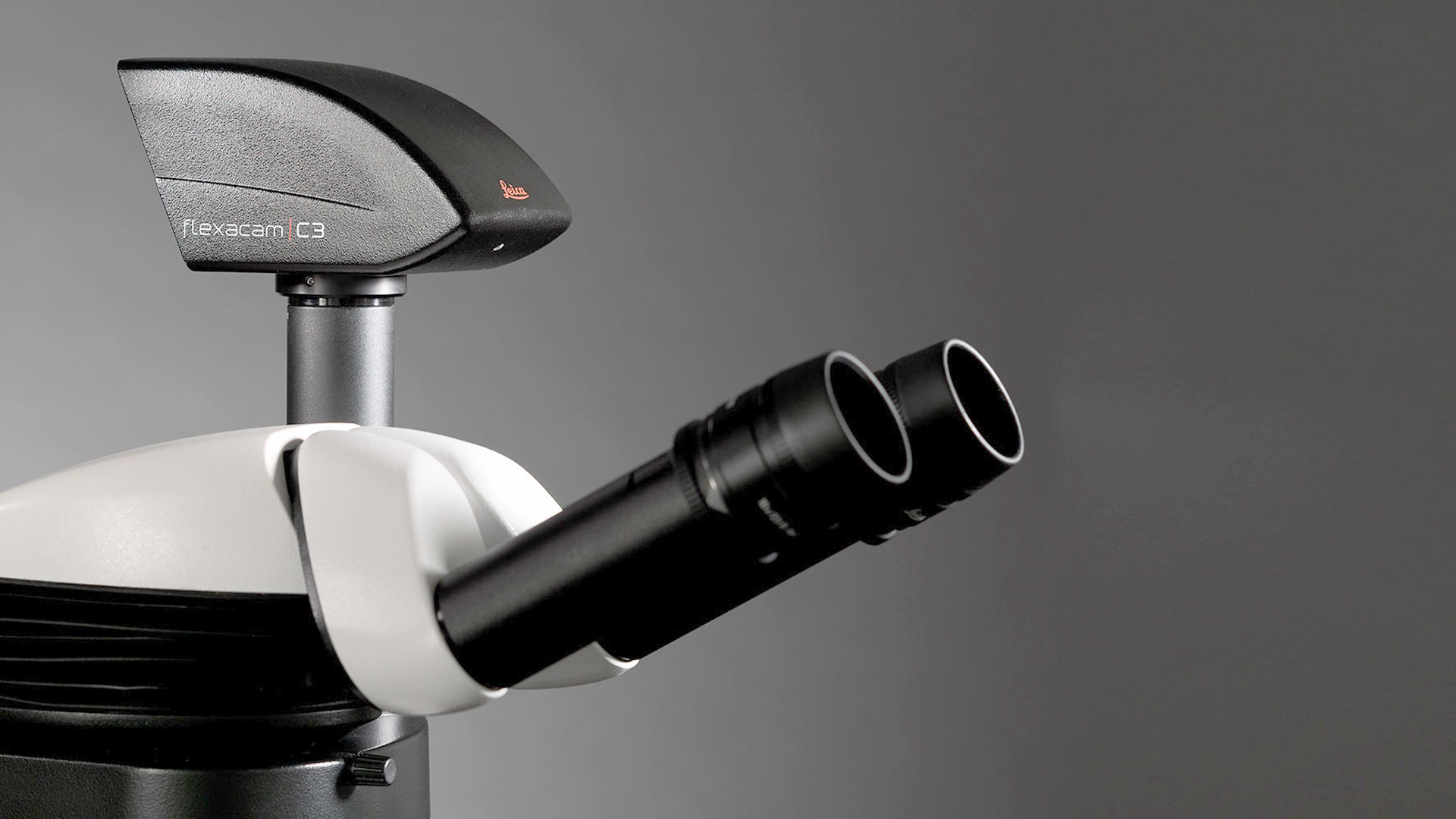 Flexacam C3

12 MP Microscope Camera
Simplicity, color accuracy, and real-time collaboration
Save time when capturing, documenting, and sharing images with the Flexacam C3 microscope camera. It transforms your microscope into a stand-alone digital imaging station without the need for a PC.
Make reliable and accurate decisions for your application tasks with powerful color accuracy. True-to-life colors and fine details are a given thanks to the 12 MP CMOS sensor, large dynamic range, and fast signal processing.
Collaborate in real time and review images efficiently as a team by taking advantage of the fast display of live images.
Camera simplicity without a PC
Complete your daily imaging tasks efficiently and simply without the need for a PC, including comparison, measurement, annotation, and data sharing.
Save time with integrated on-screen display
The Flexacam C3 can be adjusted and operated with the integrated on-screen display. It also offers intuitive measurement, annotation, overlay, and network tools which give more flexibility to enhance documentation.
Quickly view, record, and share
View images directly on your monitor and record videos in full HD with up to 30 frames per second
Save images to your local network or send as email attachment for easy sharing and storage
Enhance your documentation
Measurement: Measure multiple sample features in the live image and save the results together with the image.
Overlay: Facilitate your decision making by comparing the live image directly on a monitor to reference images or customized overlays with a single click.
Annotation: Highlight specific features and areas of interest on a sample and easily add comments and conclusion to the image.
Powerful color accuracy
Make reliable and accurate decisions for your application tasks with accurate clear images showing the fine details of your sample in true-to-life color.
See color-precise, crisp images
The Flexacam C3 displays live images fast, with precise colors, and in high resolution for many applications, such as materials science, production and quality control, life science, pathology, clinical, as well as many others.
View images in 4K, or full HD, while capturing fine details of your sample:
Precise color reproduction is provided by the sensor's dynamic range and signal processing unit
Fine details of the sample are revealed thanks to the 12 MP CMOS sensor
Fast screening of sample with bright and dark areas due to the fast auto exposure

Collaboration in real time
Collaborate and review samples details efficiently with your team members using the fast display of live images.
Work efficiently as a team
Several users can view at the same time the live image of the sample which is displayed directly on a monitor. Seeing motion of the sample is the same via the monitor as through the eyepieces. This allows for fast and easy discussion of the sample details being viewed and can save time by making team decisions possible in real time.
Clear and smooth visualization of sample movements on the screen thanks to the high frame rate of up to 60 fps and high signal transfer speed from sensor to monitor
Viewing of live and captured images directly on a monitor simultaneously by multiple users when used in stand-alone or workstation mode

Choose how you connect, save, and share
No need to change how you view, save, and share microscope images. The Flexacam C3 is adaptable to your needs.
Set it up the way you prefer:
HDMI allows the camera to be connected directly to a monitor and used in stand-alone mode without the need for a PC
Use the ethernet to work with direct access to your facility's network
Save images directly on a USB stick when the camera is used in stand-alone mode
To use the camera with a PC, connect them together via the USB port (type-C)
Easily connect a mouse, keyboard, or Wi-Fi dongle with the USB ports (type-A)

Compatible with TWAIN
TWAIN is a protocol that enables communication between software and selected Leica Microsystems microscope cameras. It allows you to process images with your preferred software later on.
Take advantage of your camera's TWAIN capability to control the camera, acquire images, and transfer image data to various repositories for analysis and archiving. For example, easily store images to your Laboratory/Hospital Information Management System (LIS/HIS/LIMS).
Consistent operation that saves you time
The Flexacam C3 microscope camera is powered by the Enersight software platform, which helps you inspect, compare, measure and share seamlessly on a single intuitive interface, regardless of how or where you do it.
Reduce the need for training and supervision through its unified and easy-to-use interface
The Enersight interface can be used in multiple operation modes, such as on-screen display or mobile (for phones or tablets).
Enersight is also available as a downloadable app (iOS and Android) for your mobile devices
Interested to know more?
Talk to our experts. We are happy to answer all your questions and concerns.
Contact Us
Do you prefer personal consulting? Show local contacts