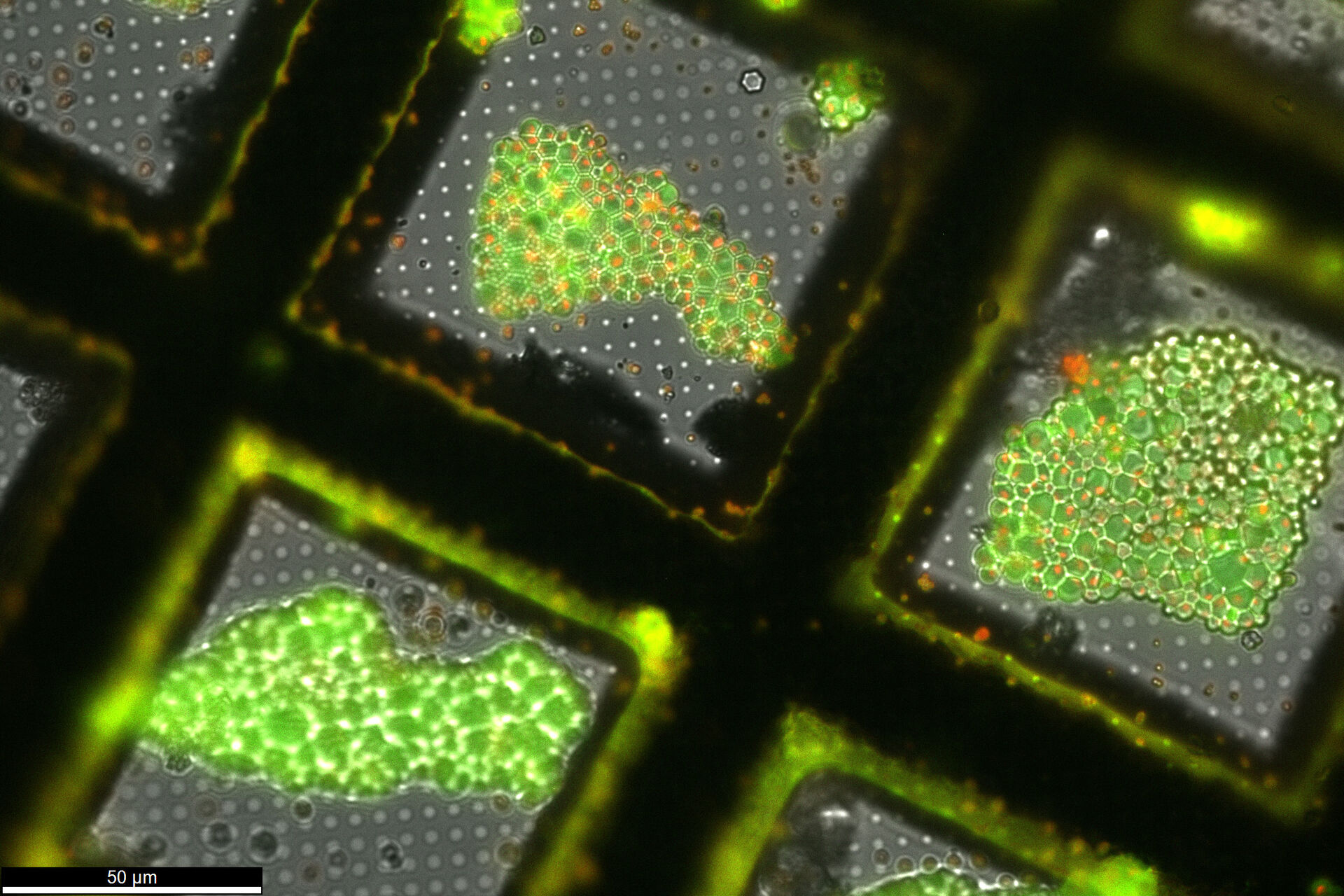 THUNDER Imager EM Cryo CLEM
The THUNDER Imager EM Cryo CLEM is a cryo light microscope featuring opto-digital THUNDER technology. It provides the imaging data and secure cryo conditions you need for successful experimental investigations concerning structural biology. Precisely identify cellular structures of interest thanks to high resolution, haze-free imaging with THUNDER technology, then transfer the specimen seamlessly to your EM.
For research use only
The EM Cryo CLEM is a key element in our cryo workflows. I do not want to miss it.
Identify and image of your region of interest more clearly with THUNDER
For optimal visualization of cellular structures, the THUNDER Imager EM Cryo CLEM combines a high-resolution cryo objective with THUNDER technology from Leica Microsystems. The result is crisp, haze-free images.
THUNDER employs the innovative Leica method of Computational Clearing for removal of the out-of-focus blur that can occur with widefield observation. The THUNDER Imager EM Cryo CLEM also includes a 50x / 0.9 NA objective. In contrast to commonly used long-working distance objectives this lens has been purposefully designed for high resolution imaging of vitrified samples. You benefit from better identification and visualization of the fine details of cell structures together with the speed and ease of use of a widefield microscope.
Interactive Image: HeLa cells plated on gold Quantifoil R2/2-coated G200F1 finder grids.
Cells were transfected with GFP-TGN46 (trans Golgi network) and mCherry-Lifeact (F-actin). Nuclei were stained with Hoechst 33342. Sample courtesy of Lucy Collinson, The Francis Crick Institute, London (United Kingdom).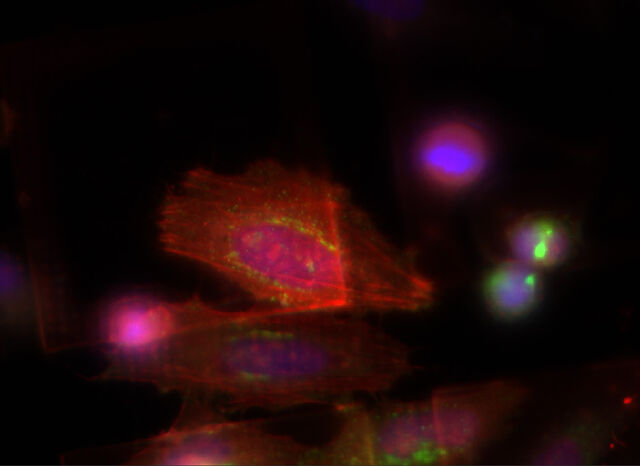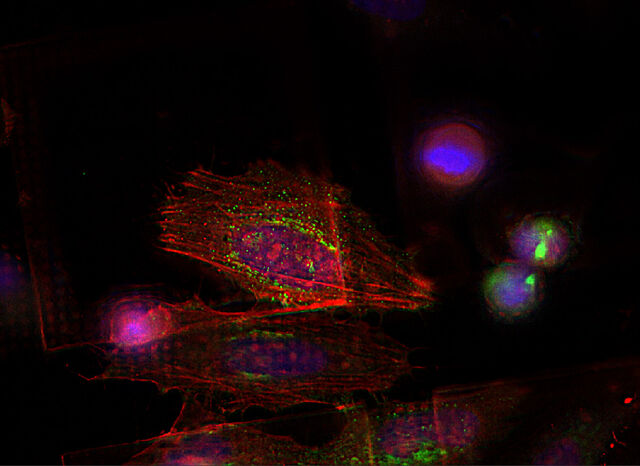 Simple, reproducible workflow
If you need to find your region of interest quickly in the electron microscope, then you can easily choose to mark it and export the coordinates during specimen transfer. The intuitive software guides you through the workflow so you can quickly and effectively get the results you need to support successful EM investigation. For high-resolution, blur-free results, process your image afterwards with THUNDER.
Benefit from:
Easy, precise targeting and data capture - the software guides you step by step through the imaging workflow
Hassle-free imaging - simply mark your region of interest and the software automatically captures and precisely stitches together mosaic images
Post processing with THUNDER for high-resolution, blur-free images
Fast, reproducible results - you can save and recall complete experiment setups
Easy retrieval with coordinate transfer utilizing cryo light microscopy
The integrated software of the THUNDER Imager EM Cryo CLEM not only guides you through your imaging workflow, it also exports the original image data and associated coordinates with just one click. You can immediately relocate the cellular target region in your preferred electron microscope and begin your investigation of the specimen ultrastructure.
If you choose to work with the Thermo Fisher Scientific MAPS EM you can additionally benefit from our jointly-developed Cryo Electron Tomography workflow . The workflow ensures full integration from vitrification with our EM GP2 through to 3D image reconstruction with the Thermo Scientific Krios™ G3i cryo TEM.
Interactive Image: Selection and retrieval of coordinates. Fluorescence image of a cell on an EM grid visualized and selectively marked. The exact same cell visualized and relocated with the coordinate marker, here, on the Thermo Scientific Aquilos.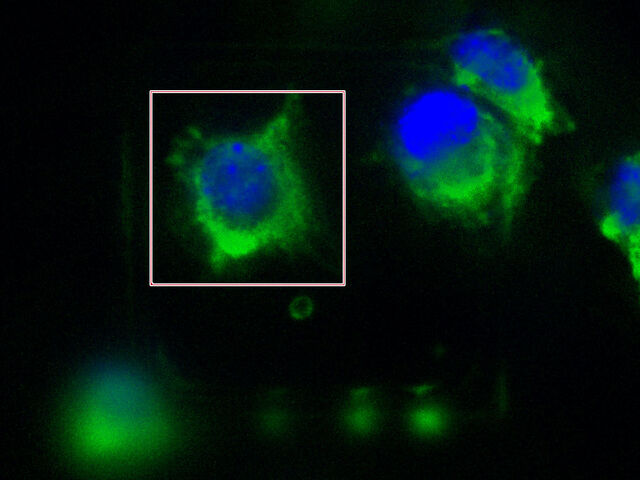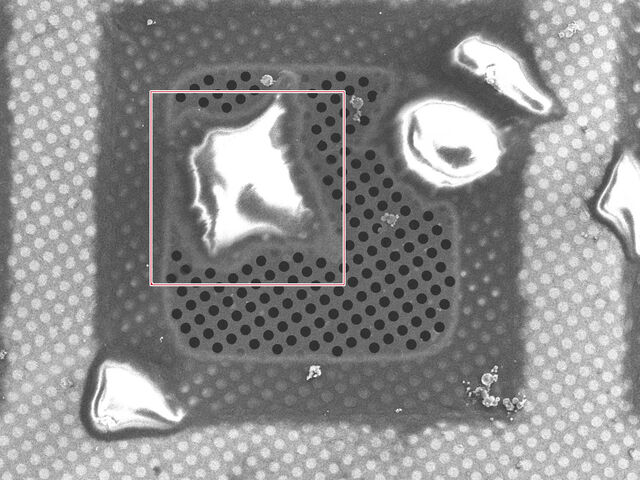 Cryo conditions maintained
To maximize the probability of a successful experimental outcome, the unique cartridge system and closed cryo stage ensure your specimen remains vitrified. This system minimizes the potential for contamination during the loading and transfer process and even during long-term image recordings.
How it works
The cartridge system (1) allows safe and fast handling of the specimen. The press and clip mechanism accelerates the specimen throughput and loading time of your grids into the cryo stage.
A shuttle docking station (2) safeguards your cryo sample by maintaining an optimal temperature.
The cryo stage (3) with synchronized objective lid prevents air contamination of the specimen by keeping it under stable overpressure
Optimize your workflow with the THUNDER Imager EM Cryo CLEM
Enhance your cryo CLEM and cryo on-grid lamella workflow by integrating the THUNDER Imager EM Cryo CLEM.
To make your sample preparation process even more reliable and efficient, we established collaborations with our partners Alvéole and Thermo Fisher Scientific.
Data courtesy of Dr. B. Engel, Department of Molecular Structural Biology, Max Planck Institute for Biochemistry, Martinsried, Germany. Original Publication: Albert S, Schaffer M, Beck F, Mosalaganti S, Asano S, Thomas HF, Plitzko JM, Beck M, Baumeister W, Engel BD. Proteasomes tether to two distinct sites at the nuclear pore complex.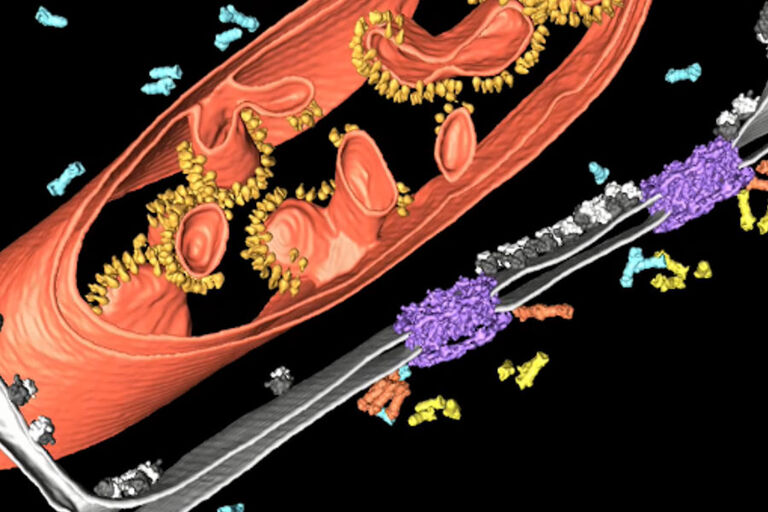 Cell positioning with PRIMO by Alvéole
Control cell adhesion location and the spreading shape on EM grids with PRIMO, the maskless micropatterning system from Alvéole. Rest assured that you will obtain a well-located cell containing the target structure you are looking for. PRIMO can be added to all Cryo CLEM workflows as a first step.
Fully integrated cryo electron tomography workflow with Thermo Fisher Scientific
We worked closely with Thermo Fisher Scientific to develop a fully integrated cryo electron tomography workflow. The THUNDER Imager EM Cryo CLEM and the Aquilos cryo FIB-SEM communicate seamlessly with each other. They enable fast retrieval of the target structure and a safe and secure sample transfer between the systems.
Learn more about the integration of PRIMO and our jointly developed workflow with Thermo Fisher Scientific here.
Click through the workflow solutions below and learn how you can achieve high quality results. For more information on workflow solutions for life science research, download our workflow booklet.
Cryo CLEM Workflow
If you want to prepare tissue samples, add the THUNDER Imager EM Cryo CLEM as an intermediate step in your Cryo CLEM workflow.
It enables you to easily identify the region of interest and to prepare the lamella at a specific location within the sample.
Cryo On-Grid Lamella Workflow (a)
Cryo On-Grid Lamella Workflow (a)
To get reliable results from analyzing protein structures in their native environment, use the fully integrated workflow with the cryo-FIB SEM from Thermo Fisher.
Select the most suitable cells for analysis with the THUNDER Imager EM Cryo CLEM and transfer the coordinates to the Thermo Scientific Aquilos where you can immediately retrieve them. The Aquilos overcomes thickness limitations and creates a thin ice sheet which can then be examined in the TEM.

Cryo On-Grid Lamella Workflow (b)
Cryo On-Grid Lamella Workflow (b)
The THUNDER Imager EM Cryo CLEM can be integrated in every FIB-SEM workflow.
Our products can be seamlessly connected to ensure a safe sample transfer throughout the whole process.

Interested to know more?
Talk to our experts.
Do you prefer personal consulting? Show local contacts