Cancer research imaging with STELLARIS confocal platform
Confocal microscopy provides powerful tools for cancer research - the access to spectral multiplexing and lifetime-based information expand the possibilities to study multiple targets within tissues or cellular structures. This gallery shows examples from cancer research using the STELLARIS confocal platform.
Expand the potential of deep in vivo experiments with label-free imaging​
Molecules such as collagen and elastin have relevant roles in diseases like cancer. Our 4-tune detector enables the use of second and third harmonic generation signals that allow you to study these important structures without staining.​ The combination of DIVE with STELLARIS also enables the use of lifetime-based information intrinsic to fluorescence. This ability allows you to perform experiments like metabolic mapping of a specimen via lifetime imaging of NADH or FAD.​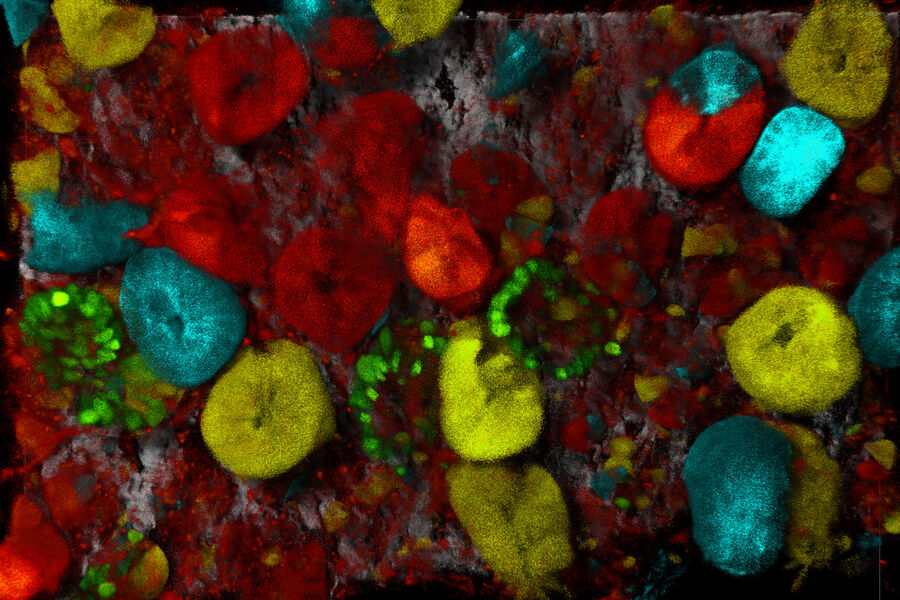 Understand cancer better with deep in vivo imaging
Multiphoton systems are usually rigid to use and need to be adapted to each experiment and user. Add to this the stress of working with live animals or freshly explanted tissue and you quickly understand the advantage of having flexibility when doing multiphoton experiments. STELLARIS 8 DIVE provides you with an easy, hassle-free workflow from setup to final results thanks to the seamless integration of multiphoton capabilities into the STELLARIS software.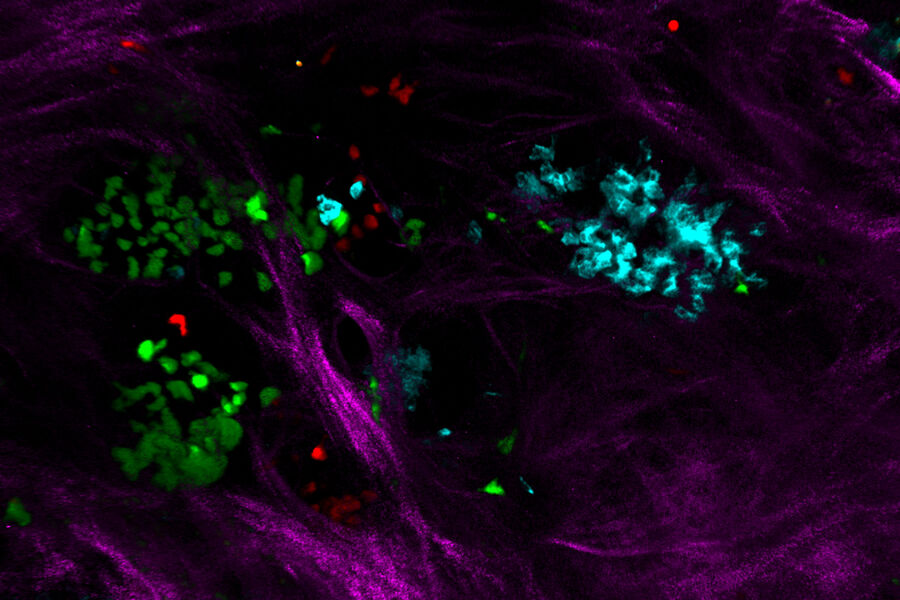 Mitotic COS7 mitotic cells
Uncovering hidden connections between cancer and mitosis. Unravelling the role of mitotic instability in a complex disease like cancer requires correlation of multiple biological markers in the same sample. This image faithfully captures individual COS-7 cells at three stages of mitosis: metaphase, late anaphase and telophase. The delicate interplay between chromosomes, spindle fibers, Golgi, mitochondria and actin cortex is revealed in exceptional detail. The power of STELLARIS to distinguish fluorescent labels that have closely overlapping spectra was essential for this 5-color experiment, taking multiplexing capability beyond ordinary limits.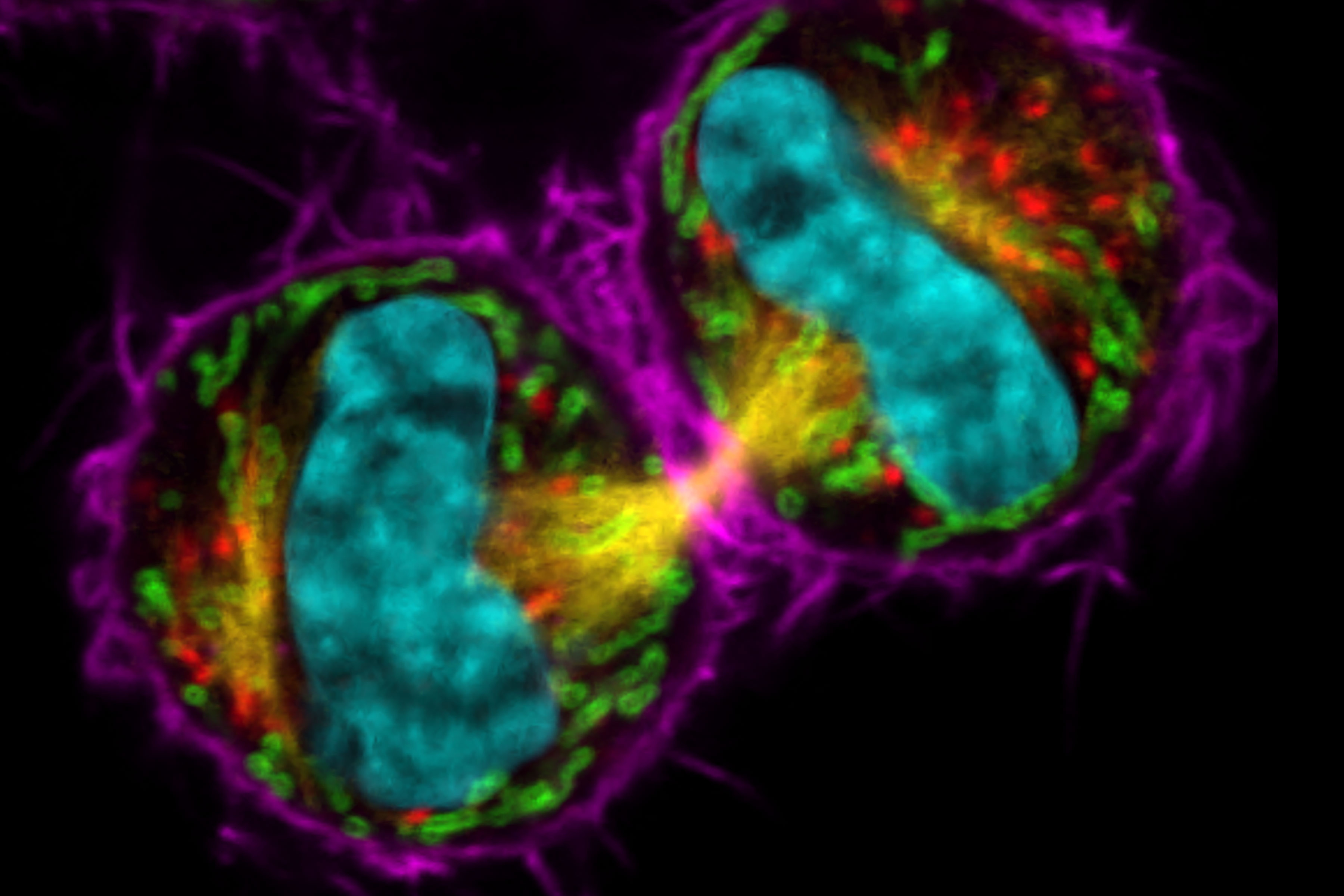 Navigate tissue easily without the need of additional staining​
Navigating through tissue often requires orientation landmarks to know where areas of interest are located. The scaffolding property of collagen can help in navigating through tissue and find areas of interest without the need of a counterstain.​ Most biological tissues contain collagen which is the main component of connective tissues. For example, intestines are surrounded by a layer of collagen. Collagen can be visualized in multiphoton microscopy easily by collecting emission signals at exactly ½ of the excitation wavelength. With the flexible detection windows in 4Tune, any wavelength can be used to collect this signal, so no additional label or effort is needed. Once the microscopist reaches the collagen structure, she knows that her tissue of interest (here stem cells in intestines) is close.
Related Articles
CRS (Coherent Raman Scattering) microscopy is an umbrella term for label-free methods that image…

Sep 11, 2023

Discover how innate immunity can sustain deleterious effects following neurovascular pathologies and…

Jul 04, 2023

In this webinar you willl learn what impacts reproducibility in microscopy, what resources and…

Jun 27, 2023
Related Pages
Our confocal microscopes for top-class biomedical research provide imaging precision for subcellular…