The Power of spatial biology
Location is key to understanding biological mechanisms, from the inner workings of subcellular components to how cells form and interact across normal and diseased tissues. In research areas including cancer biology and immunology, there is a growing trend towards spatial biology, which uses transcriptomics, imaging, and other approaches to put dissociated cellular information into spatial context.
As the spatial biology trend requires researchers to use imaging in their daily lab work, light and electron microscopy (EM) technologies are also evolving to support the need for even greater spatial context. Nowadays, researchers will typically use several different imaging approaches, including multiplex imaging, laser microdissection, and AI-based image analysis, to study a tissue from different angles.
Download the eBook and see how different microscopy techniques could enable your spatial biology research.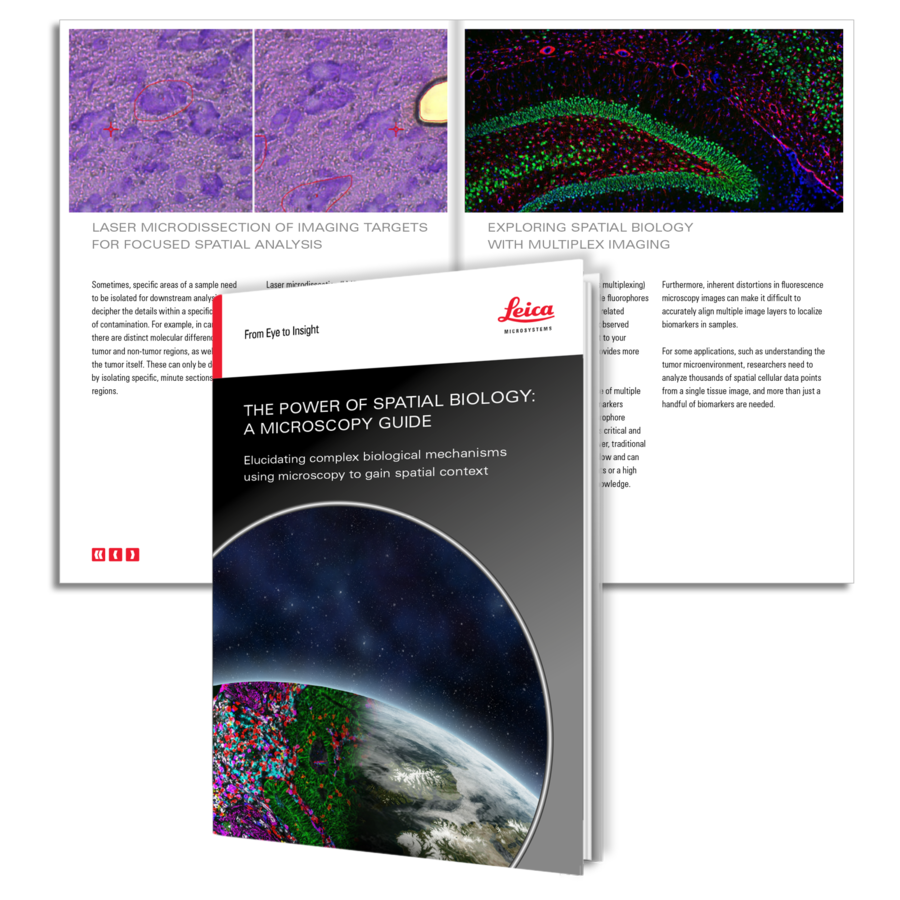 <!– TYPO3SEARCH_end –>
<!– TYPO3SEARCH_begin –>
Related Articles
Discover spatially resolved CRISPR screening (SPARCS), a platform for microscopy-based genetic…

Sep 26, 2023

The influence of sample preparation and ultraviolet (UV) laser microdissection (UV LMD) on the…

Sep 23, 2022

This lecture will highlight cutting edge applications in applying laser microdissection and…

Jun 15, 2021
Related Pages
Find out more about Leica super-resolution microscopy solutions and how they can empower you to…

Leica Microsystems' life science research microscopes support the imaging needs of the scientific…

Are you working towards a better understanding of neurodegenerative diseases or studying the…