The tree-mirror concept is known as the "x2y scanner". This approach solves the general problem of scanner systems with two mirrors which cannot be placed in the correct position (the back focal plane) at the same time without additional relay optics. Usually, deviations are accepted by compromising the homogeneity of illumination (with negative effects on uniformity of brightness and resolution). A single mirror solution (cardanic) offers homogeneous illumination, but is restricted to very low scanning speeds.
The x2y scanner illuminates the full field of view (FOV) homogeneously and allows high scanning speed.
The field-of-view scanner is composed of two y-scanning mirrors in combination with a position-programmable galvanometric scanner for the x-direction. Such a combination allows the position of the beam to be known and actively controlled at any time. It also enables an electronic control of the scan speed, offset (panning), and amplitude (zooming) which are restricted only by the mechanical properties of the scanner.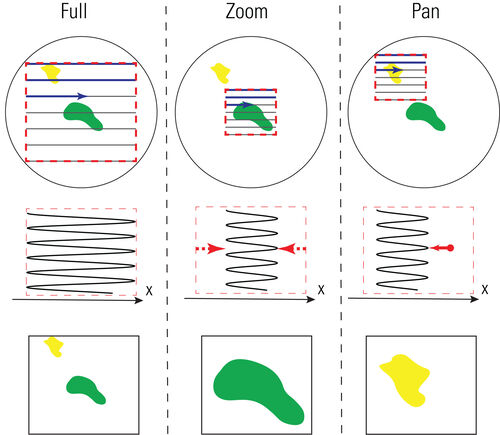 Extremely high scanning speed is achieved with a resonant scanner. A tandem scanner is a device that combines both field of view and resonant scanning for alternative uses.
Related Articles
CRS (Coherent Raman Scattering) microscopy is an umbrella term for label-free methods that image…

Sep 11, 2023

Discover how innate immunity can sustain deleterious effects following neurovascular pathologies and…

Jul 04, 2023

In this webinar you willl learn what impacts reproducibility in microscopy, what resources and…

Jun 27, 2023