Why did you decide to purchase a dental microscope? For which treatments do you use it?
Dr. Raicov: I discovered the high degree of accuracy that can be achieved with a dental microscope during my studies in endodontics and I realized that there's no real alternative. After all, how can you treat something you can't see?
Using a microscope, there's so much more potential for tooth preservation. And there is a large spectrum of medical treatment that can only be performed using a microscope, for example endodontic retreatment due to infections caused by side canals, insufficient root canal fillings or broken instrument parts.
I also think that the microscope lowers the risk of instrument breakage as you can create much better access to cavities.
What advantages do you gain from working with the microscope?
Dr. Raicov: The Leica microscope gives me the certainty that the treatment I have performed is correct. For prosthetic work, I can check the accuracy of the preparation. I have found the microscope to be a very useful diagnostic tool, too. Take sensitive teeth, for instance, in cases where the cause was difficult to identify, the excellent microscope optics and light revealed cracks, or we discovered a side canal during endodontic treatment. These are completely different diagnoses, and of course each requires different treatment.
So thanks to the dental microscope I can work more quickly and ultimately more successfully. I also greatly appreciate the microscope's ergonomic benefits. However, if you work at the microscope for a very long time, musculoskeletal strain can still be a problem. So it's important to adjust the microscope properly to your individual posture.
You work with a M320 Dental Microscope – which features of this microscope do you particularly appreciate in everyday usage?
Dr. Raicov: The optics are of course indispensable for a good microscope. With the M320 dental microscope I particularly appreciate the multifocal objective. In my view no microscope should be sold without one! I notice the advantages every day – if the patient moves slightly, the multifocal objective allows me to retain the focus and fine-adjust the field depth without having to alter the position of the microscope or move the whole dental chair unit up or down.
The multifocal objective makes work a lot faster and more convenient. I would wholeheartedly recommend it in particular for dentists who are just beginning to carry out treatments using a microscope.
How do you like the LED illumination of the Leica M320?
Dr. Raicov: I'm delighted with the LED illumination, the white light gives an extremely bright and clear image. In my opinion, there's no alternative to LED illumination.
How do you consider the documentation options of the Leica M320 for your practice and for sharing with peers?
Dr. Raicov: Some of my patients are referred by other colleagues, so we use the excellent documentation devices to discuss the treatment plan. Apart from that, photographs and video help me explain to my patients what's wrong and what treatment they need. It's simply easier for people to understand what's happening if they see images. We take photos during every endodontic procedure and use them for in-house documentation purposes, too.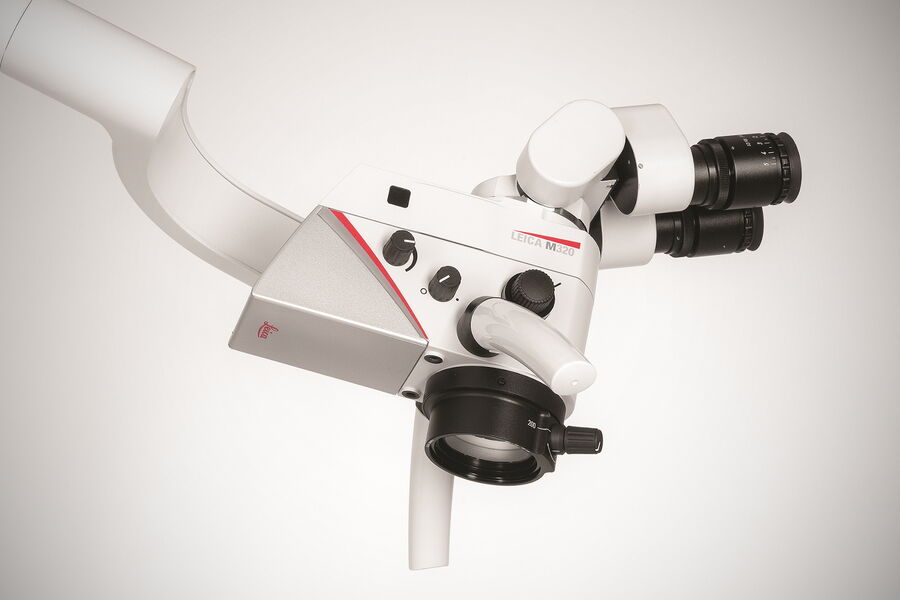 Not all dentists have experience of working with a dental microscope. What sort of learning curve could they expect?
Dr. Raicov: In my experience, you mainly have to allow time for your team to get accustomed to the microscope. I personally received a training course on the Leica M320 that was of enormous help to me and my assistant. At the beginning we had a lot of questions on the position of the patient or the microscope. After all, it's a totally different kind of treatment, a different world! And that's why you have to watch somebody else working at the microscope first, then get some practice with it yourself before treating patients.
I value the Leica M320 dental microscope because it is ultra-compact and there's no clutter of cables round the microscope to limit treatment space. I found the Leica M320 easier to use than other microscopes.
Related Articles
Here, we show you how Dr. David Blanc, a dental surgeon and ergonomics consultant, improves physical…

Apr 07, 2022

Endodontics expert Fabio Gorni shares his vast experience in micro-dentistry and provides answers to…

Aug 03, 2020

Microscopes are playing an increasingly important role in endodontic surgery as they enable…

Jul 24, 2020
Related Pages
The surgical microscopes of Leica Microsystems are exactly geared to the requirements of…