Leica ICC50 W & ICC50 E
Microscope Cameras
Products
Home
Leica Microsystems
Letting minds meet… anywhere
Cameras for Compound Microscopes
Leica ICC50 W & ICC50 E
These 5-megapixel cameras can live-stream HD images to students' smartphones or tablets. Students can connect to the ICC50 W either through its own internal Wi-Fi signal or through the facilities network.
The ICC50 E exclusively uses the facilities network (WLAN or LAN) to allow students to connect to the camera. This is an ideal solution if you don`t want to add additional Wi-Fi access points to your existing wireless network concept.
For mobile devices download the Leica AirLab App! It is free of charge and available for both IOS and Android. With intuitive touch screen control, students can quickly and easily capture, annotate, archive, and share images. The camera can also be accessed with any Wi-Fi enabled Windows PC or MAC. For standalone HD screens or larger screen projections you can use the HDMI connection.
The quantity of mobile device connections and their stability depends on the Wi-Fi traffic and network performance in the environment.
Keeping college or university students engaged in coursework becomes a lot easier with the Wi-Fi Education Solutions from Leica Microsystems.
Please check with your local Leica Microsystems representative for availability/product registration status.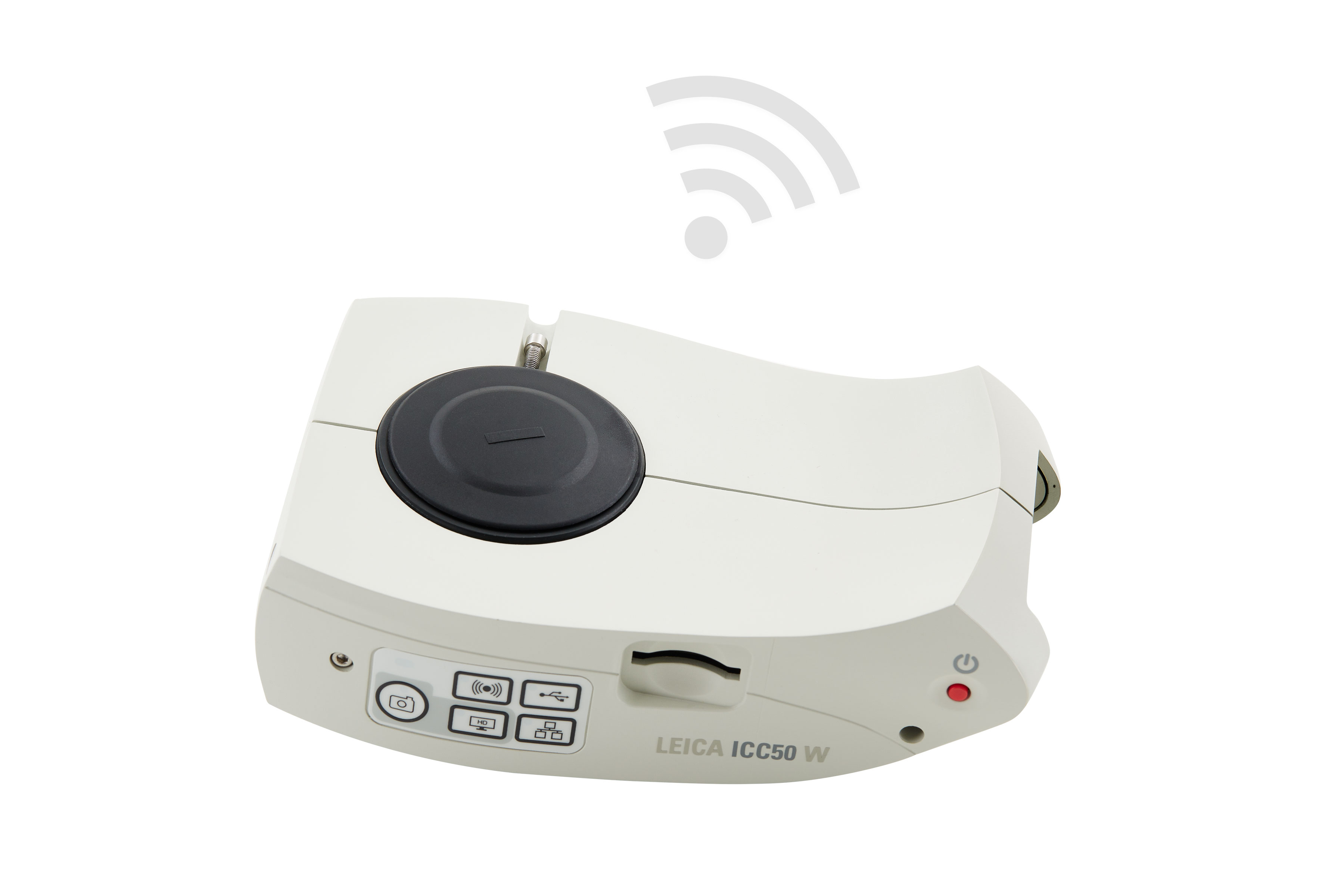 AirTeach software
Decide which microscope images your students should see. Share knowledge efficiently, and have everybody on the same page.
More information on Wi-Fi Education Solutions
Interactive teaching with AirTeach
Work with live image thumbnail overviews of all connected microscopes, share up to four images in class.
More information on Wi-Fi Education Solutions
Camera access for multiple students simultaneously
Connect multiple smartphones or tablets to an Leica ICC50 W and quickly access high-resolution images or videos fast directly onto your device through the camera's Wi-Fi stream. No need to wait.
With the ICC50 E, students can connect to the camera through the facilities' network, which connects users' devices such as PCs or tablets, with the microscope by Ethernet (WLAN & LAN).
Live thumbnail overview of all connected microscopes in class with AirLab
Overview all connected microscopes in class with a full-screen thumbnail overview. Select single microscope stations and choose students' live images for the course work with just a few taps.
Camera modes for all situations
View and share microscope images via Wi-Fi stream in small groups with the ICC50 W or choose Ethernet Mode for more students to connect to a microscope through the facilities' network connection with the ICC50 W or ICC50 E. The USB mode is helpful for inspection of moving specimen in high speed.
See more with the 5.0 megapixel CMOS camera
Discover details in natural colors with up to 5.0 MP capture resolution. The integrated Wi-Fi camera is fast and provides excellent documentation results.
PC or MAC - no problem
Computer users can use the Leica Imaging software to connect to the camera and work with the images. For PC use LAS (Leica Application Suite) EZ, and use Leica Acquire for Mac.
Just in case - SD card mode
With the integrated SD card slot your students never miss out on a picture even if no PCs or mobile devices are available. Easily capture images directly onto the SD card.
Save money and time with great design
The Leica ICC50W and ICC50 E change the look of microscopy classrooms. Developed for upright microscopes they fit perfectly between the viewing tube and the body of any Leica DM compound microscope. The cameras are powered directly from the microscope stand with a USB cable.
Instruments that last and last
The robust CapSense control panel ensures intuitive, reliable operation for years. It protects the system from dirt and is highly durable.
HDMI - High Definition output
View specimen in real time and in high-resolution with a direct connection to a HD screen.
ICC50 W - Compatible with TWAIN
TWAIN is a protocol that enables communication between software and selected Leica Microsystems microscope cameras. It allows you to process images with your preferred software later on.
Take advantage of your camera's TWAIN capability to control the camera, acquire images, and transfer image data to various repositories for analysis and archiving. For example, easily store images to your Laboratory/Hospital Information Management System (LIS/HIS/LIMS).