A60 F & A60 S
Routine Manual
Stereo Microscopes & Macroscopes
Products
Home
Leica Microsystems
Optimize your productivity and production quality
Stereo Microscopes for Electronics and Medical Device Manufacturing Industries
A60 F & A60 S
Productivity and high precision are required in industrial production such as electronic components or medical devices.
The intuitive A60 F and A60 S stereo microscopes fulfill what you need – high sample throughput, optimum visibility of product details and components, and easy processing of subassemblies.
See 80% more of your sample with a 46 mm object field
Comfortable access your sample due to the 122 mm working distance
Easy handling, less refocusing and time saving with up to 13.6 mm depth of field and Leica FusionOptics technology
Enables large surface overview and detailed observation with a magnification range from 5x to 30x
The A60 is designed for long periods of continuous use and quickly adapts to different users. With a 38° viewing angle, the A60 allows the user to maintain a natural head posture. The operating elements such as the zoom adjustment, focus knob, and ring light are intuitive and easily accessible, by left and right-handed users alike.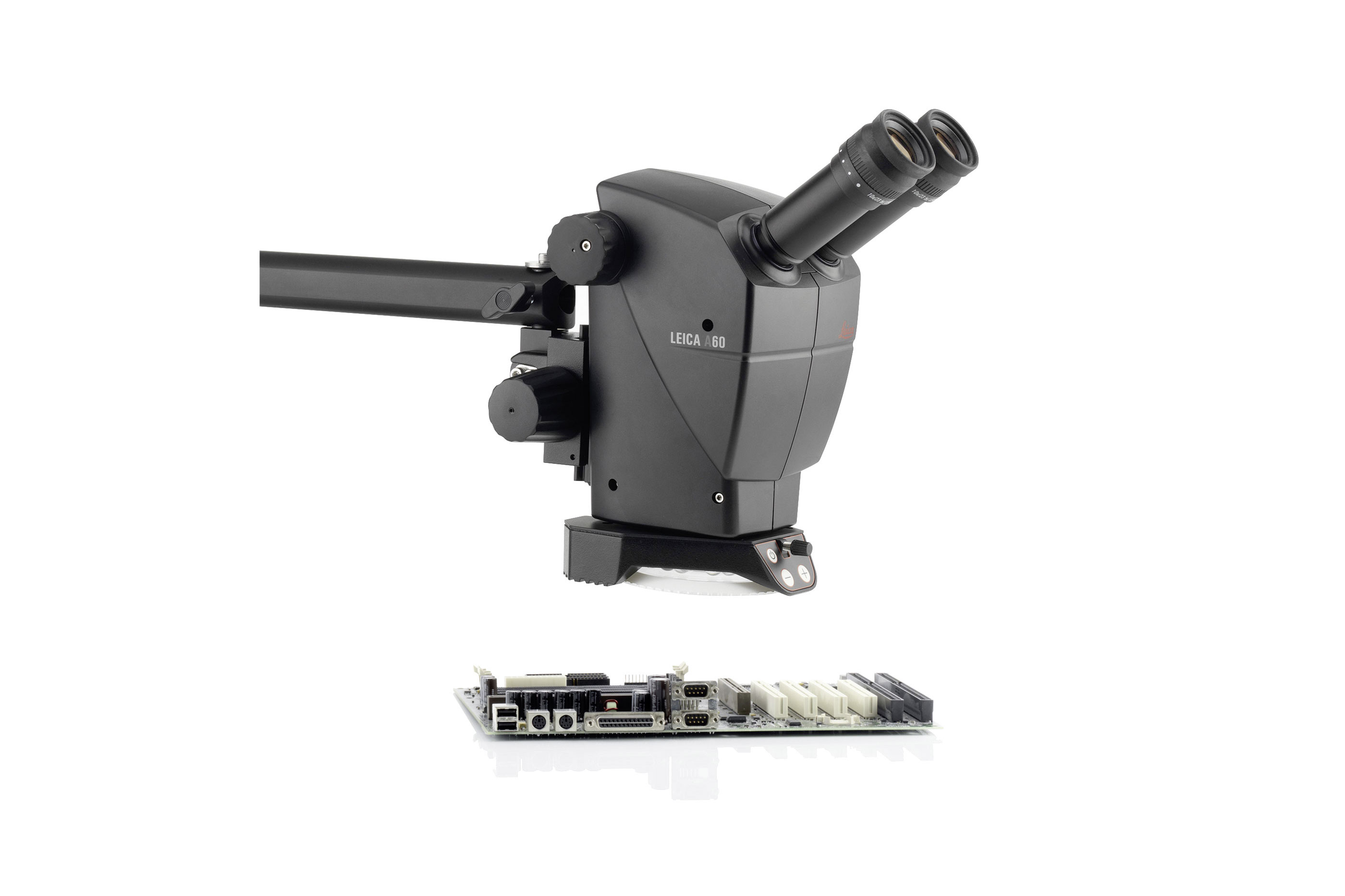 Increase your efficiency
For fast, comfortable and convenient work in production, assembly and rework.
The A60 reveals up to 80% more of your sample surface area than comparable stereo microscopes. View your sample from overview to the finest details easily with the 46 mm object field.
More room for work
A working distance of up to 122 mm provides you with optimum access to your work piece and allows better handling of your tools.
Eagle eye in the millimeter range
The depth of field of up to 13.6 mm, thanks to Leica FusionOptics technology, results in easy sample handling, less refocusing and enormous time savings.
Take advantage of a magnification range from 5x to 30x to obtain large overviews and detailed views.
See every detail of your sample
The A60 is equipped with a bright, uniform and color-neutral LED ring light illumination for optimal brightness and illumination. Identify different colors and detect defects quickly and accurately.
The removable diffuser is recommended when working with highly reflective samples such as metal or soldered joints. The diffused light reduces reflections on metallic surfaces.
Work in comfort
A60 F with flex arm - The table clamp allows maximum freedom of movement while requiring minimum table space.
Work in comfort
A60 S with swing arm - Ideal for handling large samples.