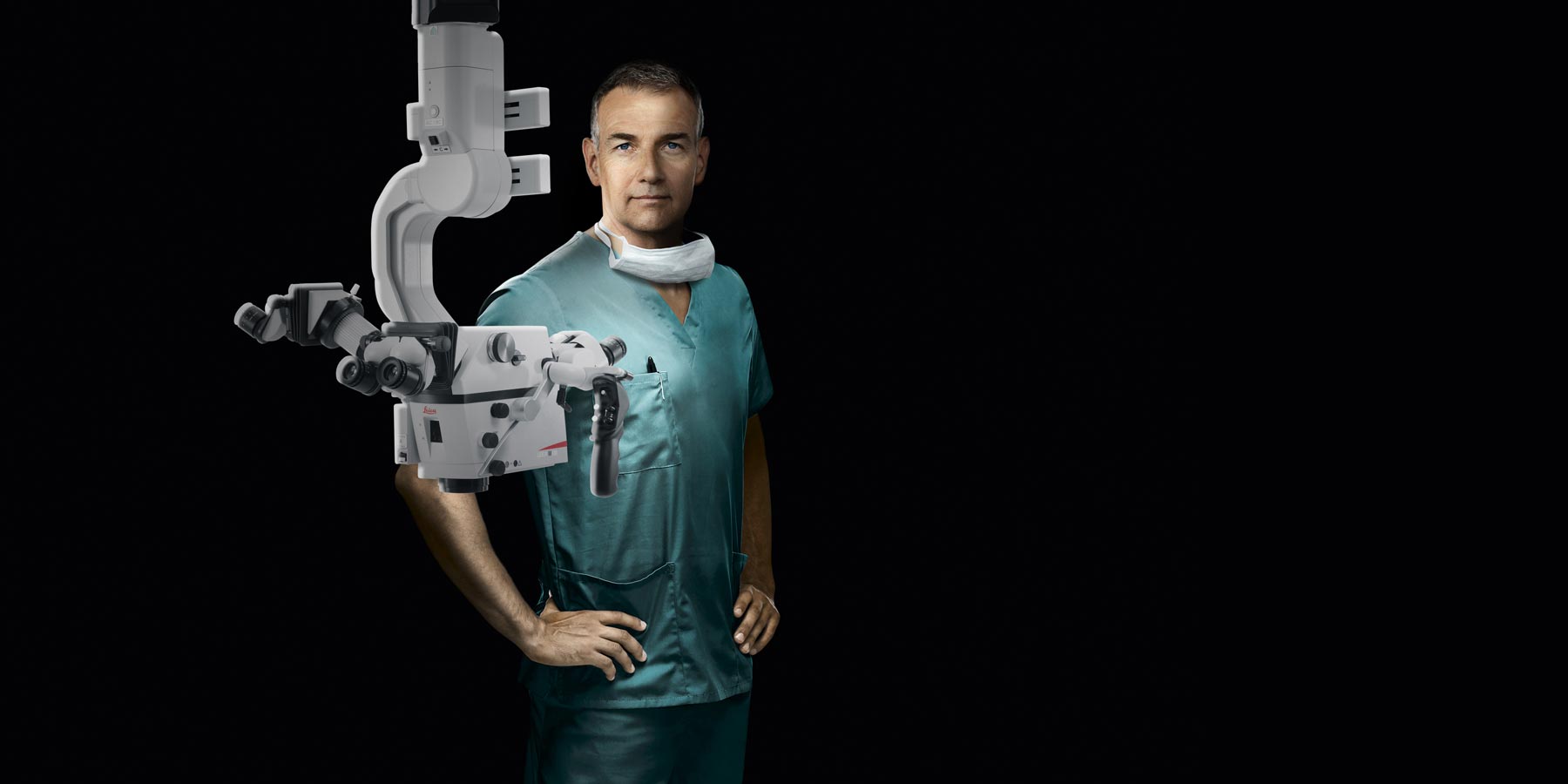 Stay Focused
Neurosurgery Microscope
Leica M530 OH6
As a surgeon you have to be focused. Focused on achieving the best possible result for your patient. Focused on what matters in every single moment of the surgery. The Leica M530 OH6 has been designed to support you in staying focused: It offers optimal visualization thanks to the groundbreaking FusionOptics technology which combines high resolution and increased depth of field. Plus, the truly ergonomic design enables you to operate in a comfortable position. With less physical distraction you can remain focused on the critical task at hand.
By the way, when you require additional visual information, for example from endoscope or IGS system, opt for the CaptiView image injection module. With 1920 x 1080 pixel, full HD display and LED backlight, you benefit from bright, crisp images with distinct margins, injected directly into the microscope eyepieces.
Availability of products or features depends on local registrations. Please contact your Leica Microsystems' representative for availability in your region.
Stay focused with FusionOptics
The Leica M530 OH6 takes image quality to a new level: FusionOptics, the groundbreaking technology by Leica Microsystems, unites an enhanced depth of field with high resolution to create an optimal view.
FusionOptics also helps you to streamline your work: A larger area in full focus means that there is less need to refocus the microscope. FusionOptic let you stay focused – in every sense of the word.

The Technology of FusionOptics
Two separate beam paths
One beam path provides depth of field
One beam path provides high resolution
The brain merges the two images to a single optimal spatial image
Get deep insights
Featuring state-of-the-art illumination and optical innovations, the Leica M530 OH6 provides you with stunning images you can rely on.
Small Angle Illumination (SAI) for optimal view to the bottom of deep, narrow cavities
Bright 400 W xenon light
Apochromatic optics deliver a clear, sharply focused image
Leica Magnification Multiplier with 40% magnification boost (optional)
SpeedSpot laser focus enables quick and easy focusing for the main surgeon, assistant(s) and video camera
Stay focused with optimized ergonomics
A comfortable posture during surgery enables you to remain focused on your highly precise work. That's why the Leica M530 OH6 is designed to fully adapt to your individual needs. Listening to surgeons, we translated their rigorous demands into intelligent ergonomic features.

More Comfortable Working
600 mm working distance to easily use large instruments
Compact optics carrier to be closer to operative site for delicate procedures
Choice of different binoculars to fit your needs, all with 360° rotation
Optimal visualization for rear assistant with independent fine focus
Enhanced ergonomics for rear assistant to improve posture during cross-table setups
Easily position and maneuver the microscope
More space to work and effortless handling of the microscope supports you to stay focused. With an easy and precise auto-balance, feather-weight movement and a compact design, the Leica M530 OH6 is your trusted partner in the OR.

The Stand You Can Rely On
Substantial overhead clearance and long reach
Compact footprint to maximize space in the OR
Smoothly maneuverable with one hand, with full range of movement and tilt of the optics carrier
Premium stand designed by our partner Mitaka
Stay focused for future challenges
Highly modular, yet integrated – the Leica M530 OH6 is designed to support you today and in the future.
With cables and cameras fully incorporated into the optics carrier, it provides excellent freedom of movement.
Leica Microsystems' OpenArchitecture and the unique upgrade-ready system allows you to easily update your imaging technology – HD 2D, 3D or fluorescence – whenever you choose.
Beyond the visible with TriFluoro*
The M530 OH6 features TriFluoro* technology: it can be supplied fully integrated with:
Leica FL560 fluorescence module
Leica FL400 fluorescence module
Leica FL800 vascular fluorescence modules
Switch between modules with just a few button clicks for efficient comparison of fluorescence techniques and seamless workflow integration.
*Availability of products or features depends on local registrations. Please contact your Leica Microsystems' representative for availability in your region.
All you need before your eyes
To make precise, confident decisions during cranial surgery, you require multiple pieces of visual data. What if you could keep your eyes and focus on your patient and still see all the supporting visual data you need in the highest resolution? With CaptiView image injection this can be your new OR experience!
Data injected directly into the eyepieces – CaptiView displays FL800 vascular fluorescence, GLOW800 augmented reality fluorescence microscope data, endoscope images, and is fully compatible with a number of leading IGS systems
1080p full HD display with LED backlight deliver high-resolution, high-contrast images so good there's no need to break concentration to look at a screen
Full integration into the optics carrier means only one touch of the microscope handgrip or footswitch is needed to activate an overlay, for interruption-free work
Injected images are also seen by the assistant enhancing their ability to follow each delicate movement, plus HD recording with injected images supports later review and teaching
Vascular surgery: Augmented
With GLOW800 augmented reality (AR) fluorescence and ICG you can observe cerebral anatomy in natural color, augmented by real-time vascular flow, with full depth perception.
One augmented, real-time view means no more need to recall and try to reconcile the black and white blood flow video with the natural anatomical view
Crisp delineation helps you limit potential compromise or obstruction of surrounding perforators and small vessels
Full depth perception and no dark peripheries supports clear spatial orientation to aid manipulation of vessels
Integration with your M530 microscope enables one-touch activation of GLOW800 mode via handgrip or footswitch
FL800 - near infrared fluorescence imaging
GLOW800 - augmented reality fluorescence imaging
Interested to know more?
Talk to our experts. We are happy to answer all your questions and concerns.
Contact Us
Do you prefer personal consulting?