Professor Küntscher describes his first impressions having used the M530 OHX surgical microscope with GLOW800 AR system and why he thinks more microsurgeons will soon use this state-of-the-art technology. He explains how he was amazed to really see how the blood flows through the flap.
The Leica surgical microscope is equipped with ICG fluorescence cameras (FL800 and GLOW800 AR), which enhance blood flow inspection:
allowing the operating team to visualize the blood flow throughout the graft in real-time.
making verifying graft perfusion safer, particularly in people with very pale or dark skin.
ensuring all of the graft is well-perfused, even to the distal end.
helping the surgical team make critical decisions about graft revision.
Disclaimer: The statements of the healthcare professional in this video reflect only his opinion and personal experience. His statements do not necessarily reflect the opinion of any institution with whom he is affiliated.
The M530 OHX microscope has precise optical quality and is very light and easy to manoeuvre.
The long, lightweight arm and its wide arc of motion reaches even the edges of the operating room.
The smooth, precise movement allows the surgeon to position the microscope on any surgical site easily.
The speedspot laser focus makes it quick and easy to find the optimal focal point.
It is easy to transport from the operating room to intensive care/recovery room to control graft blood flow in difficult cases.
The M530 OHX surgical microscope is equipped with a broad screen and video-capturing features:
improving operating teamwork as the whole operating team with a precise view of the surgical site.
making it easier for the surgical team to anticipate surgical steps.
providing valuable resources for academic teaching and scientific communication.
About Professor Markus Küntscher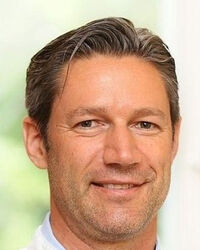 Professor Markus Küntscher, is the Chief Physician in the Department of Plastic and Hand Surgery, at the Evangelische Elisabeth Klink, Director of the Reconstructive Breast Centre in Berlin, and Senior Lecturer at the Heidelberg University. He is specialised in plastic reconstructive, aesthetic and hand surgery. Professor Küntscher studied medicine at the University of Heidelberg, and went on to specialise in plastic surgery at the BG Trauma Centre Ludwigshafen, the largest plastic surgery unit in Europe. Afterwards, he moved back to Berlin to become the Vice President at the Centre for Serious Burn Injuries Unfallkrankenhaus.
If you would like to learn more about GLOW800 AR fluorescence and Leica Microsystems solutions for gender -reaffirming surgery please contact your local Leica sales representative.
Related Articles
In this video, Chief Microsurgeon Professor Küntscher and his team perform a radial forearm free…

Apr 04, 2022

Free flap surgery is considered the gold standard for breast, head and neck reconstructions for…

Jan 27, 2022

Plastic and reconstructive surgery requires excellent visualization to repair intricate and fine…

Jan 27, 2022