What classroom will the microscopes be used in? From our experience, there are two types of classrooms:
A. The lab / wet lab. Microscopes are set up once and remain at the same place all the time. There are long rows of tables, often with little space between the rows.
Factor to consider:
Cables: The less cables there are, the better, because students' arms or bags can get caught in the cables when they take their seats, and dislodge the microscopes.
B. The classroom with storage capacity. The microscopes are taken out of storage and set up on the worktops at the beginning of class and put away again at the end.
Factors to consider:
Size: Do the microscopes fit the storage space? If possible, there should be some space between the instruments, so that they do not touch. It also makes sense to check, where they touch if they do – colliding moveable parts should be avoided.
Weight: Since the microscopes are moved at every beginning and end of a lesson, they should be easy to carry for one person. Also take a look at the design – it may be challenging to grasp a microscope securely if it does not have a handle.
Cables: If cables hang down from the microscopes, they can tangle, in storage as well as on the way to the benches. Imagine thirty students carrying a microscope and dragging the plug behind them on the floor, tripping them up.
For both labs and classrooms with storage capacity the environmental conditions are worth considering. If temperatures and humidity in the rooms change, teachers benefit from coatings of the microscopes that prevent bacteria spreading. They should also check whether the instruments are tested for mold growth.
Student microscopes go through many hands every day. They are used for many years, so they should be constructed to last.
Maintenance: Servicing the microscopes must be easy. Educational microscopes must be easy to clean and maintain. When it is needed, an on-site service should be available.
Robustness: Microscopes should not be delicate in construction. Their bases should be planted firmly on the work top. They also should be balanced well so that they don't wobble. In addition they should have as few removable parts as possible to ensure the next student still has all parts at his or her disposal.
Durability: It's worth taking a look at the material the microscopes are manufactured from. The longer microscopes show little wear and tear, the longer students will treat them with more care. Another scratch on a scratched surface matters less that the first scratch. A durable material and good finish can be helpful.
Lightness: Moveable parts should move smoothly, not requiring force.
Labelling: Well-labelled microscope parts help students to handle the microscopes and locate and use the few movable parts confidently.
Having fun learning and teaching
Pupils and students learn best if they have fun doing so. Microscopy classes have great potential to fascinate children and young adults, because the world they see through the oculars is very different from what they see around them. Discovering this microcosm is an adventure to a lot of them. Two factors are crucial in promoting the fun factor:
Usability: With only a few adjustments to the microscope, students must be able to see something. This is important, because they remain engaged and teachers spend less time helping students adjust their instruments. Good labelling and few removable parts also make the instruments easy to use.
Great images: The optical performance, including the camera, is key to the microscope. A good optical performance produces images with good contrast, color, and a good resolution. It's the optical performance that enables students to discover a new world - and that needs to be clear and crisp to hold their attention.
Microscope performance and accessories
The choice of the microscope also depends on the subject and the level of education for which they are needed.
Accessories: Microscopes can be equipped to match the requirements of the subject perfectly. Some accessories, for example certain contrasts such as polarization for geology classes, depend on the application. Others can be generally beneficial, for example LED illumination which lasts a lot longer than halogen illumination. It makes bulb changes superfluous and increases microscope uptime in class. Cameras and software have become more important in the past couple of years, since microscopy itself has become more digital. Some cameras can even create their own Wi-Fi hotspot so that students can access images with their mobile devices or laptops.
Course level: Microscopes for biology classes in high-school do not need the same capabilities as microscopes for advanced pathology courses in university. This matrix gives an overview over which microscopes from Leica Microsystems are suitable for three levels of students: Technical specifications of educational microscopes.
Budget: Last, but not least, the available budget needs to be considered. The price-performance ratio always requires careful consideration. In the years that I have spent talking to teachers, I have learned that nothing is more frustrating for students than lousy images that don't mean anything. For a teacher, nothing is more rewarding than seeing the students excited about what they see in the microscope. Therefore my personal advice is: Never compromise on the optical performance. Only great images delight young minds.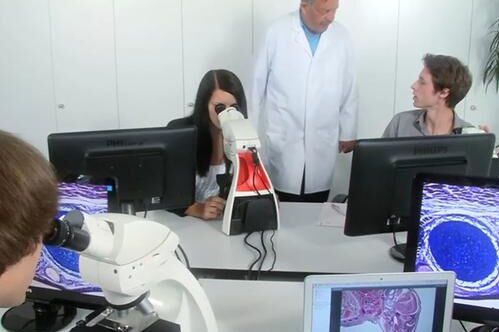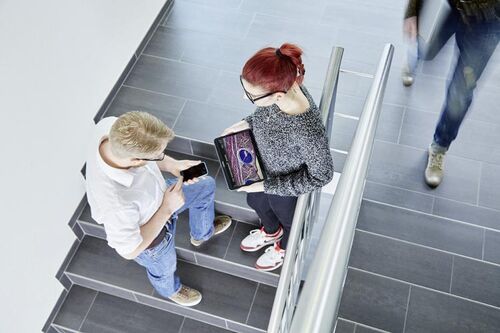 Compare Leica student microscopes and their configurations
If you like to compare instruments and configurations Leica Microsystems offers for schools and universities, download this pdf resource.
Getting clarity on the following questions will help you select the microscope that best fits your needs.
Where will the microscopes be used and stored? Will they be moved often?
How sturdy are the instruments? Will they stand up to daily use? And do moveable parts move easily for a good user experience?
How easily can the microscopes be operated? Will students see something fascinating quickly? This effect should not be underestimated: The easier great images can be seen, the more fun the students will have.
Which lessons will the microscope be used in? Is any special equipment needed? Which equipment will not be needed?
Related Articles
This article describes a test to determine the robustness of Leica microscopes to mold and fungus…

Sep 06, 2023

Read our new white paper to learn about the benefits of using a Leica surgical microscope with 3D…

Dec 12, 2022

Surgical microscopes play an essential role in the modern microsurgery procedures. It provides the…

Aug 25, 2021
Related Pages
Microscopy courses are most enjoyable when both teachers and students can focus on their subject.…