Vance Thompson, M.D.
Director of Refractive Surgery, Vance Thompson Vision
Vance Thompson, MD is an internationally recognized specialist in Laser Vision Correction and Advanced Cataract Surgery. He is the Founder of Vance Thompson Vision Sioux Falls, SD and the Director of Refractive Surgery he also serves as a Professor of Ophthalmology at the Sanford USD School of Medicine. As a leading international researcher, he has played a key role in the development of the most advanced technologies and techniques for both laser and implant vision correction. He has served as the medical monitor lead or principal investigator in over 80 FDA monitored clinical trials studying laser and implant surgery. In addition, Dr. Thompson has published numerous papers and book chapters and is co-author of the textbook "Refractive Surgery." He has lectured and taught advanced laser and implant surgery to thousands of surgeons all around the world. ///// A Gregory, South Dakota native, Dr. Thompson received his BS in Chemistry and his MD degree from the University of South Dakota. After completing his ophthalmology residency at the University of Missouri/Columbia, he was accepted and completed a fellowship in Refractive and Cataract Surgery with Dan Durrie, MD and John Hunkeler, MD at Hunkeler Eye Centers in Kansas City. ///// Dr. Thompson and his wife Jana reside in Sioux Falls, South Dakota. They have 3 children, Blake (and his wife Kayla), Joel, Lauren and two grandsons. His main interests include his family, cooking, and spending time in the outdoors.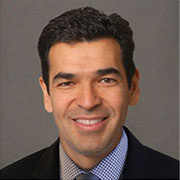 Majid Moshirfar, M.D.
Clinical Director, Hoopes Vision, Durrie, Rivera Research
An internationally renowned corneal and refractive surgeon, Dr. Moshirfar brings a history of innovation in cornea surgery, a strong background in clinical research, and a prolific legacy of academic teaching, publishing, and speaking. Immediately before joining Hoopes Vision, Dr. Moshirfar spent a year as a Professor of Ophthalmology at the University of California, San Francisco. Prior to that appointment, Dr. Moshirfar served on the faculty of the University of Utah's John A. Moran Eye Center for 18 years, including 16 as the Director of Cornea and Refractive Surgery. Dr. Moshirfar specializes in refractive surgeries such as LASIK, PRK, and ICL, as well as cornea transplantation, keratoprosthesis (artificial cornea), management of difficult corneal disorders, complicated cataract extraction, keratoconus, infectious eye diseases and other complex procedures of the cornea and anterior segment of the eye. Dr. Moshirfar has played a leading role in the development and dissemination of these procedures, particularly in the area of challenging refractive surgery techniques. Dr. Moshirfar has authored more than 200 peer-reviewed scientific publications and serves on the editorial boards of numerous scientific journals.
Related Articles
It is estimated that nearly 28 million cataract surgery procedures are performed worldwide every…

Feb 09, 2022

What to consider in the selection of an ophthalmic microscope for cataract procedures. Bearing these…

Nov 24, 2021

In this interview, Michael G. Richie, MD offers his expert opinion on the Proveo 8 from Leica…

Aug 30, 2021
Related Pages
Leica ophthalmic surgical microscopes provide excellence in optics and illumination, helping…