Advantages of LED (Light Emitting Diode) illumination
LED microscope illumination technology provides several advantages for microscopy imaging when compared to commonly used halogen lights. These advantages are:
Longer lifetimes (25,000 to 50,000 hours)
Lower power consumption
Natural color temperature
A "cold light" source less heat release (useful for temperature sensitive samples)
A practical compact design
Constant color temperature even at low brightness levels
Key factors for the choice of illumination
There are several important factors to consider for high quality microscopic observation and imaging of a sample when selecting the proper type of illumination:
Which types of samples are to be observed?
Which features of the samples are to be analyzed?
Which difficulties are noticed with currently used types of illumination?
Is there a need to access the sample during microscopic observation, e.g., manipulation with scalpel, tweezers, soldering iron, or other tools?
Microscope users may have to try multiple types of illumination in order to find the optimal lighting. Users can arrange for a demonstration of various illumination systems with a sales representative from Leica Microsystems or an authorized dealer before deciding which one to buy.
The Leica LED5000 series illumination systems are mainly used for higher performance stereo microscopes, e.g., Leica M125, M165, or M205. The Leica LED3000 series systems are mainly used for routine stereo microscopes, e.g., Leica S4, S6, S8 APO, M50, M60, or M80 [7]. Some basic information about the Leica LED5000 and LED3000 series are shown below.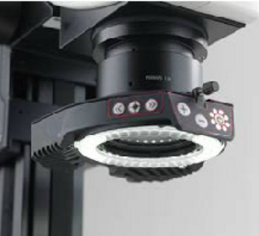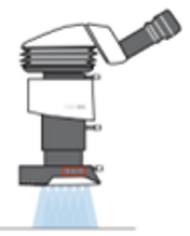 Overview of LED (Light-Emitting Diode) illumination systems
Ring light (RL) gives bright and uniform illumination of the sample; suitable for many types of samples. Additionally, diffusors and polarized light sets are available for both ring light types. These accessories reduce the problems of glare and highlighting of spots.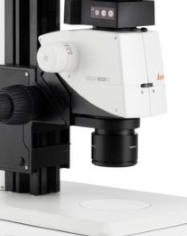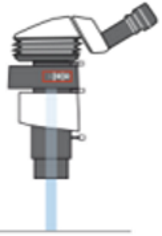 Coaxial illumination (CXI), where the beam of light is guided through the optics and reflected from the sample, works best for smooth and reflective samples. It is especially useful if fine cracks or surface quality must be assessed.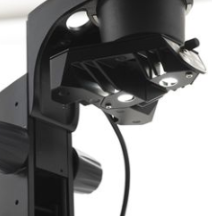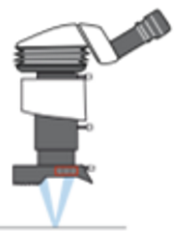 Near vertical illumination (NVI), achieved with LEDs positioned very close to the optical axis, provides nearly shadow-free lighting and is practical for samples with recesses and deep holes or those that require long working distances.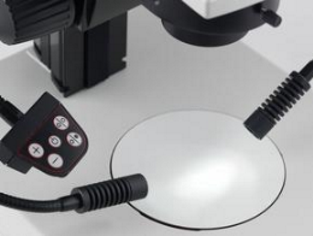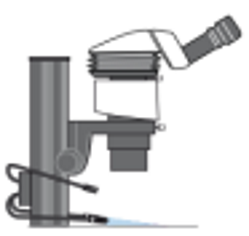 Spotlight illumination (SLI) with flexible goosenecks offers high contrast lighting suitable for many types of samples.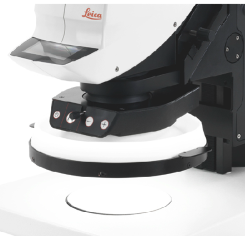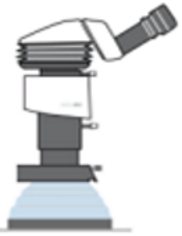 Diffuse and highly diffuse illumination (DI and HDI) are designed for highly reflective, non-flat or curved samples that are difficult to image due to the amount of back-reflected light.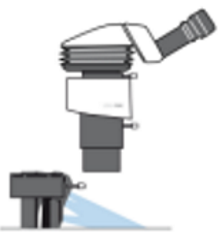 Multi-contrast illumination (MCI), utilizing repeatable contrast with lighting from 2 different directions and angles, is useful for samples with hard-to-find details.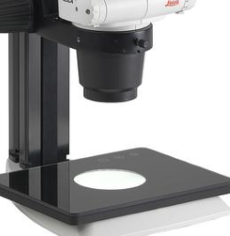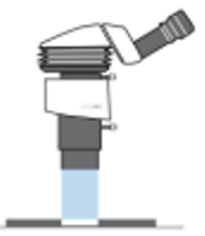 Back light illumination (BLI) provides transmitted lighting for transparent samples.
Results with Leica LED5000 and LED3000 illumination
Example images of various samples are shown below. The images were recorded with a Leica M165 stereo microscope equipped with a Leica DFC495 digital camera and a LED3000 or LED5000 series illumination system.
Sample: Printed Circuit Board (PCB)
In addition to the high-quality optics used by microscopes from Leica Microsystems, it is important to identify the sample features to be analyzed and the field of view, i.e. the object field, required for observation when selecting an illumination system. It is also worthwhile to consider the advantages of computer encoding and the proper microscope optical performance, i.e., objective lenses, which can be plan, planapochromatic, achromatic, etc.
Keep in mind that there are additional considerations for illumination:
For the required optical performance, certain illumination systems may not be compatible, e.g., the Leica LED5000 RL illumination system cannot be used with a 2.0x objective lens
Always consider alternative illumination systems, such as a Leica LED spotlight (SLI) with gooseneck system, instead of a Leica LED ring light (RL) when using stereo microscopes with objective nosepieces or microscope configurations with small working distances.
Finding the best illumination system for samples observed by a stereo microscope is not always simple. However, the advice and recommendations mentioned in this report can aid users when investigating various illumination systems to find the ones which give the best imaging results for stereo microscope observation and image recording.
Below, you can find the quick selection guide for the Leica LED3000 and LED5000 series of illumination systems. This guide can be very helpful for microscope users attempting to find the most appropriate illumination systems for particular samples and applications.
Quick selection guide for Leica LED3000 / LED5000