Visible Alterations in affected Brain Tissue
One obvious change in brain tissue is the degeneration of cells by accumulation of tau-proteins (neurofibrillary tangles), the second is the emergence of dense particles outside the brain cells, called "senile plaques". These plaques consist of extracellular deposits of amyloid beta protein, that are improperly folded and clustered. They are resistant to abundant enzymatic activity and thus accumulate in the brain tissue. Alois Alzheimer described these alterations in his presentation [1].
The Shamloo lab used Leica Microsystems novel THUNDER Imager 3D Cell Culture to acquire large Z-stacks of uncleared, 40μm-thick mouse brain tissues. With a THUNDER Imager 3D Cell Culture, this large Z-stack is acquired and processed in seconds with Leicas proprietary core technology: An opto-digital method, called Large Volume Computational Clearing. As a result, one can easily and clearly visualize the amyloid plaques and microglia stained in this thick brain section.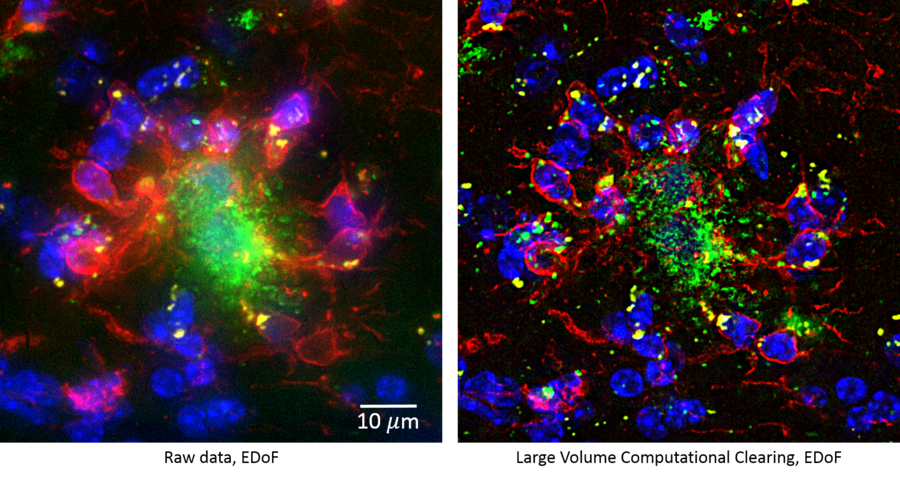 Alzheimer A: "Über eine eigenartige Erkrankung der Hirnrinde". Vortrag (3. November) auf der Versammlung Südwestdeutscher Irrenärzte in Tübingen am 3. und 4. November 1906. Eigenbericht Alzheimers in Allg. Zeitschrift für Psychiatrie und psychisch-gerichtliche Medizin (1907).
Excerpt: Neurofibrillary Tangles: "An Präparaten, die mit der Bielschowskyschen Silbermethode angefertigt sind, zeigen sich sehr merkwürdige Veränderungen der Neurofibrillen. Im Innern einer im übrigen noch normal erscheinenden Zelle treten zunächst eine oder einige Fibrillen durch ihre besondere Dicke und besondere Imprägnierbarkeit stark hervor. Im weiteren Verlauf zeigen sich dann viele nebeneinander verlaufende Fibrillen in der gleichen Weise verändert. Dann legen sie sich zu dichten Bündeln zusammen und treten allmählich an die Oberfläche der Zelle. Schließlich zerfällt der Kern und die Zelle, und nur ein aufgeknäueltes Bündel von Fibrillen zeigt den Ort, an dem früher eine Ganglienzelle gelegen hat." Senile Plaques: "Über die ganze Rinde zerstreut, besonders zahlreich in den oberen Schichten, findet man miliare Herdchen, welche durch Einlagerung eines eigenartigen Stoffes in die Hirnrinde bedingt sind. Er läßt sich schon ohne Färbung erkennen, ist aber Färbungen gegenüber sehr refractär."
Related Articles
eBook outlining the visualization of the nervous system using different types of microscopy…

Jun 14, 2023

This article shows how studying central nervous system (CNS) development in Drosophila-melanogaster…

May 12, 2023

This article shows how research on diseases of the larynx can be improved with a THUNDER Imager and…

May 02, 2023