First, there should be absolutely no compromise on the optical quality of the microscope to allow you to see every detail that you need to see. The combination of enhanced depth of field and high resolution is essential for an optimal view of the surgical field throughout the procedure. Certain microscopes allow the personalization of optical preferences, which can be saved for further interventions.
Good illumination is vital during microsurgery. The microscope needs to provide enough light and at the same time protect patient safety as high light intensity can cause damage. To protect patient skin and tissues, Leica plastic and reconstructive surgery microscopes are equipped with the Brightcare Plus smart illumination system, which automatically adjusts light intensity based on the working distance.
Some microscopes have built-in fluorescence technologies to confirm flap viability and visualize blood flow, guiding your surgical decisions during plastic and reconstructive surgery. Leica microscopes with the integrated FL800 fluorescence option allow to easily check the flap viability with the combined visualization of anatomy and physiology. The GLOW800 Augmented Reality fluorescence goes one step further, allowing to observe anatomy in natural color, augmented by a real-time view of vascular flow and tissue perfusion.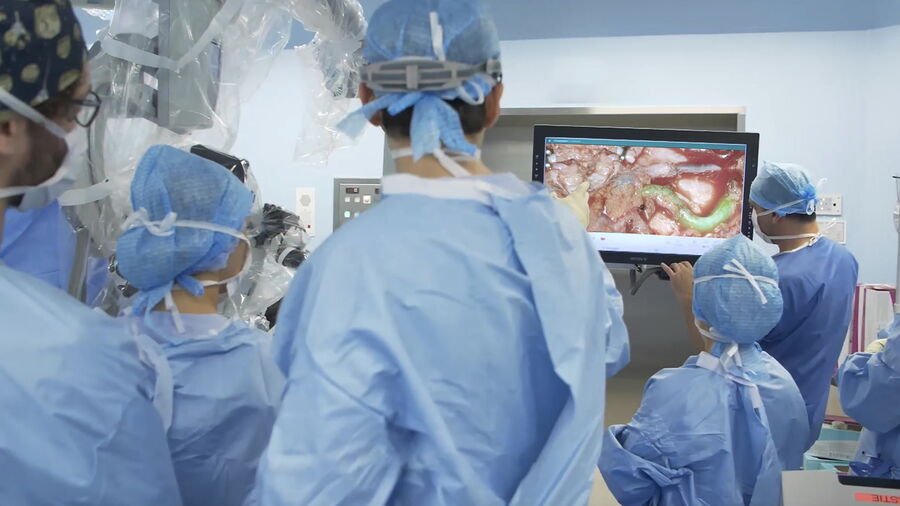 Surgical microscopes with an ergonomic design improve surgeon physical comfort, minimizing fatigue and the risk of musculoskeletal injuries. This is particularly important for oncological reconstructive surgeons who face a high risk of work-related musculoskeletal disorders (including back and neck pain) due to maintaining unergonomic and uncomfortable positions during lengthy procedures.
An efficient and streamlined workflow helps maintain focus during surgery, minimizing interruptions and saving time. Microscopes which support workflow efficiency allow to stay in control at each step of the procedure. Buttons to control balance, zoom and focus should be conveniently located. Some microscopes also offer one hand operation via a XY joystick.
Microscopes with integrated high-definition image and video recording can facilitate communications in the Operating Room. Displaying the images on a 4K screen allows the entire surgical team to follow each step of the surgery. Recording also supports teaching and training, enhancing learning and the acquisition of surgical skills. In addition, it can improve documentation and allow to share patient cases with peers, for example in medical meetings.
If you are teaching, the GLOW 3D feature may be very helpful live in the Operating Room and outside to watch and record procedures in 3D for trainees and OR staff to access to a more immersive learning experience.
As a conclusion, the key features to look out for in a plastic and reconstructive surgery microscope, for oncological reconstructive surgery in particular, are: optical quality, built-in fluorescence, smart illumination, ergonomics, workflow efficiency and recording. Of course, depending on your needs, you may want to consider other factors such as the footprint and space occupied in the Operating Room.
About Leica Microscopes for Plastic and Reconstructive Surgery
Leica's visualization solutions for plastic and reconstructive surgery offer oncological reconstructive surgeons enhanced shared vision and ergonomics at their fingertips, empowering them to reconstruct patients' bodies and recreate their lives.
These solutions include:
The M530 OHX precision surgical microscope to stay focused on delivering optimal results for your patient
The PROvido multidisciplinary surgical microscope to see more, simply, and progress seamlessly throughout your surgery
The M525 F20 compact surgical microscope for end-to-end finger-light maneuverability
Would you like to know more about our solutions and what they can do for you? Contact a Leica representative today.
Related Articles
In this video, Chief Microsurgeon Professor Küntscher and his team perform a radial forearm free…

Apr 04, 2022

The goal of penile reconstruction is to provide an aesthetic penoid with tactile and erogenous…

Mar 14, 2022

Free flap surgery is considered the gold standard for breast, head and neck reconstructions for…

Jan 27, 2022
Related Pages
Whether you need a premium surgical microscope or a cost-effective option for multidisciplinary use,…