PVR surgery is especially challenging for a host of reasons, including the reduced countertraction for membrane removal against detached retina, the risk for creating additional retinal holes, hemorrhage, or inflammation that can generate new PVR, and the high likelihood of requiring prone positioning postoperatively to keep the retina attached. PVR may appear as prominent, white, fibrotic tissue with infolding of adjacent retina creating a classic "star fold" appearance. It may also manifest as thin sheets without obvious distortion. Incomplete removal of PVR may prevent retinal attachment or lead to recurrent RD after silicone oil tamponade is removed. Therefore, PVR should be removed as completely as possible to maximize the chances for permanent retinal attachment.
Read more about surgical management of PVR and see video of how Dr. Sisk treated a traumatic retinal detachment utilizing intraoperative OCT on the Proveo 8 surgical microscope.
<!– TYPO3SEARCH_end –> <!– TYPO3SEARCH_begin –>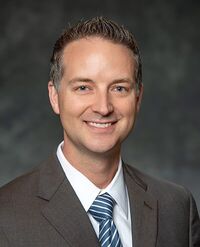 Robert Sisk, MD is Associate Professor of Ophthalmology at the University of Cincinnati. He is a Vitreoretinal Surgeon and partner at Cincinnati Eye Institute and serves as Director of Pediatric Retinal Surgery and Director of Ophthalmic Genetics at Cincinnati Children's Hospital. He completed a Vitreoretinal fellowship at Bascom Palmer Eye Institute after his Ophthalmology residency at University of Cincinnati. He is a principal investigator for numerous clinical trials with interests in gene and cell therapy, macular degeneration, and diabetic retinopathy.
Related Articles
Learn about the use of intraoperative Optical Coherence Tomography in glaucoma surgery and how it…

Sep 25, 2023

Learn about the use of intraoperative Optical Coherence Tomography in cataract surgery and how it…

Sep 13, 2023

A case study on the use of intraoperative OCT during macular hole surgery for pediatric lamellar…

Aug 21, 2023