Ophthalmic gene therapy case description
A 21-year-old Hispanic female had poor vision from birth including nyctalopia, visual field constriction, reduced visual acuity and reduced color perception. She noticed slowly progressive functional decline. Although she completed high school, she had worsening navigation and was challenged to live and work independently due to her visual limitations.

Diagnosis & pre-operative assessment
Pre-operative visual acuity was 20/150 in both eyes. The patient exhibited typical diffuse retinal degeneration with relative macular sparing. Genetic testing revealed biallelic RPE65 variants causing retinal degeneration and indicating type 2 Leber congenital amaurosis. Based upon the presence of viable retinal cells and potential benefit from ophthalmic gene therapy, treatment was offered by subretinal injection for both eyes. Surgeries were performed two weeks apart. The macular OCT and ultra-wide field fundus images showed baseline pigmentary retinopathy and photoreceptor alterations relatively sparing the fovea.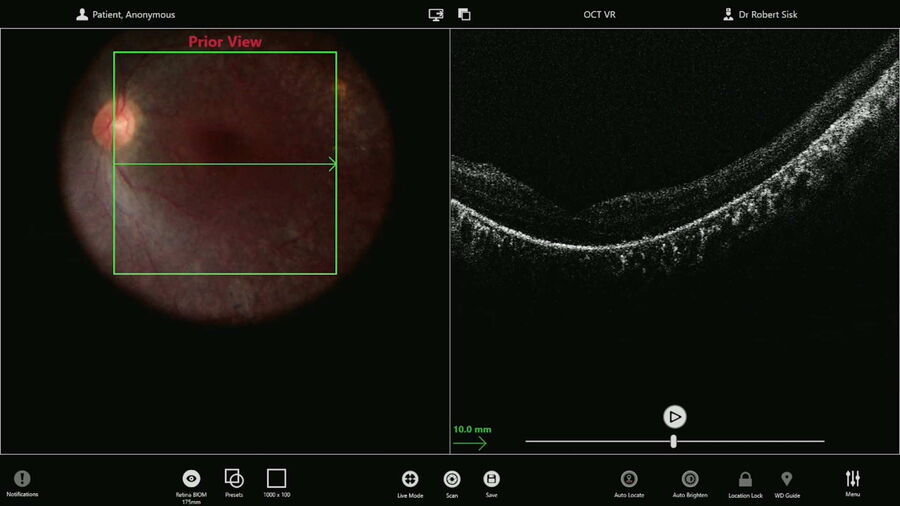 <!– TYPO3SEARCH_end –>
<!– TYPO3SEARCH_begin –>
Related Articles
Learn about the value of intraoperative optical coherence tomography in posterior segment surgery to…

Oct 31, 2023

A case study on the use of intraoperative OCT during macular hole surgery for pediatric lamellar…

Aug 21, 2023

Discover a case study on the use of intraoperative OCT for pediatric gene therapy and how it…

May 24, 2023