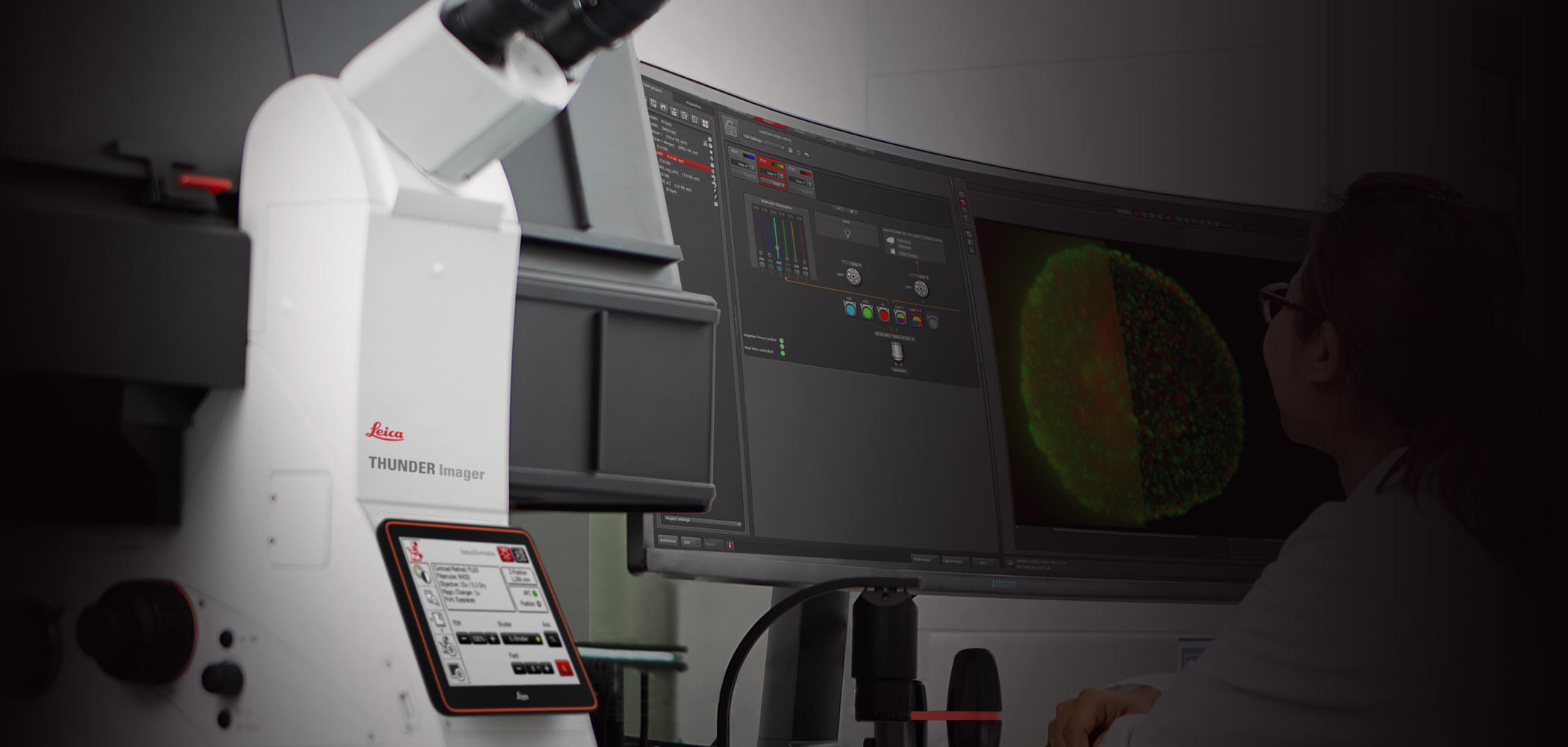 Find the missing links
Inverted Microscope Solution
DMi8 S Platform
The modular DMi8 inverted microscope is the heart of the DMi8 S platform solution. For routine to live cell research, the DMi8 S platform is a complete solution. Whether you need to precisely follow the development of a single cell in a dish, screen through multiple assays, obtain single molecule resolution, or tease out behaviors of complex processes, a DMi8 S system will enable you to see more, see faster, and find the hidden.
See more – Increase your viewing area up to 10,000x
See faster – Experiments up to 5x faster
See the hidden – Activate, ablate, and bleach within one experiment
DMi8 S for advanced widefield research
Starting from discovery and analysis of single molecules and culminating in breakthroughs in understanding and treating human health, the key to the next scientific discovery lies in finding the missing links connecting your data.
The DMi8 S is a flexible solution for advanced widefield research. The new DMi8 S platform extends the flexibility of the DMi8 microscope, adding high speed control, Infinity TIRF and Infinity Scanner modules, plus advanced software capabilities to create the solution for your advanced live cell imaging.
The DMi8 S is a versatile and userfriendly system that empowers biomedical researchers to probe molecular machineries within the cell with super-resolution, photo-manipulation and optogenetics.

Dr. Alessandro Esposito, Hutchison MRC Research Centre, University of Cambridge, UK
See more – Increase your viewing area up to 10,000x
Switch from searching image by image to seeing the full overview of your samples. Like a GPS for your cells, the software module LAS X Navigator ensures that you always have a clear roadmap to brilliant data.
Create fast overviews of your samples and identify the important details instantly. Then set up high resolution image acquisition automatically using templates for slides, dishes and multiwell plates.
Find your answers
No matter what experiments you have in mind, LAS X Navigator is the key to all applications on your DMi8 S platform.
Generate live overviews
Create spiral scans to search in the vicinity of your current location
Display images in sample carrier templates for quick orientation
Work flexibly with different magnifications, cameras, detectors, and contrasting methods in the same workspace
Define multiple regions and positions for high resolution scans or multiwell projects
Zoom swiftly in and out of your sample
Move to any stage location by mouse click
See faster – Experiments up to 5 x faster
The DMi8 S imaging solution powered by LAS X Synapse advanced sequencer eliminates the bottlenecks between system components, resulting in dramatically faster imaging. With an integrated real-time controller that directly interacts with all of your hardware components, cameras and peripherals, you can control your entire system with micro-second precision.
Combine high speed External Filter Wheels with multi-position stage experiments and benefit from filter wheels with high precision stage control.
Time lapse experiments up to 5x faster mean you can both save time and capture more details. No matter which of the instrument components are part of the experiment, the system will run at the highest speed possible.
Precise control
For specialized live cell applications, you can now add additional devices to the system and set up high-speed experiments with trigger controled third party devices.
The DMi8 S platform is powered by LAS X Synapse advanced sequencer, which allows you to freely specify the behavior of connections and create fast imaging sequences to analyze an organism's response to external stimuli delivered via third party devices.
Define both digital and analog signals, and set up the trigger signaling independently from the image acquisition with exact timings and full reproducibility.
The DMi8 Microscope
Fully configurable with manual to motorized components, the DMi8 microscope allows you to build the imaging system for your research and budget needs.
Flexibility is built-in, allowing you to add established options like DIC for unstained samples and Intelligent Automation. For time-lapse experiments use precise focus control with Adaptive Focus Control and Closed Loop Focus.
Intelligent automation
When you change the contrast method, the microscope automatically adapts the illumination settings, parfocality, brightness, and diaphragm position to that method.
Intelligent automation goes even further with the new LAS X Synapse real time controller. Run your experiments up to 5x faster, integrate third party triggered components and synchronize the acquisition with the exposure to minimize photodamage.
Make every component work in harmony, at the highest speed possible.
Interested to know more?
Talk to our experts. We are happy to answer all your questions and concerns.
Contact Us
Do you prefer personal consulting?