Ergonomic Accessories for Stereo Microscopes
While physical discomfort or pain is irritating and distractive, physical comfort is the best precondition for consistent, efficient work. Ergonomic accessories help microscope users work in comfort even if they spend the entire day working with a microscope. These accessories allow adapting stereo microscopes individually – whether in laboratories, manufacturing areas or quality control.
Promoting motivation – increasing efficiency. Use ergonomics as a competitive advantage.
Physical comfort
improves concentration
can reduce work absences and work-related health issues
helps maintain high work quality
can even increase productivity
promotes the employees' well-being
Simply get in touch!
Contact a local specialist for expert advice on the right ergonomic solution for your needs and budget.
Make the workplace ergonomic
Every person is different – that's why microscope workstations need to be adaptable to users.
Sitting position: The right table height and a correctly adaptable chair is the basis for a comfortable posture. Microscope users should sit upright, in a relaxed posture to avoid muscle strain.
Ergo Base: The best system begins with a good foundation. This is why Leica created the TL5000 Ergo base that enables the user to maintain a proper and natural position to rest their arms when working with a microscope. Since holding arms up all day strains the shoulder muscles and tendons unnecessarily, the TL5000 Ergo bases' low profile gives the arms the optimal position to work in comfort.
Viewing position: With adjustable viewing heights, you can ensure that shoulder and neck muscles are not strained.
ErgoModules bring the eyepieces of the microscope closer to the operator by inserting a wedge below the eyepieces. This promotes an upright position, no matter how tall the microscope user is.
Leica Microsystems offers two principles of ErgoModules
Variable ErgoModules
Vary microscope height with ErgoModules that can adapt to the user and thereby optimize the viewing height and angle
Fixed ErgoModules
Increase the height of your binocular tube with these fixed spacers.
Please refer to our ergonomics overview to learn which ErgoModules fit which stereo microscope.
ErgoWedge 5° - 25° - Flexible wedge for maximum comfort
Mounts to M series stereo microscopes bring the user the opportunity to set their most comfortable viewing angle from 5° to 25°. Combine with other ergo modules for up to 70° viewing angle adjustment.
ErgoModule 30 mm - 120 mm - Comfortable observation for our taller users
The ErgoModule 30 mm - 120 mm "stretches" low standing stereo microscopes (e.g. M50 stereo microscope) allowing taller users to sit and observe comfortably.
ErgoModule 50 mm - Increase the height of your M series stereo microscope
The ErgoModule 50 mm raises the location of the eyepieces by 50 mm, so that the user can sit upright and be appreciably more comfortable.
ErgoWedge 15° - Improves viewing conditions
A fixed intermediate piece with which adds 15° angular tilt range of our binocular tubes. This is idea for systems that are normally used by a single user with repetitive tasks.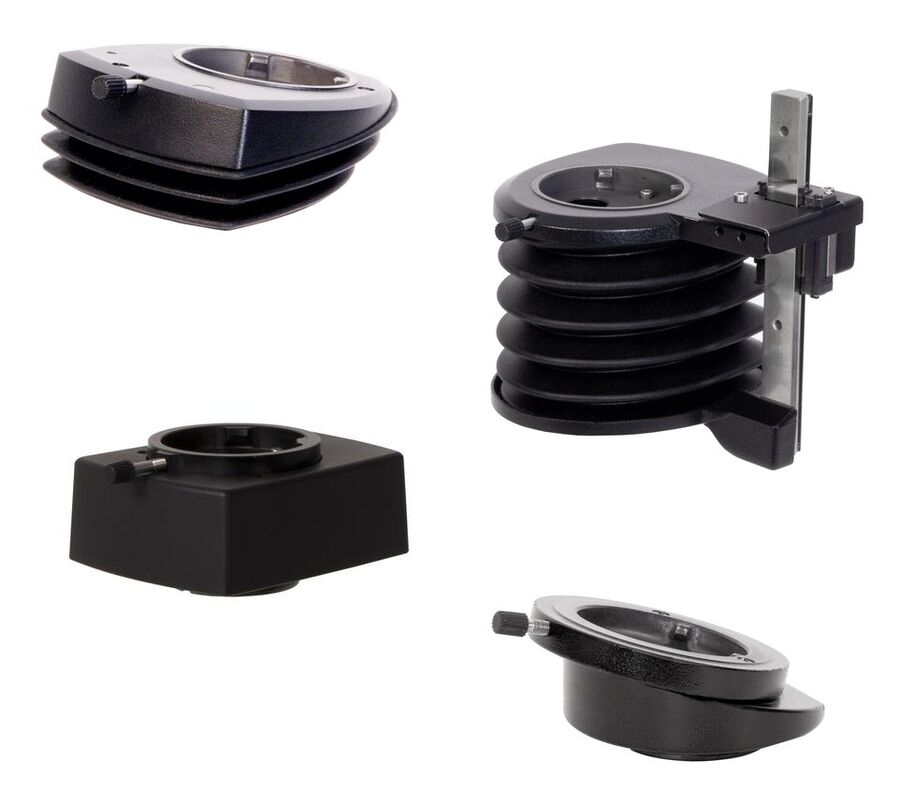 ErgoTubes promote an upright sitting position by bridging the gap between the microscope and the users' eyes. This is especially important for tall users as you can see from the image.
Leica Microsystems offers two categories of ErgoTubes
Variable ErgoTubes
Adapt to a range of viewing angles, allowing the user, or multiple users, to freely choose their optimal working position.
Fixed ErgoTubes
Adapt to a fixed viewing angle or length, perfect for single user systems.
Please refer to our ergonomics overview to learn which ErgoTubes fit which stereo microscope.
ErgoTube 10° - 50° - Perfect tool for multi-user workstations
Most popular ergonomic accessory from Leica, the ErgoTube 10° - 50° is the best way to accessorize any M-series stereo microscope and is the perfect tool for multi-user workstations.
Inclined binocular tube 45° - Increases productivity and improve profitability
A well designed work environment can improve the motivation and performance. When correctly applied, ergonomically designed instrumentation can make a strong contribution to increase productivity and improve profitability.

Fits to ErgoModules and to accessories such as video-/phototubes, drawing tubes, or coaxial illuminators.
ErgoTube 45° - Bring the microscope closer to you
When you cannot get close to the stereo microscope, let the ErgoTube 45° bring the microscope closer to you! The long eyepiece tubes displace the viewing point 65 mm upwards and 65 mm towards the observer.

It allows the observer to maintain proper upright posture and to move the eyepieces closer when the scope is in a bio-clean hood or must be positioned far from the edge of a workbench.

Trinocular ErgoTube 5° - 45° - Provides a wide range of adjustment
The Trinocular ErgoTube (5° - 45° observation angle) provides a wide range of adjustment options to provide a comfortable, relaxed seated position at the microscope.

The ErgoTube is designed to provide maximum comfort for all users, especially during long hours of working with a microscope. The built-in photo port offers the possibility to integrate any of the MC, DMC or DFC series digital microscope cameras.
Straight binocular tube - Provides ergonomical horizontal viewing
Provides horizontal viewing if the stereo microscope is fitted in a tilted position to the swinging-arm stand or to a bonder.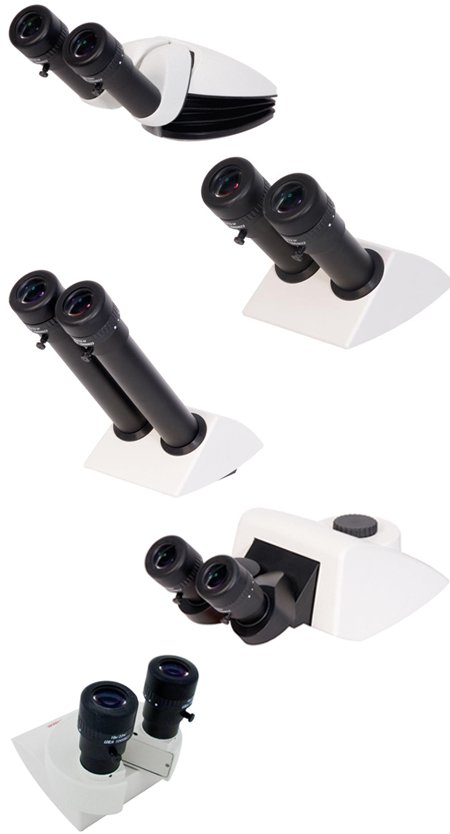 Interested to know more?
Talk to our experts.
Do you prefer personal consulting? Show local contacts