What are the essential features of a surgical microscope to facilitate the work of the operating room nurse in Microsurgery?
For an operating room nurse, three elements are particularly important:
Ease of use: turning the microscope on, connections (especially for video acquisition), balancing and set-up must be as intuitive as possible. In this respect, the quality of the training that is offered is essential. The teaching aids must be available for consultation and must be concise to deal with any intraoperative malfunction.
Handling and hygiene: to prevent musculoskeletal disorders, it is key to look into how easy it is to stow away the operating arm and invert the assistant binoculars as well as consider assisted motion and the weight of the device. The disinfection of the microscope must also be studied, to make sure that dust removal and the use of disinfectant solutions do not cause deterioration. The structure of the microscope must be designed with this in mind. A complex design can lead to spaces that are inaccessible and as such are nests for potentially pathogenic germs.
Ergonomics and safety: other parameters should be checked such as the noise generated by the microscope, the ease of covering for all sizes of nursing staff, the compactness of the stand as operating rooms are generally not very spacious and heavily equipped as well as the light intensity and the heat generated which must not cause any damage to patients or professionals.
Thanks to Leica, our staff can use microscopes with an automatic balance, which saves pre-operative time, and which have safeguards, such as light intensity control, to prevent the risk of burns.
Leica provided us with long-term, solid support, with an excellent educational approach.
What is your experience with Leica Microsystems?
Leica Microsystems' microscope product range is perfectly suited for ENT surgery and offers a real manufacturing quality and stellar reliability. The sales people I've worked with provide good advice. They are never intrusive, but they are always there when I need something.
When I bought my department's previous microscope, Leica provided us with long-term, solid support, with an excellent educational approach. In the event of a technical problem, the customer service is particularly responsive and efficient. Compared to another brand of microscopes, since we also worked with competitors, the conclusion is clear: for all these elements, I've mentioned, Leica has always excelled, where others do not follow.
I strongly recommend this company, since it is a real help for healthcare managers. ENT surgery is dependent on microscopes and it is not an option to have fragile equipment, or equipment that is not maintained in case of issues, as this would jeopardize our activity.
Leica's medical devices are reliable, and although they are heavily used, they show no signs of wear. In addition, unlike some competitors, the bulbs have a life expectancy in line with what is advertised, which is a significant medico-economic parameter.
How do Leica microscopes support your training efforts?
The quality of learning for all trainees in the operating room is critical.
At the cutting edge of innovation, Leica provides microscopes that offer the possibility to connect 3D displays, such as the M530 OHX with GLOW AR, which is a real asset for nursing staff to understand otologic structures, with a full immersion in the procedure, and by extension for the quality of training for hospital students and new professionals in the department.
About Adam Da Costa Lopes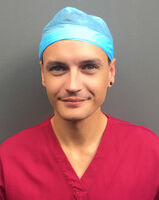 Adam Da Costa Lopes is an Operating Room Nurse Manager at the Necker - Enfants Malades Hospital in Paris, France. He holds a French State Diploma in Health Management and Operating Room Nursing. He began his career as a nurse at the Georges Pompidou European Hospital in Paris, in the orthopedic and trauma surgery operating room. He joined the Necker - Enfants Malades Hospital in 2014 as an Operating Room Nurse, before being appointed as Operating Room Nurse Manager in 2016.
Note: The statements of the healthcare professional in this article reflect only his personal opinion and experience and do not necessarily reflect the opinion of any institution with whom he is affiliated.
Related Articles
Learn about the value of intraoperative optical coherence tomography in posterior segment surgery to…

Oct 31, 2023

Learn about the use of intraoperative optical coherence tomography in corneal transplantation and…

Oct 16, 2023

Learn about the Serious Game in Intraoperative Neurosurgery and how it supports neurosurgical…

Oct 12, 2023