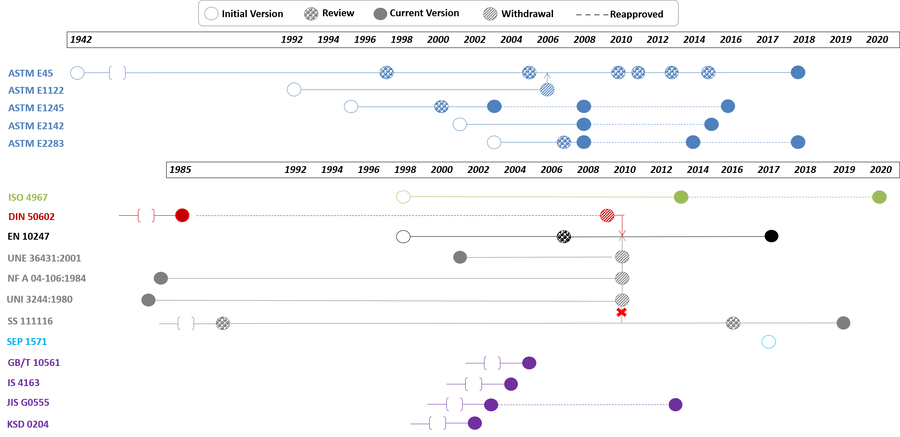 Challenges arising from standards
Multiple changing standards
For international or regional suppliers of steel or components and products made of steel, it is not uncommon that their users request compliance with several steel quality standards.
Because of the constantly changing standards "landscape" and the fact that different standards are never exactly equivalent, it can be difficult for suppliers to meet the requirements of multiple standards for a single batch. Suppliers can be required to report different sets of rating results for a steel or component/product batch. The results are obtained using different analysis methods described in various standards. As a result, steel samples must be analyzed and then re-analyzed in accordance with the methods of multiple standards or a systematic, reliable way of comparing results [13,14]​​​​​​​ from different standards, or even out-of-date standards, must be developed. It can also be challenging to report the results from the different standards in a clear, easy-to-understand way. Figure 2 illustrates how the requirement to comply with multiple, ever-changing steel quality standards can make the overall inclusion rating workflow more complex.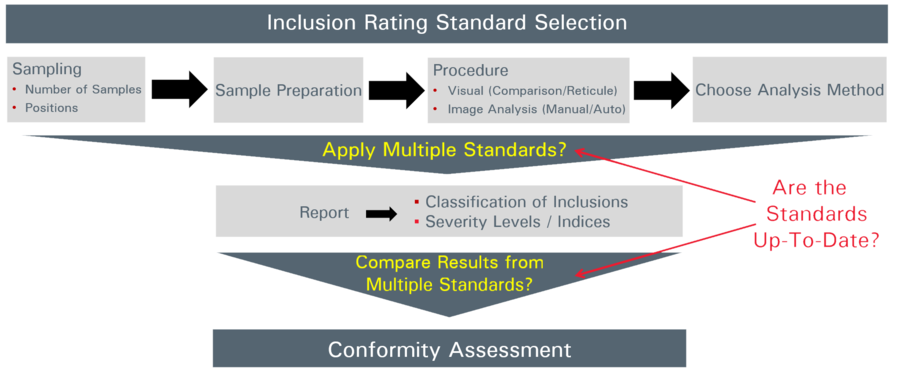 Company standards and specifications
As mentioned above, multi-national, end-product manufacturers can require their suppliers to comply with several of the international and regional steel quality standards. However, the manufacturers may also include with the standards their own company specifications. A multi-national, end-product manufacturer sharing specific company standards with its supply chain leads to the development of organizational standards.
As a result, suppliers may find it challenging to incorporate specific requirements for organizational or company reporting formats, which are non-standard for the international or regional steel quality rating community, into the current solutions used for rating non-metallic inclusions.
Overcoming the challenges: Leica steel quality rating solutions
The question now is: Are there steel quality rating solutions which help suppliers address these challenges which arise from the need to comply with multiple ever-changing standards? The answer is yes.
An example is the Steel Quality Solution Suite from Leica Microsystems. The solution combines the LAS X Steel Expert software with a high-performance Leica microscope. These solution features help suppliers overcome the challenges from rating steel with multiple standards. They enable users to:
Comply with previous and current steel quality standards; both the original and updated versions of the multiple applied standards are kept available;
Compare results from different versions of standards in a straightforward way; and
Define their own standard specifications for steel quality rating.