Microscope Solutions for Retina Surgery
Retina surgery encompasses a large variety of procedures to treat retinal diseases and disorders including retinal tear, retinal detachment, age-related macular degeneration, diabetic retinopathy, epiretinal membrane, macular hole, and retinitis pigmentosa. The aging population and increased incidence of chronic diseases such as diabetes is causing a surge in retinal procedures.
Retinal conditions can severely affect vision, and some may cause severe vision loss or blindness if left untreated. Depending on the nature of the disease, vitrectomy can help stop or slow the disease and preserve, improve, or restore vision.
During vitrectomy, the ophthalmic surgeon removes all or part of the vitreous, which is replaced with a saline solution or a gas or oil bubble. Vitreoretinal surgery is one of the most delicate and complex ophthalmologic surgery types. The use of a retina microscope is important for optimal visualization and outcomes.
Need Assistance?
Contact a local specialist for expert advice on the right Retina surgery solution for your needs and budget.
Retina Surgery Challenges
In retina surgery, the surgeon needs to see clearly through the vitreous to visualize every structure of the retina. Moreover, surgeons need to rely on a fully focused view without the need for frequent refocusing while performing the procedure, in particular when maneuvering vitrectomy instruments and cutting patches of the choroid layer.
Some of the biggest challenges of posterior segment and retinal surgery include:
Achieving high levels of precision while operating in low-light conditions
Ensuring sufficient illumination for visualization, while avoiding the risk of phototoxic exposure
Maintaining clear visualization of the retina, particularly when using wide-angle viewing systems
Distinguishing between different tissue layers during maneuvers such as peeling or vessel suture
Assessing the level of membrane tension during peeling to avoid potential tears and protect the integrity of underlying tissue
Obtaining clear visualization of membrane layers during membrane peeling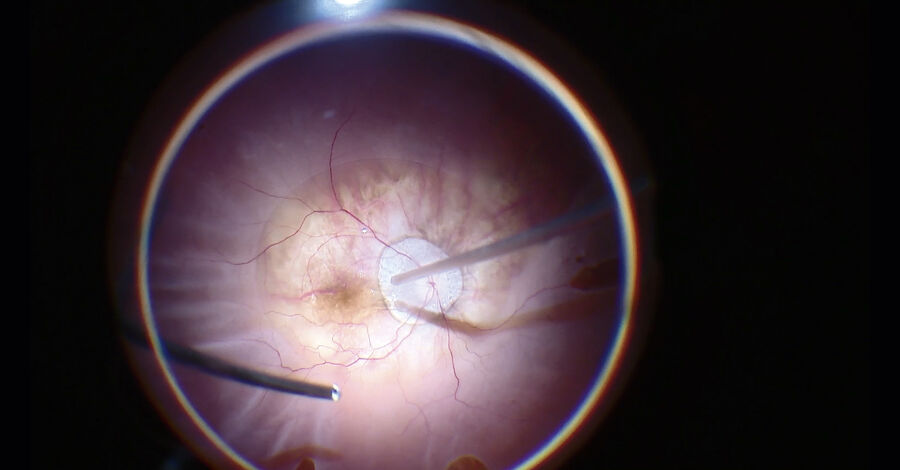 Key Features of Leica Microscopy Solutions for Retina Surgery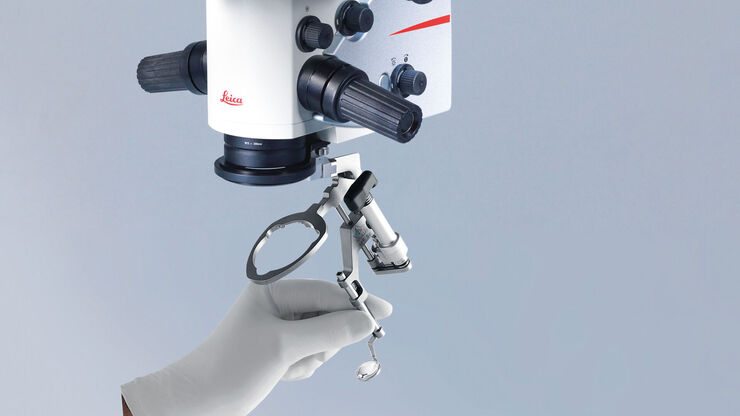 Contact-free, wide-angle observation of the fundus
Choose BIOM 5 with synchronized focus for effortless wide-angle observation during your posterior surgery procedures. You can also use the Leica RUV800 retinal wide-angle viewing system with integrated inverters.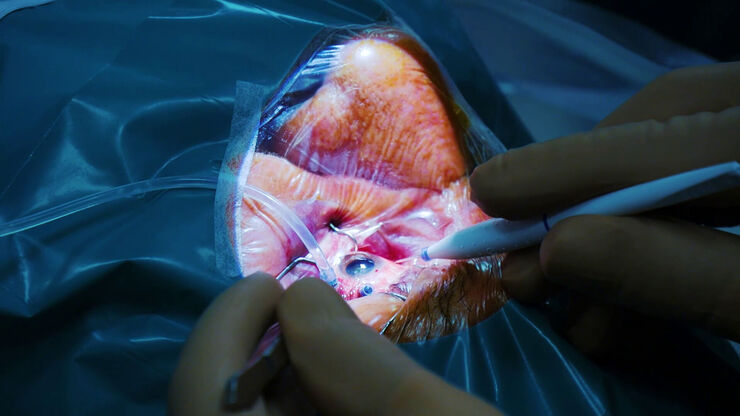 Great depth of field and high resolution in one view
Innovative FusionOptics, an exclusive Leica technology, delivers crisp, texture-rich images from the periphery to the retina. Not only does this enhance your view, it enhances your workflow as refocusing is reduced.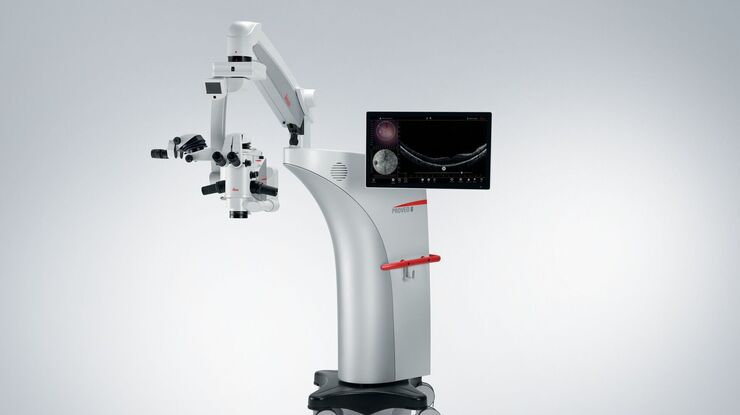 See previously hidden subsurface details
The EnFocus intraoperative OCT from Leica allows you to see what lies underneath the surface, giving you additional information for a complete understanding of how subsurface tissue reacts to your surgical maneuvers in real-time.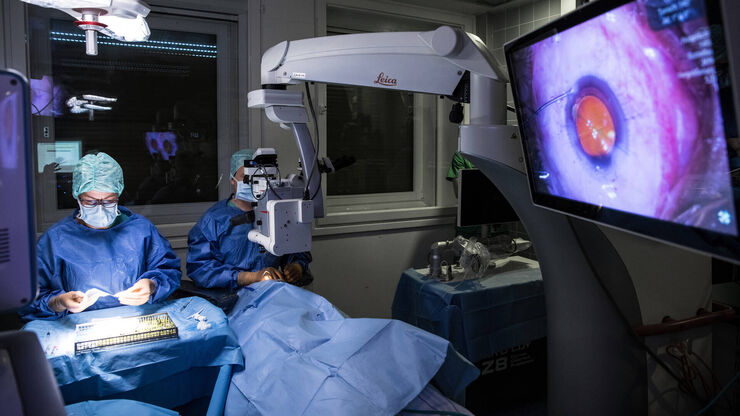 High level of details at low lights levels
See crucial details in low light conditions thanks to the highly transmissive apochromatic optics of Leica ophthalmic microscopes that provide astounding image details and quality.
In this interview, Dr. Asheesh Tewari talks about the use of the Proveo 8 ophthalmic microscope with intraoperative EnFocus OCT for diabetic vitrectomy cases, and how OCT helps to reveal the presence of macular hole, epiretinal membrane and other tractional membranes.
According to the World Health Organization (WHO), 3.9 million people worldwide suffer from moderate to severe diabetic retinopathy. Based on the projected burden of diabetes alone, it is estimated that, by 2040, there will be a 50% increase in the number of people worldwide requiring access to routine retinal examination for diabetic retinopathy1.
The use of intraoperative Optical Coherence Tomography can provide valuable insights during surgical procedures for the treatment of diabetic retinopathy.
Interview: Intraoperative OCT as a Tool to Treat Diabetic Patients
Retinal Detachment 2
In posterior segment surgery, intraoperative Optical Coherence Tomography can help to assess the extent of retinal detachment thanks to the mirroring of the retina. It also aids in the detection of residual subretinal fluid, small retinal breaks, and proliferative vitreoretinopathy membranes. In addition, it can assist in the completion of fluid-air exchange.
In tractional retinal detachment in particular, intraoperative Optical Coherence Tomography can allow to achieve more precise delamination and segmentation thanks to the real-time visualization of the planes.
Membrane Peeling & Macular Hole Surgery
Leica microscope solutions for retina surgery help assess the level of tension in a membrane peel in real time, to avoid potential tears and protect the integrity of underlying tissue.
In the case of macular hole surgery, intraoperative Optical Coherence Tomography can help see certain configurations and changes in macular hole geometry, which can be associated with anatomical success of surgical interventions.
For example, in full thickness macular hole (FTMH) procedures, intraoperative Optical Coherence Tomography can assist surgeons in confirming complete peeling while avoiding membrane residues.
Microscopy Solutions for Retina Surgery: Efficiency in the Operating Room from Adult to Pediatric Procedures
Leica microscopy solutions for retina include pre-programmed settings for vitreoretinal procedures. With a simple tap on the footswitch, the microscope adjusts automatically. Fully built-in Optical Coherence Tomography allows to easily acquire high resolution OCT scans, which can be recorded and reviewed carefully during surgery.
Video Interview with Dr. Jaume Catalá from the Children's Retina Area Hospital San Joan de Deu, Barcelona, Spain - Why intraoperative OCT visualization has great advantages for pediatric eye surgery.
Frequently Asked Questions Retina Surgery
What happens if your retina gets detached?
If you suffer from retinal detachment, you will be referred to a specialist. You may need to undergo surgery to reattach your retina to the back of your eye.
Can a detached retina be fixed without surgery?
The majority of retinal detachments are treated with surgery. However, in select cases, pneumatic retinopexy may be used, which is a non-surgical alternative which takes place in an office setting.
What is the solution for retina problems?
There is a large variety of retinal disorders and diseases. The appropriate treatment depends on many factors. Your ophthalmologist can advise you on the best course of action.
Can retina be repaired naturally?
The human retina does not regenerate, and damaged retina cells do not heal or grow back. As such, retinal damage can be irreversible.
What is the latest retina treatment?
The field of ophthalmology is evolving quickly, with new treatments improving standards of care. Please consult your healthcare professional to learn about treatment options.
Interested to know more?
Talk to our experts.
Do you prefer personal consulting? Show local contacts