Ophthalmic Surgery Microscopy Solutions
Ophthalmic surgery requires a high degree of precision to ensure optimal accuracy when maneuvering instruments and manipulating delicate ocular tissue. The surgical microscope is one the most important instruments in eye surgery, allowing ophthalmic surgeons to visualize micro-anatomical details and perform efficient and extremely precise movements.
Leica Microsystems offers a range of state-of-the-art ophthalmology microscopy solutions that support ophthalmic surgeons in achieving optimal patient outcomes in anterior and posterior segment surgery. Our ophthalmology microscopes are world-renowned for premium optics and illumination that provide outstanding image quality. Designed to ensure a seamless workflow and support ergonomics in the OR, they optimally respond to the surgeon's needs throughout each step of the procedure.
Leica ophthalmology microscopes form the platform for complete ophthalmology imaging and workflow solutions by seamlessly integrating advanced imaging technologies, such as Optical Coherence Tomography (OCT) and high-definition display and documentation features.
Need Assistance?
Contact a local imaging specialist for expert advice on the right ophthalmology microscope for your needs and budget.
Ophthalmology microscopy solutions

Challenges of Ophthalmic surgery
Since most types of eye surgery do not require much movement, ophthalmic surgeons often stay in the same position while performing procedures. Consequently, maintaining a comfortable working posture and avoiding muscle fatigue and strain is another significant challenge in ophthalmic surgery.
Moreover, eye surgery procedures involving the anterior and posterior segments also have their unique challenges.
Leica offers a wide range of ophthalmic microscopes and accessories for different needs in ophthalmic surgery as well as for different budgets.

Applications of Ophthalmic surgical microscopes
Ophthalmic surgical microscopes reveal finest anatomical details and facilitate surgical maneuvers during anterior and posterior segment surgery. Their use in ophthalmology has a wide range of applications, from diagnostics to complex surgical procedures. Some of the common applications of ophthalmic microscopes in surgery include the following:

Cataract surgery
Refractive surgery
Glaucoma surgery
Corneal surgery
Laser eye surgery
Posterior Segment Surgery (Vitreoretinal Surgery)
Vitrectomy
Retinal detachment repair
Macular hole repair
Maculopathy surgery
Posterior sclerotomy
Radial optic neurotomy
Macular translocation surgery

In addition, OCT solutions can be used for pre-operative assessment, as well as for intraoperative visualization and confirmation of tissue response to surgical maneuvers.

Challenges of Anterior Segment Eye Surgery
In anterior segment procedures, surgeons rely on red reflex as it provides ideal contrast to visualize the posterior capsule, lens and anterior chamber structure. Some of the most important challenges of anterior segment surgery include the following:
Achieving optimal depth perception with a fully-focused, deep view while ensuring minimal workflow interruptions
Ensuring homogeneous illumination and optimal light intensity to avoid the risk of tissue damage due to phototoxicity
Maintaining a bright red reflex throughout all steps of surgery, including phacoemulsification
Real-time confirmation on sub-surface tissue reaction, e.g. during deep anterior lamellar keratoplasty (DALK)

Smooth cataract surgery from start to finish
Ophthalmic microscopes support the eye surgeon during every step of cataract surgery, enabling them to work with high levels of efficiency and precision.
For clear visualization in cataract surgery, it is necessary to maintain optimal illumination with a constant and brilliant red reflex. Moreover, it is essential to achieve sufficient depth perception to avoid repeatedly re-focusing during the procedure, causing unnecessary interruptions during the surgical workflow.
Finally, a flexible and ergonomic microscope design with customizable accessories increases the surgeon's comfort levels, reduces fatigue and allows the surgeon to focus on the procedure, helping to improve patient outcomes.
The Importance of Red Reflex in combined retina surgeries
Dr. André Maia, MD from the Retina Clinic in São Paulo, Brazil describes how the Proveo 8 ophthalmic microscope provides an excellent stable red reflex during combined retina surgeries, particularly during the hydrodissection and phacoemulsification steps.
The video demonstrates the clear view of the anterior chamber and the posterior capsule during phacoemulsification and cortex removal.
In addition, no re-focusing was needed during the entire surgical procedure, thanks to the innovative FusionOptics technology. With Proveo 8, users can also pre-program personalized settings for every step of their surgery to work with high efficiency and precision.
Useful accessories for Ophthalmic surgical microscopes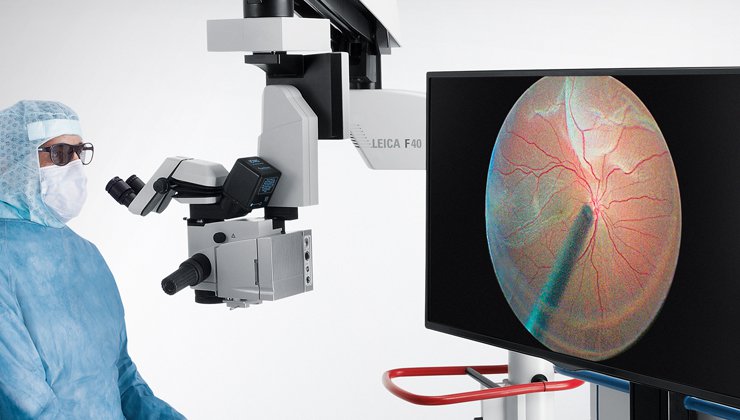 Leica medical cameras: External HD C100 or built-in 3CMOS HD C300 camera
Recorders: Evolution4K from Med X Change or HDR from Leica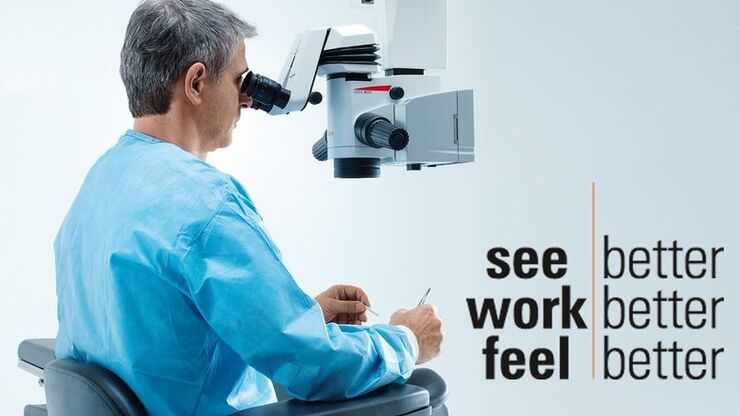 Adjustable binoculars
Wireless footswitch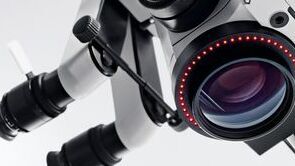 External slit lamp
Keratoscope
RUV800 retinal wide-angle viewing system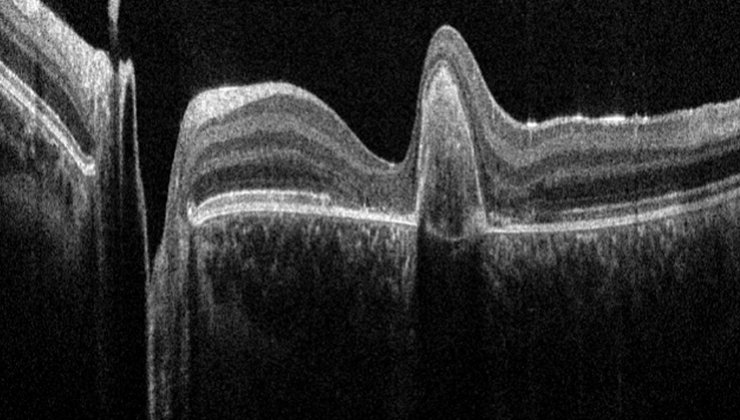 EnFocus OCT system built into Proveo 8 for greater insights
BIOM® 5 fundus viewing system (Oculus) with synchronized focus, BIOM® Ready and flat contact lens
Challenges of Posterior Segment Eye surgery
When performing posterior surgery, the surgeon needs to see clearly through the vitreous to visualize every structure of the retina, without frequent refocusing. Some of the biggest challenges of posterior segment surgery include the following:
Achieving high levels of precision while operating in low-light conditions during vitreoretinal surgery
Ensuring sufficient illumination for visualization, while avoiding the risk of phototoxic exposure
Maintaining clear visualization of the retina, particularly when using wide-angle viewing systems
Distinguishing between different tissue layers during maneuvers such as peeling or vessel suture
Assessing the level of membrane tension during peeling to avoid potential tears and protect the integrity of underlying tissue
Obtaining clear visualization of membrane layers during membrane peeling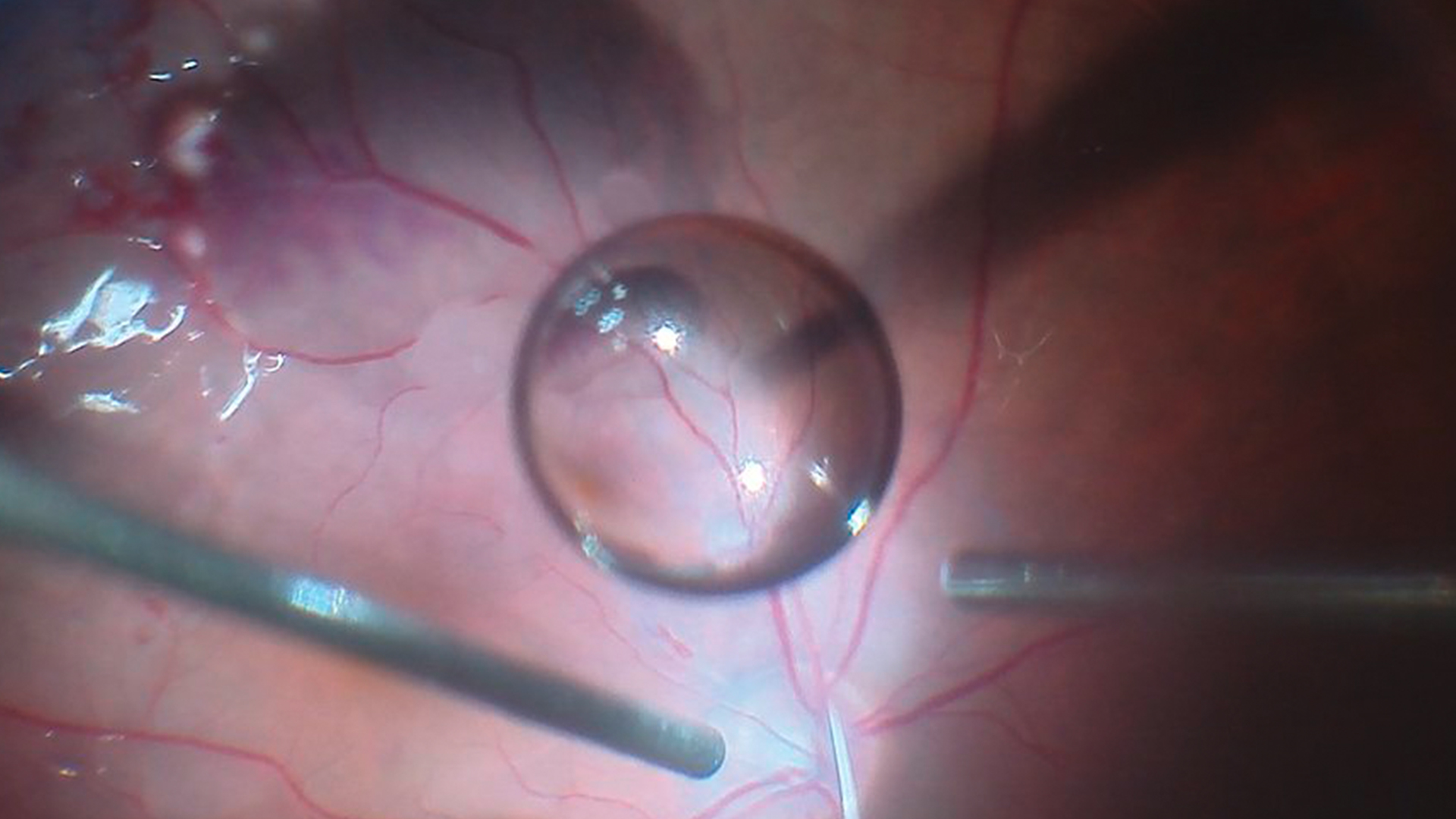 Optimized vision in Retina Surgery
Vitreoretinal surgery is currently one of the most delicate and complex surgery types in ophthalmology. When performing posterior segment surgery and vitrectomy, surgeons need to achieve clear visualization of every structure of the retina through the vitreous.
Moreover, surgeons need to rely on fully focused view without the need for frequent refocusing while performing e.g. membrane peeling, maneuvering vitrectomy instruments and cutting patches of the choroid layer.

The Proveo 8 Advanced Ophthalmic microscopes support retina surgeons with
FusionOptics technology to overcomes the boundaries of sight by uniting high resolution and depth of field for a crisp texture-rich view of fine details without refocusing
Pre-defined modes for posterior for vitreoretinal or vitrectomy procedures help surgeons to stay focused. Select with a simple press of the footswitch and the microscope adjusts automatically.
Synchronized focus of the BIOM* fundus viewing systems further supports your visualization and workflow during vitreoretinal surgery.
Important Considerations for Selecting an Ophthalmic Surgical Microscope
Ophthalmic microscopes play a key role in every ophthalmology practice, from diagnostics to eye surgery. Some of the most important factors that should be considered when choosing an ophthalmic surgical microscope include the following: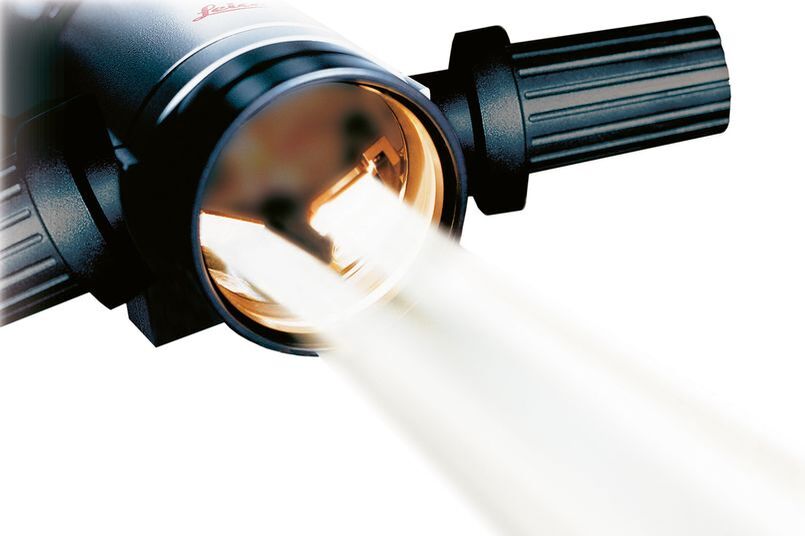 Powerful and Safe Illumination System ensuring patient safety and reducing the risk of phototoxicity.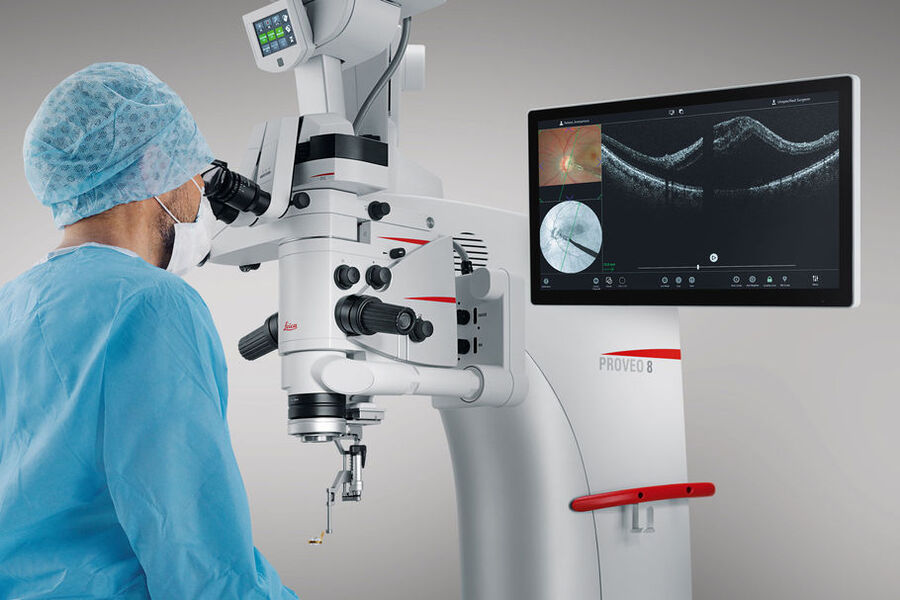 High Optical Quality delivering high resolution, large depth of field and true-to-life color representation for accurate tissue differentiation.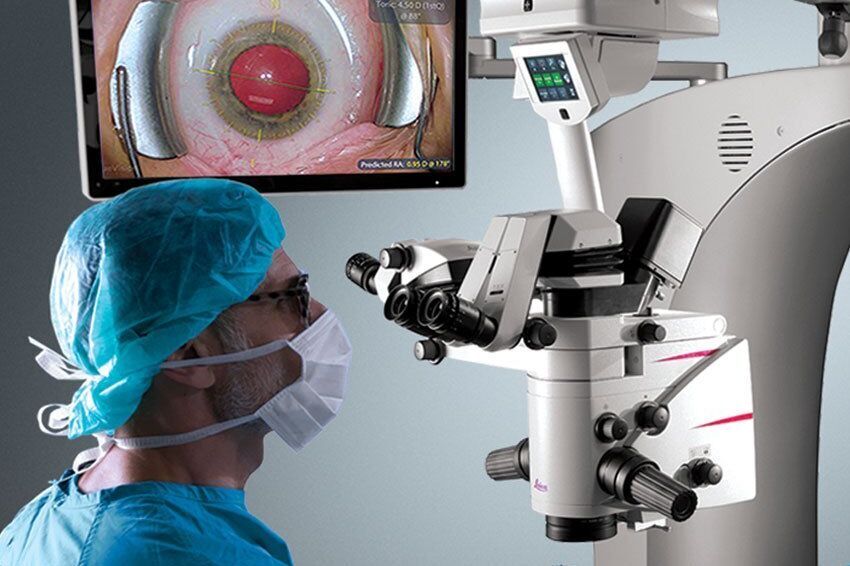 Workflow Support options like customizable profiles to support quick set-up and programmed settings to ease recurring tasks, e.g. in cataract surgery.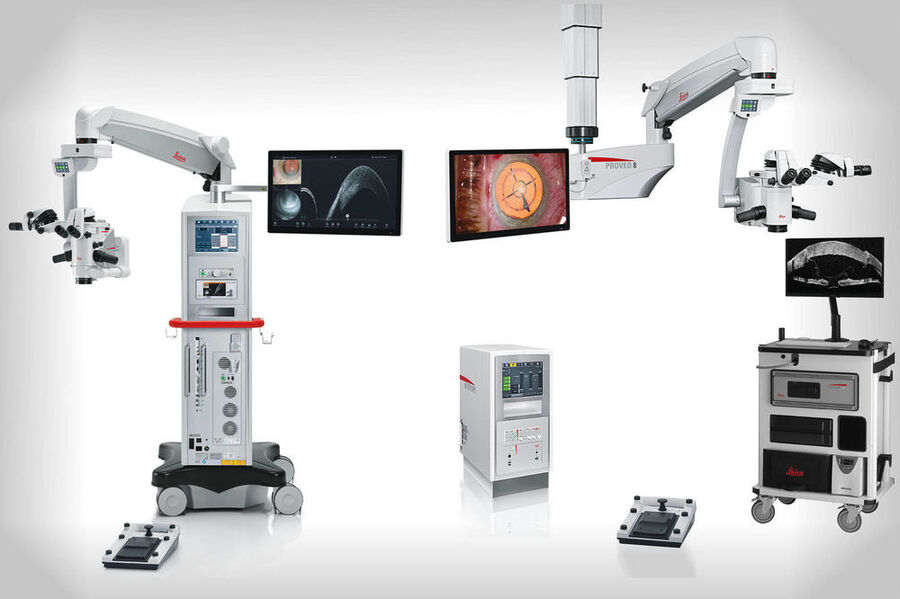 Open Architecture and Connectivity with other devices and technologies, such as camera and recording systems, OCT (EnFocus) and patient information systems.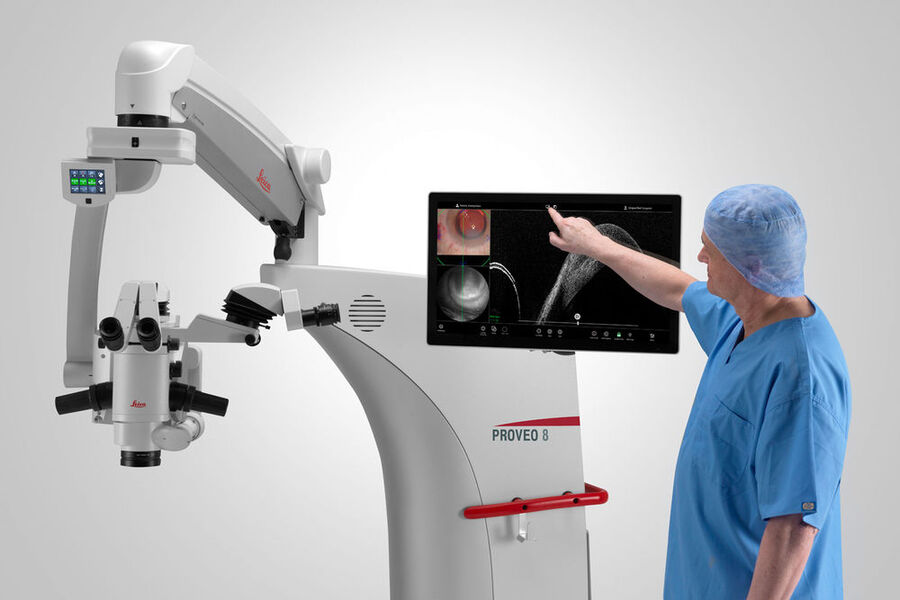 Ergonomic Accessories for improved comfort, including adjustable binoculars and wireless footswitch.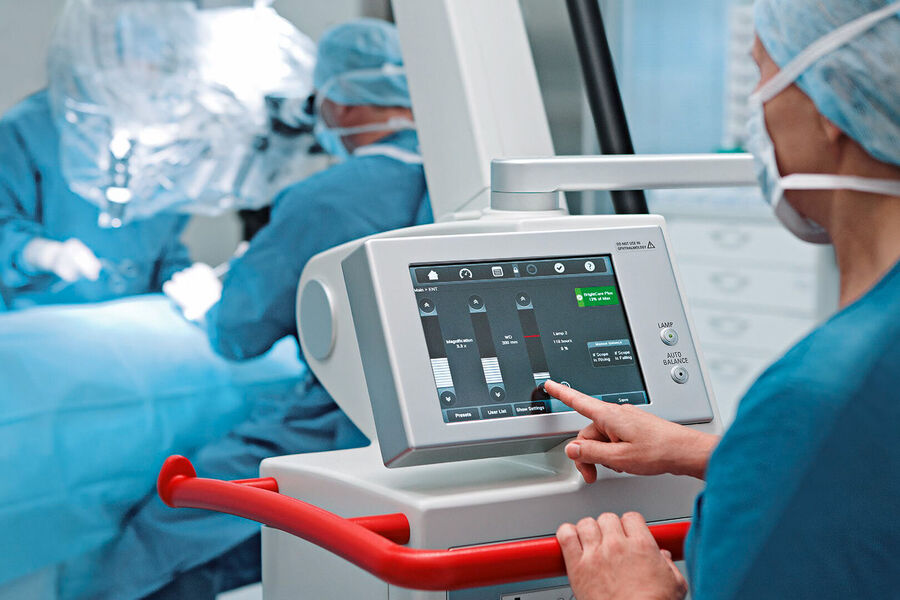 Hygiene – the microscope should be easy to clean and support hygiene protocols, in addition to having antimicrobial coating.
Gaining Greater Insights with OCT-Guided Ophthalmic Surgery
During retina, cornea and glaucoma procedures, there is typically a point at which surgeons ask themselves whether they are really done or not? While the microscopic view delivers a precise picture of the operating field, subsurface tissue details are not easily visible.
Questions can arise, like:
Is there residual sub-retinal fluid?
Is the glaucoma drainage device in the correct position?
Is the corneal graft well opposed to the host cornea?
The EnFocus intraoperative OCT system built into the Proveo 8 microscope, can help surgeons overcome these uncertainties by providing immediate intraoperative confirmation. Click here for more information about EnFocus.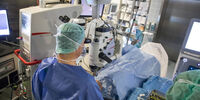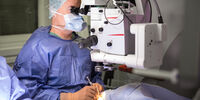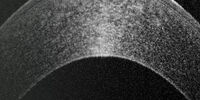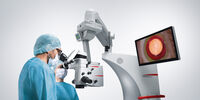 Interested to know more?
Talk to our experts.
Do you prefer personal consulting? Show local contacts