Reasons why there is growing need
Steel quality is essential for reliable and high-quality products. Process control at all stages of steel production (from heat formation to the final product) ensures quality, especially as product specifications required by end-product manufacturers and end users are becoming tighter and stricter. The steel quality rating can be done efficiently by image analysis, which enable sorting, quantification and classification of non-metallic inclusions (NMIs), using international and regional standards (ASTM, DIN, JIS, ISO). Also, NMI rating done following user-defined standards, in accordance with organizational norms and processes, is becoming more and more important.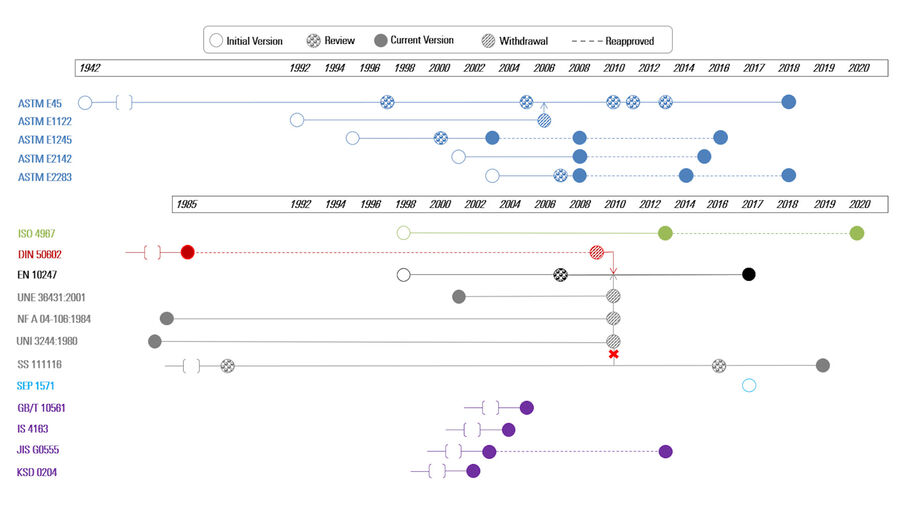 Non-metallic inclusions (NMIs) or a change in composition can impact strength, machinability, and other mechanical properties of steel [3-6]. Moreover, it is important to notice that not all NMIs will have the same effect. Manufacturers must find the right balance between steel performance and machinability and fulfill end users' specifications and demands, so accurate examination and classification of NMIs is essential. Experience shows that it is not enough for the steel manufacturer alone to do the NMI analysis to determine steel quality. Therefore, component suppliers and end-product manufacturers must also perform NMI ratings to certify quality.
Steel quality and cleanliness depend significantly on the size, morphology, type, and quantity of NMIs and it can vary a lot even within the same production batch [7-9]. Careful monitoring of the steel quality at every step in the value chain is important due to possible variation. Therefore, there it is crucial to validate the steel quality at specific points during production and manufacturing.

The increasing need for high quality steel often results in the end-product manufacturer having more and more steel suppliers. As a result, the manufacturer must place greater emphasis on quality control for incoming materials to minimize the risk of steel quality variation [10]. Quality control is the responsibility of all parties involved, i.e., suppliers and manufacturers, and requires a clear understanding of the defined specifications and standards to be applied [10]. A low-quality steel supplier, due to lack of experience and fewer dedicated metallurgists with hands-on training, entails greater risks for component suppliers and end-product manufacturers. A well-designed workflow needs to be in place for the rating of non-metallic inclusions in order to identify low-quality, non-compliant materials and components.
The assurance and regulation of production processes to demonstrate clear compliance with up-to-date steel quality standards and specifications is more and more emphasized over the last few years. Thus, providing evidence via documentation that certifies the quality of steel from suppliers and manufacturers is becoming more and more important [10]. The documentation needs to be generated in an efficient and reliable way and make it straightforward to compare analysis results obtained from various international, regional, and organizational standards.
Solution for the growing need
Because of the large number of standards available (ISO/ASTM/DIN/EN) [11], it has become necessary to use software which enables sorting and classification of inclusions, flexible switching between standards, and an easy comparison of results from different standards. The Steel Quality Solution Suite from Leica Microsystems, utilizing the LAS X Steel Expert software, offers a flexible, reliable, and accurate way for both manual and automated rating of NMIs in steel [11]. The solution also allows users to work with multiple steel standards and adapt quickly to changes in standards.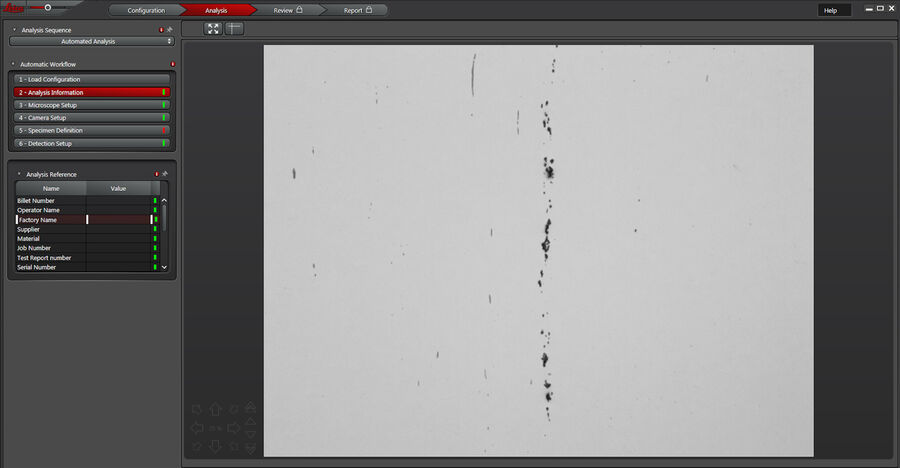 Additionally, steel and component suppliers and end-product manufacturers are more and more interested to use a consistent test method which is compliant with standards in order to receive the ISO 17025 accreditation for NMI ratings. A NMI-rating solution, like the Steel Quality Solution Suite, can help users working towards this goal.
Related Articles
Cross-section analysis for electronics concerning quality control and failure analysis of printed…

Nov 27, 2023

To help users better understand the magnification of microscopy and how to determine the useful…

Nov 08, 2023

With inverted microscopes, you look at samples from below since their optics are placed under the…

Oct 24, 2023